4 August 2022 Edition
An investment in Ireland's children, is an investment in us all

Brónagh Ní Chuilinn compares the situation of living in Ireland and Australia asking why would Irish migrants consider returning when the state here does so little to invest in the future of our younger generations
• • • • • • • • • • • • •
From as long as I can remember, traveling the world was always on my agenda. Being one of four girls, my parents would often half joke to us to not even think of getting married before we travelled the world first.
Alas, as I got older, leaving the Emerald Isle became more of a necessity than a want as rents soared, cost of living exponentially went through the roof, and Ireland headed in a direction of pricing itself out of the market.
Before we dive into life on the other side of the world, let's look at what life was like for a woman in her twenties with a plethora of experience and see why she had to leave her beloved Ireland in the first place.
I moved to Dublin in 2015 and fell quickly into the rat race of trying to keep my head above water. It took my partner and I a good eight months to find a semi-decent flat that was within our budget, didn't have mushrooms growing on the walls and didn't charge an extra €200 a month to park your car. 
Our rent was €1,200 for a one bedroom flat in the heart of Ballybough. While it was nice and central to the fair city of Dublin, the only bit of nature we could see was a small patch of sky above the tall surrounding buildings.
We spent four years living it up in the big smoke and while we had some good times, it'd be ludicrous to say that we didn't feel the pinch. I was on a zero hour contract, earning €14-€16 an hour with RTÉ at the time but I still found myself dipping into savings when a shift here and there fell through.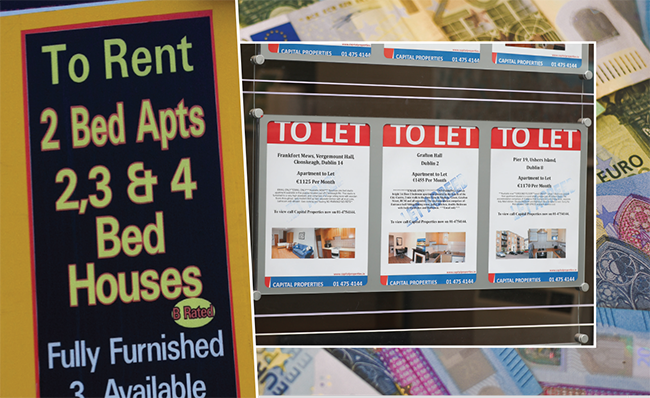 • Leaving the Emerald Isle became a necessity when rents soared
I quickly learnt that unless you have your hand in a few pies, there's no way you can have a healthy savings account while living in Dublin. That's when I took up a second job as an Irish teacher with Conradh na Gaeilge adding an extra six or seven hours to my work week. 
After four years, we decided it was time for a change in pace. We arrived in Melbourne during March 2019 and that first year was an absolute whirlwind of new and exciting adventures. It became quickly apparent how Australia managed to have cracked the code on the work-life balance that most people in Ireland seem to fail at. 
While the cost of living is slightly higher in Melbourne, the cost is warranted by your lifestyle. My partner and I pay €1,300 a month for a beautifully spacious two-bedroom apartment with panoramic views of the bay in the heart of the city. Our pad comes with a swimming pool, a gym and two communal cars to use free of charge.
Public transport is like liquid gold for the Irish down under. Everyone has a MiKi public transport card in which you can pay as you go or get a weekly subscription of €24 which will give you unlimited public transport on local buses, trams, and trains. 
One tap is worth €2.66 but is valid for two hours which allows you to make multiple transfers on your journey for the one price and furthermore, the most you'll ever spend on public transport per day is €5 because of the caps. 
The big win is the free tram zone. This was introduced as an initiative to stop people from driving within the Central Business District and for those who had meetings in various locations of the inner city to entice them to catch public transport rather than drive a couple of blocks and add to the traffic. 
We recently had our "End of Financial Year" which means we are officially allowed to do our tax returns. In Melbourne, we get tax breaks on all sorts of things such as clothes or attire for work. We get 80c back for every hour we spent working from home to help with our utility bills, part of your mobile bill if you use it for work, work seminars, meal expenses you spent while working overtime, union fees, courses that are used to enhance your career, the cost of using a tax agent, and so much more. 
Superannuation, a pension as the Irish know it, is a massive industry in itself here. No matter what you work as or how little you work, your employer is legally required to pay at least 9.5% in addition to your weekly wage. This starts from the minute you earn your first dollar and everyone is included no matter what. This gives everyone a fair chance to have a stable retirement without having to rely on the government's shortfalls. 
No matter what country or industry you work in, there will always be a need for casual workers. It doesn't mean that we can exploit them for doing the same work as a full timer. I worked as a casual worker for two years in Melbourne and was rewarded with a 25% loading fee on top of my hourly pay which counted for my lack of sick days and holiday pay. 
With all of that being said, there is still something that draws me to Ireland. After nearly four years living in Australia, I find myself longing for the green fields of Offaly, the familiar Dublin wit, and the bustling music sessions. 
I went home for Christmas and spent two months between the four corners of Ireland, and I can assure you despite all of the luxuries Australia affords me to have, it took every ounce of strength to get my bum back on that seat back to Melbourne. 
I miss being able to nip home on whim and into the familiar smell of my mother's cooking. I miss driving through the flat lands of the midlands, smelling the rotten but oh-so familiar smell of slurry being spread by the local farmer across his green fields. 
I have played a lot of Irish music since leaving Ireland and every time I play at a session in Melbourne, I am often one of very few Irish natives in attendance, but I am quickly reminded how Irish culture brings all backgrounds together and includes absolutely everyone. 
Although most people back home would say we are pushovers, I do love how laid back we are and how no matter what's going on, you'll always find some lad in the back of a crowd wearing a GAA jersey saying "Ah ya can't be at that craic now". There's not one such thing that makes us Irish, but rather a collection of proclivities that makes us the lovable rogues that we are worldwide. 
Alas, as I'm embarking the bullet train towards 30, I find myself wondering what I want out of life at this stage. I feel ambivalent towards Ireland at the moment and I'm unsure as to whether I want to dedicate my life, my career to her if I get very little in return.
An investment in Ireland's children is an investment in us all. Irish blood runs through my veins and she'll always be a part of me no matter where I go, but I'd rather be at home, investing in Irish businesses and investing in my Irish career because at the end of the day, níl aon tinteán mar do thinteán féin. 
• Brónagh Ní Chuilinn is a Senior Events Manager who lives in Melbourne, Australia.