4 August 2022 Edition
Sliocht Róisín – Liosta Laochra na Poblachta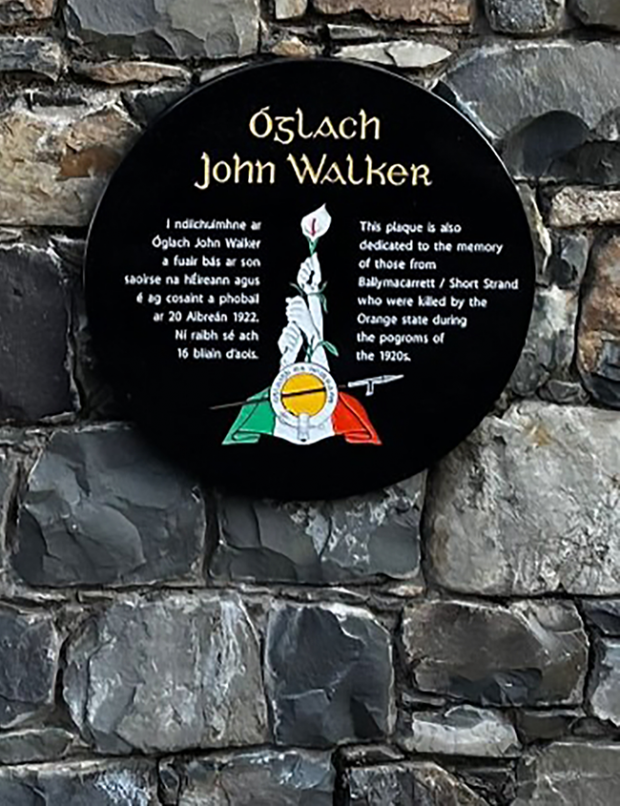 Éireann Nic Uaitéir introduces the Sliocht Róisín project, an ongoing independent venture that seeks to record the details of every Republican who died as a result of the conflict in Ireland from 1916-23 and in the years after.
• • • • • • • • • • • • • •
'Many of them are poor — almost all are. Most of them are unheard of, and yet their work for Ireland deserves to be known. It will never be, in our day anyway, in all probability, but it is to them the thanks of future generations of the Irish people will be due. They gave their all in silence, seeking no reward and getting none.' 
Commandant-General Liam Mellows
We are excited to be given an opportunity to introduce the readership of An Phoblacht to Sliocht Róisín – Liosta Laochra na Poblachta (Descendants of Róisín – Heroes of the Republic), a massive project of Republican historiography that has been in the work for two years. 
Sliocht Róisín is an independent project aimed at recording details of every Republican who died as a result of the conflict in Ireland from 1916-23 and in the years after. All members of the Irish Volunteers/IRA, Na Fianna Éireann, Cumann na mBan, IRB, Sinn Féin and other Republican organizations who died during this era have had their details carefully pieced together, many for the first time.
The project is a joint work between 1798 historian Colum O'Ruairc, co-author of United Irishmen: Emigres of Erin, and Maynooth University student Shane Waters. However, a huge number of both locally and nationally renowned historians have contributed their knowledge to help us on the journey towards a comprehensive list, unlike any ever seen.
Every entry consists of their rank, unit, birth details and parentage, occupation, address and marital status and children where applicable. This will be of huge help for those tracing their family genealogy from this era. 
Each entry culminates with an account of their death, drawn from all relevant sources, inquests, newspapers, Bureau of Military History (BMH) statements and local knowledge. Finally, their resting place is noted; whether it be the expanse of Glasnevin, a lonely churchyard in West Clare, with their comrades in a well-maintained Republican plot or a yet unmarked grave in Milltown. 
The work has already seen at least one tangible result, with a plaque erected to Volunteer John Walker killed in April 1922 in the Short Strand after we passed on his details to the local commemoration committee. 
Quotes and images of the time are scattered throughout the book, alongside songs, many which have never sung or recorded outside the locality where the volunteer remembered was from. Eyewitness accounts from the time, ranging from reports of Sinn Féin cumainn forming to fierce firefights capture the mood of the era. It is among the most detailed studies of the dead of any war ever undertaken.
• A sample of a bio from the book
We went through every national and local history of the era, every BMH statement, every memorial, the 1921-22 nominal rolls, death notices, and any other source we could find until the list exceeded 1,000. 
Many of those listed in Sliocht Róisín have never been acknowledged in conventional narratives as Republicans. With the releases of military pension files, nominal rolls and a wealth of local knowledge supplied to us, they will finally be listed alongside their comrades as they always should have been. 
Sliocht Róisín is in some ways a successor to the highly sought after 'The Last Post' book of 1976 and 1985, but with significantly expanded detail and a most crucial addition, the photographs. We have amassed what is certainly the largest collection of photographs of Republican casualties of the era ever compiled, with over 500 photographed, having scoured books, newspapers, websites but most importantly, having secured a massive amount of cooperation from families of the dead. 
Many have never been seen outside of their families in the past century. A typical example of this is Volunteer Seán Bulman of D Company, First Battalion, First Cork Brigade, shot dead in Shandon St Barracks in Cork in April 1922. 
Seán's grandniece Juliann related to us how his picture had to be rescued from a second-hand shop after his sister died, where it has remained a possession of his proud family ever since. We intend to bring back the forgotten faces of the names inscribed on dark crosses in lonely graveyards, to change them from quick lines in songs back into human beings, who shared a deathless dream and fell before seeing its conclusion. 
There are many more photographs to unearth yet and we would like to appeal particularly to families from the north of Ireland whose relations have had their pictures and stories hidden by the most recent phase of the conflict.
We are extremely fortunate to have the cooperation of the National Graves Association and all profits from the publication will be going towards their work maintaining the graves of those we are writing of. 
We decided that the enormous help we have received from families and historians was not something we wanted to profit from and that those who helped make this possible should see the memorials to their relations marked in a fitting way.
Sliocht Róisín is still looking for a publisher at the time of writing and we hope to have our first volume, containing the dead of 1916-1919 out by Christmas. If any of the readership wishes to contribute to the project please email: [email protected]. All contributions are welcome and any information that you feel we may have overlooked will be appreciated.
• Éireann Nic Uaitéir is a history and politics student at Maynooth University and a Sinn Féin activist based in Wexford