30 November 2022
100th Anniversary of Liam Mellows to be marked in Galway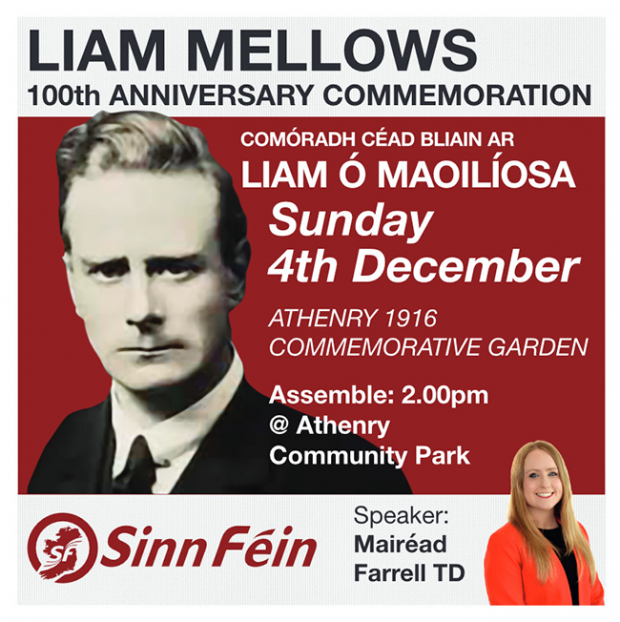 "I believe that those who die for Ireland have no need of prayer" ‑ Liam Mellows, final letter to his mother, 1922.
On the morning of 8 December 1922, Liam Mellows went to his death along with three fellow Irishmen, all comrades, to be killed by other Irishmen.
Liam Mellows was executed by a Free State firing squad, in Mountjoy Prison. Rory O'Connor, Dick Barrett and Joe McKelvey were also shot by the same firing squad. Together they were representative of the four provinces, and executed by the Free State Government in reprisal for the shooting of two Pro-Treaty TDs.
Mellows was the Connacht man among the four. For although not from the West, it is in County Galway that he is affectionately remembered by Republicans. He led the 1916 Easter Rising in the county, having first come to Athenry in 1914 to train the Irish Volunteers. The Galway Rising was the second largest uprising outside of Dublin in 1916, where over 500 Volunteers rose in defence of the newly proclaimed Irish Republic.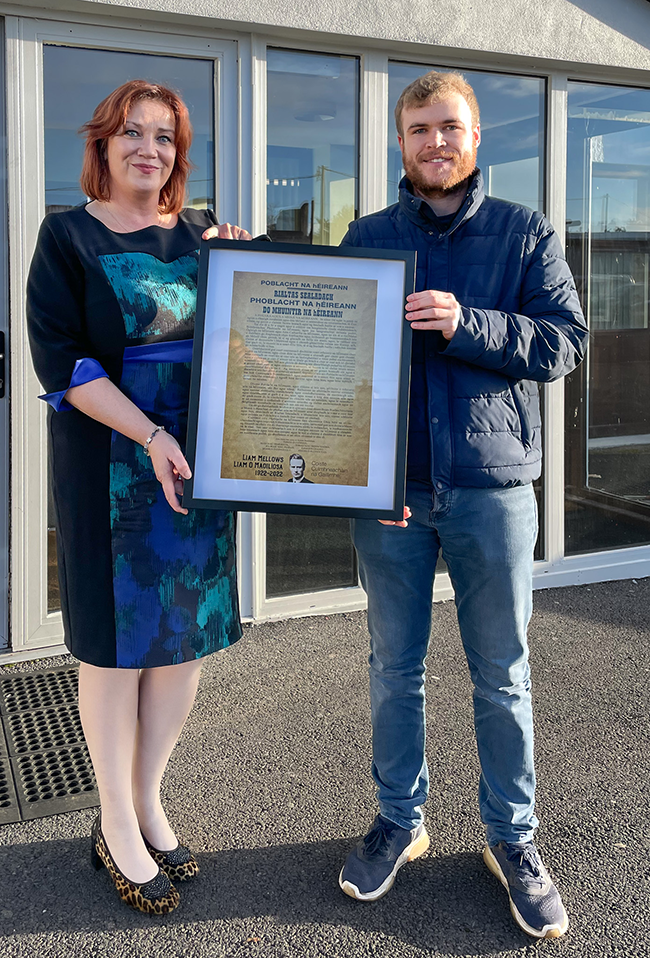 • Louis O'Hara presenting a Liam Mellows Proclamation to Príomhoide of Coláiste an Eachréidh in Athenry
In the 1918 General Election he was elected a Sinn Féin MP for East Galway. Again, as a TD, he held the seat in 1921, unopposed. In the Treaty debates he spoke vociferously against the 1921 Anglo-Irish Treaty.
So, as leader of the Easter Rising in Galway in 1916, and subsequently elected for East Galway in the General Election of 1918, Liam Mellows has rightly secured his place in Galway's Republican Roll of Honour.
He first arrived in Galway in October, 1914 to organise the Irish Volunteers following the movement's split with Redmond's National Volunteers. He immediately became a popular leader with the rank and file in Athenry, where he was based.
The biggest uprising in Easter Week, 1916, outside of Dublin, was in County Galway. Because, despite a major uprising being planned for the whole country, due to countermanding orders and confusion, there was only action in Dublin and Galway with smaller activity in Wexford, Meath and Cork. In Galway over 500 Volunteers were mobilised, and over the course of the week, it could be said that they liberated 600 acres of the County from British rule.
After the Rising he escaped to America, where he stayed for four years, raising funds, securing arms and gaining political support for the Republican cause in Ireland. He was elected MP for two constituencies in the 1918 General Election on the Sinn Féin platform: East Galway, and Meath. He was again returned for Galway in the uncontested election of May, 1921. Sinn Féin never accepted the Westminster parliament, instead establishing Dáil Éireann in January, 1919.
He returned home in November, 1920 and became a member of IRA GHQ with responsibility for arms procurement during the War for Independence. Always a revolutionary, he espoused physical force rather than politics as the means towards full independence. As mentioned, he spoke against the 1921 Treaty in the Dáil debates on it, his speech being prophetic in many ways. He was a member of the Four Courts Anti-Treaty Garrison at the outbreak of the Civil War, and was captured after its bombardment in June, 1922.
Liam Mellows has long been regarded as a great loss for socialist republicanism. Undoubtedly targeted by the Free State authorities as a potential future threat, his political beliefs shifted during his period of involvement from the conventional nationalist stream of republican thought to overtly socialist republican views. This shift began with his contribution to the Treaty debates where he spoke as a TD, and later his Bodenstown speech in 1922, just before the outbreak of the Civil War.
• Mairéad Farrell TD presenting a Liam Mellows Proclamation to the Principal of Carnmore N.S. in a parish that saw clashes 
On 4 December, in Athenry, the Galway town most associated with him, Galway republicans will remember and commemorate Liam Mellows. This event, by Galway Sinn Féin, will commence with a march from Athenry Community Park at 2pm by a Piper-led procession walking past his former residence in the town, to the 1916 Commemorative Garden. There, Galway East Sinn Féin Election candidate, Louis O'Hara will open and chair the event which will involve:
Other parts of the commemoration will include a reading of the 1916 Proclamation by Jim Ward, be excerpts of Mellows' Dáil speech during the Treaty debates to be read by Claire Kerrane TD. The song 'Máirtín Moylan' will be sung by Kevin Rohan. The final letter from Mellows to his mother will be read by Laoise Byrne of Ógra Shinn Féin. The Galway Republican Roll of Honour read by Cllr Dermot Connolly. Finally the main oration will be delivered by Mairéad Farrell TD, the first Sinn Féin TD for Galway since Liam Mellows
A wreath will be laid by a family member of a Volunteer from 1916 and Amhrán na bhFiann will be sung by Shauna Redmond
It is worthy that Galway Republicans and Sinn Féin in Galway honour Mellows in this way on his 100th Anniversary, for as Mellows himself said in 1919 about the people who had risen with him in Galway:
"Most of them are unheard of, and yet their work for Ireland deserves to be known. It never will be, in our day anyway, in all probability, but it is to them the thanks of future generations of the Irish people will be due. They gave their all in silence, seeking no reward and getting none".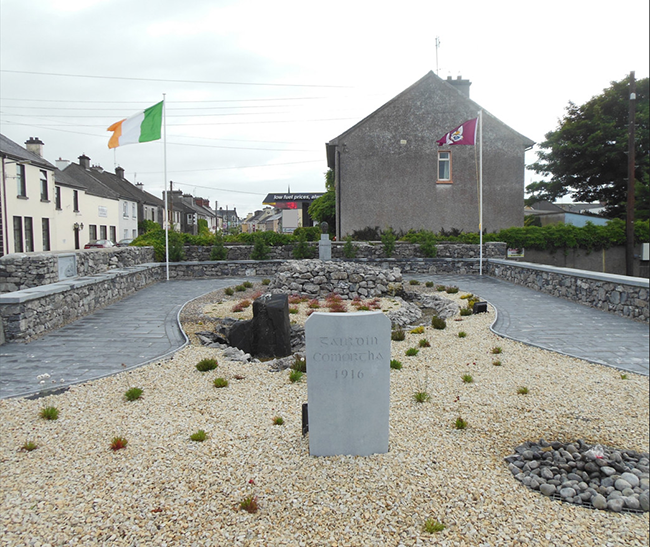 • 1916 Commemorative Garden in Athenry, Co. Galway