4 August 2022 Edition
The New Ireland is for Everyone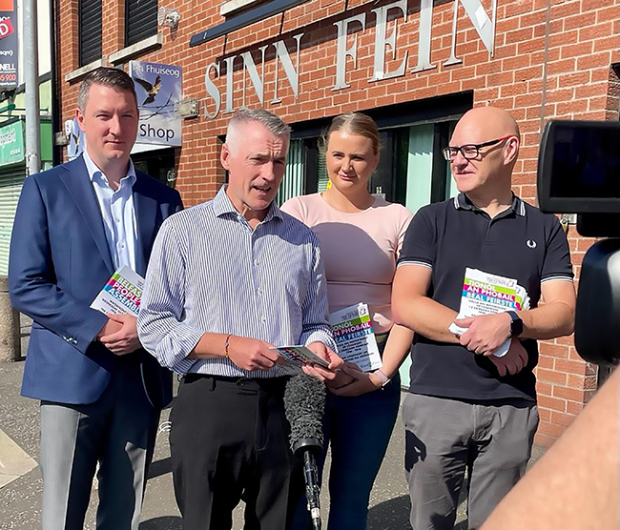 The prospect of a unity referendum and future constitutional change in Ireland is now one of the most dominant conversations taking place in Irish society. It is resonating across the Irish diaspora like never before. It has seized the attention of the international community.
Recent opinion polls, and particularly the growing support for Sinn Féin, reflect that momentum. Irish politics have been dramatically realigned by the emergence of Sinn Féin as the largest political party in Ireland.
Whilst not inevitable, there is now an unprecedented potential for our party to lead a restored power-sharing coalition in the North, and to become the lead party of government in the South after the next Irish general election.
These are exciting times. The end of Partition and development of a new, agreed, constitutional national democracy is within touching distance.
Irish reunification is a legitimate, reasonable, and achievable democratic objective. The exercise of self-determination which can bring it about, and up to now denied to the people of Ireland, is provided for under the terms of the Good Friday Agreement.
But while Sinn Féin is central to helping to achieve a united Ireland in the coming period, a much wider national democratic coalition is needed to continue making progress.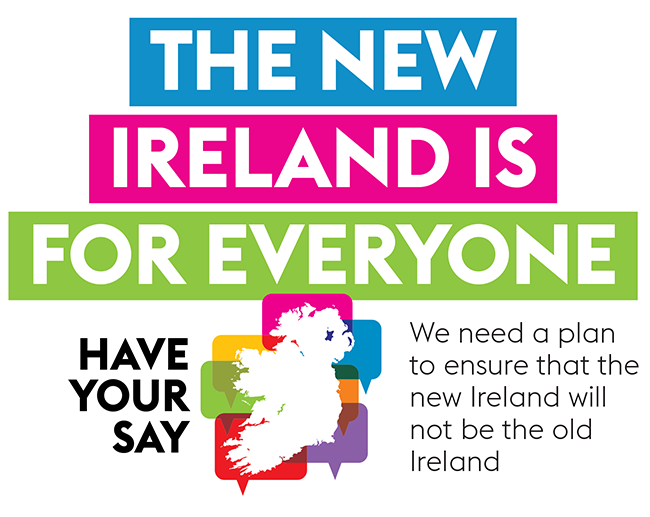 More citizens and sectors in Irish society are posing obvious questions about the transition to constitutional change, and what form a new Ireland would take. They are asking about the next steps and time frames, future systems of governance, the development of an Irish national health service, pension arrangements, how education and other public services would function, citizens' rights and guarantees for minorities, and re-entry to the European Union.
It is understandable that these practical issues are being raised. People want reassurance that the future will be better than the past, that their interests will be better served and protected. Put simply, we need a plan to ensure that the new Ireland will not be the old Ireland. The preparation and planning should start now.
The Irish government is constitutionally obliged to plan for reunification. It should be focussed on developing a phased transition. Irish Unity will not happen overnight.
Sinn Féin has been calling on the Irish government to establish a Citizens' Assembly as a sensible democratic process to commence this work without delay. There is no logic for this government's continued failure to establish a forum which would help structure the current, organic conversation, and allow the views of Irish citizens to shape the future.
Sinn Féin strongly believes people should have their say. That is why Uachatarán Shinn Féin Mary Lou McDonald recently launched the Commission on the Future of Ireland. Of course, it is not a substitute for a Citizens Assembly, but is intended as a genuine initiative to encourage the popular debate and grow the momentum.
The Commission on the Future of Ireland will be an 18 month project intended to widen democratic participation by using a model of grassroots consultation.
This will be achieved through hosting a series of public People's Assemblies across the country, incorporating women's assemblies, youth assemblies, and assemblies in Gaeltacht areas.
There will also be sectoral and private engagements. An online submissions portal has been developed which will enable any interested individual or group to put their views forward by completing a written submission.
It will gather feedback from citizens, including the diaspora, regarding their hopes, aspirations and concerns about the future of Ireland and will publish a final report.
I have been appointed as Chairperson of the Commission and Seanadóir Lynn Boylan is Deputy Chairperson.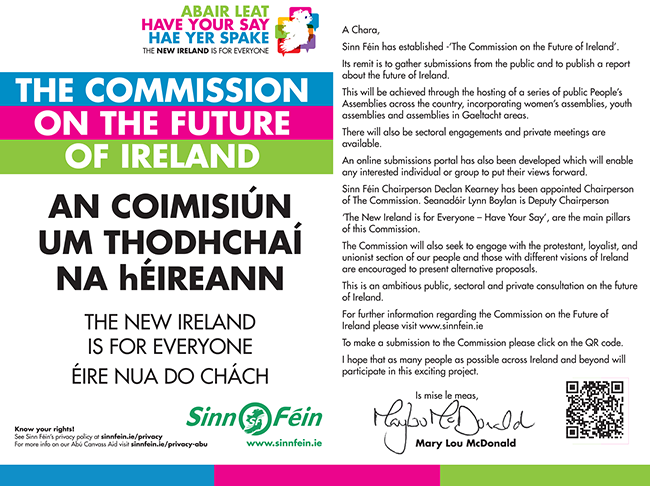 'The New Ireland is for Everyone – Have Your Say' is the main pillar of the Commission. It will also seek to engage with the Protestant, loyalist, and Unionist section of our people. All those with different visions of Ireland are encouraged to present alternative proposals.
The Commission is an opportunity for citizens to have their say on the future of Ireland; our economy, our constitutional arrangements, political and democratic structures and governance, the role of the Irish government, the rights and equality agenda, the protection of minorities, future economic and public policy models, and a future all-island public health service.
We want the Commission process to be positive, democratic, and ambitious. The inaugural public meeting will take place in the Waterfront Studio, Belfast on 12 October beginning at 7pm
This Belfast People's Assembly is open to all citizens of Belfast and the surrounding areas, and I encourage those from all backgrounds and walks of life to attend. All views and ideas will be welcome.
The reunification of Ireland will affect everyone in many ways, and we need to get it right. Designing a new constitutional future needs to be an inclusive and democratic process. Our people should be involved.
You can register to attend the Belfast People's Assembly through the Eventbrite website
In advance of the Belfast People's Assembly, I am asking people to complete an online submission by clicking on the QR code or through the Sinn Féin website at www.sinnfein.ie/futureofireland
In the coming months, additional dates and locations for People's Assemblies in other areas will be announced. I believe the Commission can provide an important forum to facilitate involvement in shaping the future, by actively encouraging all citizens to 'have your say.'
Abair leat. Tapaidh an deis. Bígí linn. 
• Declan Kearney is Sinn Féin's National Chairperson and an MLA for South Antrim.