21 October 2022
'She enthused and motivated us all'. Remembering Pegeen O'Sullivan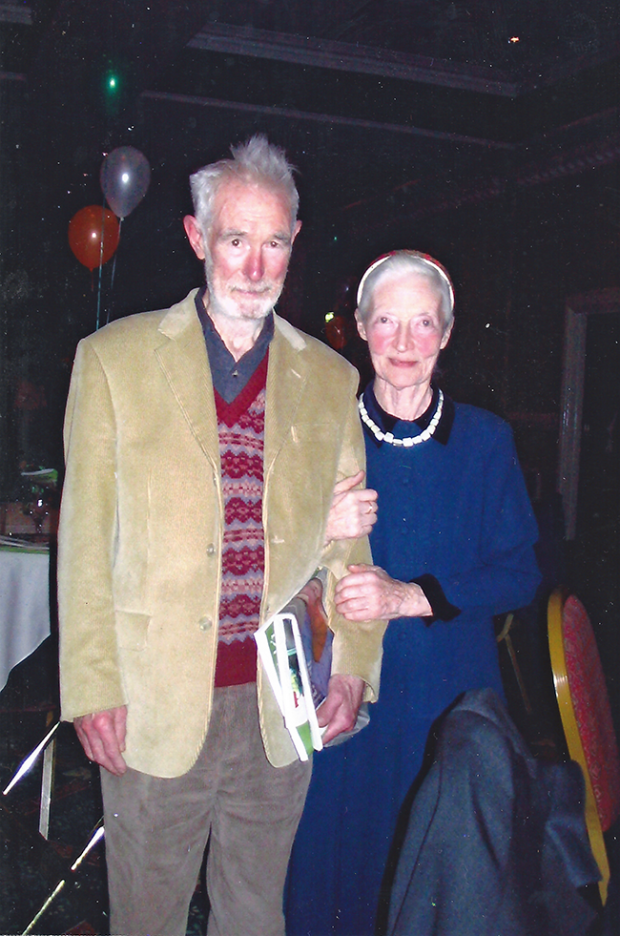 Camden resident, writer, socialist, and Irish Republican, Pegeen O'Sullivan died on 10 July this year aged 96 years old. Those paying tribute to Pegeen at her funeral in Shrewsbury Orthodox Church on 2 August included her friend and former neighbour Angus Melville and Limerick City's Sinn Féin TD Maurice Quinlivan.
Pegeen spent most of her life in London and lived in Rossendale Way, Camden Town, for 36 years. She moved out of London to live near her goddaughter Veronica Davies as her health deteriorated. 
Pegeen was born in Dublin on 10 April 1926 to writer and journalist Margaret Barrington and novelist and short story writer, Liam O'Flaherty. She often talked about her father's work and had happy memories of visiting the Aran Islands off the west coast of Ireland where his novels were set. Pegeen went to a Quaker boarding school when she was ten, and was pleased to be learning alongside child refugees from the Spanish civil war. 
I first met Pegeen in the 1980's. This genteel, quietly spoken and quick-witted woman was active with her husband Christie in Camden Against the Poll Tax and other community campaigns. 
• Pegeen O'Sullivan with her father the Irish writer Liam O'Flaherty
They played a big part in organising the first Camden Irish Conference held at Camden Town Hall in 1990. When we set up Camden Irish Forum to implement the decisions taken at this conference, Pegeen was elected secretary, and as chair of this group, I worked closely with her. Pegeen was meticulous in her role, and a beautiful person to be with.
The Orthodox Church played a significant part of Pegeen's life. She regularly attended Sunday Services. It was here that Pegeen's Russian Godmother taught her to speak Russian, a skill that enabled Pegeen to become an Interpreter for the British Council, escorting groups of visitors from the Soviet Union to factories, coal mines and other places of interest. 
Pegeen married Cork born Trade Unionist Christy O'Sullivan in the 1960's.They were active together in the Wolfe Tone Society and prisoner support groups, Fuascailt and Saoirse. 
Her friend and fellow Irish Republican, Shelagh O'Connor remembers Pegeen and others co-ordinating a letter writing campaign to the Camden New Journal, and helping produce practical advice cards on 'What to do if you were arrested under the Prevention of Terrorism Act'. 'She enthused and motivated us all', Shelagh recalls. 
• Sinn Féin TD Maurice Quinlivan, Pegeen O'Sullivan and Shelagh O'Connor at a republican rally in the 1990's outside Downing Street
Pegeen's courage and commitment continued long after Christy's death in December 2010. Visiting her home was always a happy and exciting occasion with cups of tea, homemade cakes and a tour of the garden. 
Maurice Quinlivan, TD told mourners at her funeral, 'I lived in London for 9 years and it was a pleasure to know Pegeen. She was a constant in any political work or events I attended. She often reminded me that she was appalled by the partition of Ireland against the wishes of the Irish people as expressed in the 1918 election. This and her hunger for justice is what spurred her on. There wasn't a protest on Irish issues that she and her late husband Christy weren't at.'   
'She attracted people by her vitality' her friend Angus Melville told mourners. 'I loved hearing her stories, how as a child, a circus manager in the South of France had tried to persuade her parents to part with her, and how she'd never forgiven them for not agreeing! Or the time upon leaving her father one day, he had casually mentioned "did I ever tell you, you had a sister?" Fortunately, her half-sister Joyce later managed to track her down and they became great friends'.