15 August 2022
Albert Kane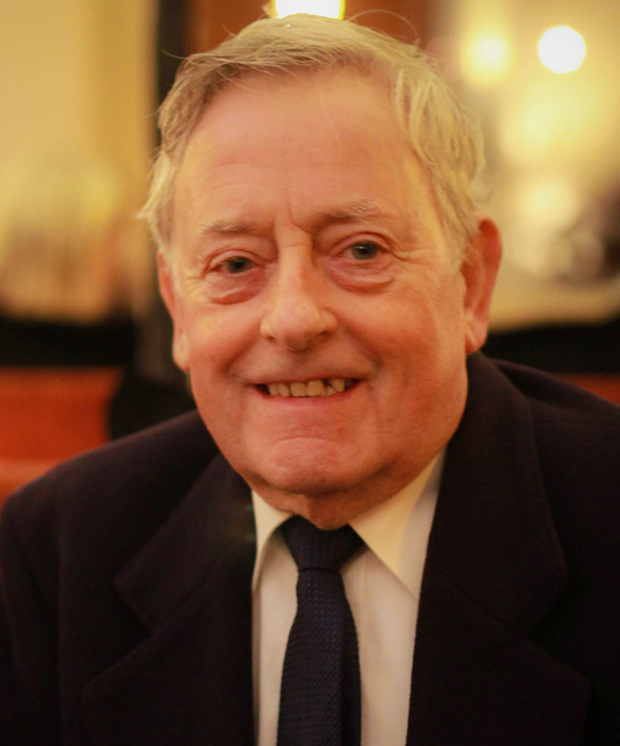 Although he was advanced in age, the death of Albert Kane after a relatively short illness, came as a shock to his family, friends and comrades. Their loss was sudden because Albert had remained engaged and active and irrepressible right up to his final illness. 
An activist in Dublin Sinn Féin for nearly 40 years and a former general manager of An Phoblacht, Albert was born in Cappagh, Co. Tyrone in 1937. He was a proud Tyrone man, his mother had been in Cumann na mBan, family members were involved in the Civil Rights movement and a neighbour of theirs was hunger striker Martin Hurson. 
Albert was a skilled carpenter and worked in Tyrone, England and then in Baldoyle, Co. Dublin where he settled with his wife Susan. They had seven children. He built up a successful family business in landscape gardening. From 2005 to 2007 Albert was general manager of An Phoblacht.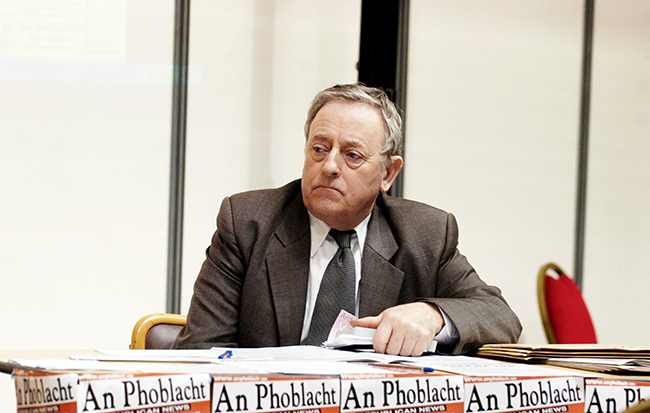 • As general manager of An Phoblacht 
The Church of Saints Peter & Paul in Baldoyle was packed for Albert's funeral mass with mourners from Dublin, Tyrone and further afield. Albert (Jnr) spoke movingly for the family, saying their father was a legend in the true sense of the word. Uilleann piper Leo Rickard of Howth played slow airs during the mass and Albert's comrades from Dublin Bay North Sinn Féin provided a guard of honour. Uachtarán Shinn Féin Mary Lou McDonald was among the many party representatives attending. 
At Dean's Grange cemetery Noel Kelly of the St Lawrence Pipe Band, Howth, led the funeral procession. At the graveside Katie Rooney paid tribute in song - 'Down by the Glenside' and 'The Parting Glass'.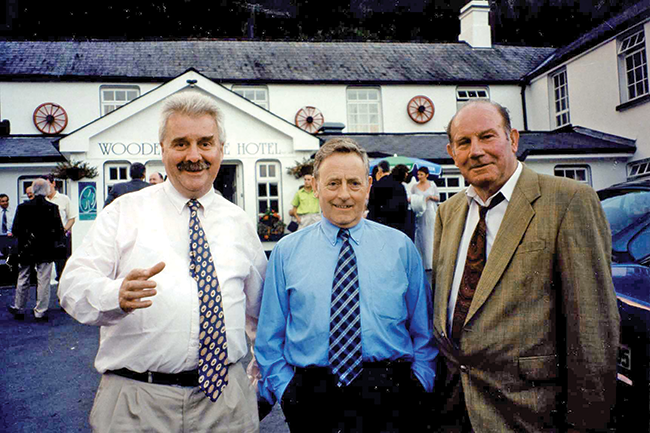 • With his good friends Cllr Larry O'Toole and the late Jack Crowe 
During his speech Sinn Féin Councillor Mícheál Mac Donncha said: 
"Ar mo shon féin agus ar son Poblachtánaigh atá bailithe anseo ba mhaith liom comhbhrón ó chroí a chur chuig clann uile ár gcara, ár gcomrádaí Albert. Fear uasal, fear fial, fear dílis dá chlann, dá chairde, do Ghluaiseacht na Poblachta agus do chúis na saoirse, cúis na hÉireann Aontaithe. 
"I last saw Albert at the funeral of another friend and comrade Josie Sheppard. Just prior to that Albert had defied doctor's orders to go from his home to Kilbarrack cemetery to do some work on a patriot grave in preparation for a commemoration. 
"That was typical of Albert. In the Kilbarrack graveyard project like all else he put his mind to, he engaged wholeheartedly and sought no attention or reward for his hard work. 
"I first met Albert in 1984 when a few of us got together to reorganise Sinn Féin in Dublin North East in the European elections that year and the local elections the following year. Out of that came a core group of people, including Cllr Larry O'Toole, who stayed working together and building Sinn Féin over the following decades - and Albert was always there, always where the work was.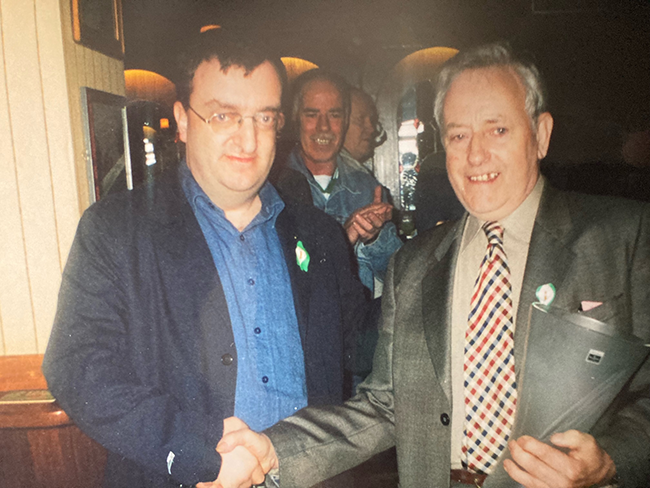 • A presentation to Albert from Cllr Mícheál Mac Donncha after an annual Asgard commemoration in Howth
"In the days of State censorship Albert was the man with the car who brought us on our paper run, getting the Republican message out, selling An Phoblacht every Friday in pubs across Dublin North East. 
When we finished he always enjoyed the discussion and the last pint afterwards, because as well as doing the hard graft Albert loved a debate. And it was always about how to do things better, how to move the struggle forward. 
"He proudly declared his republicanism wherever he went. He stood by his children when they were in Fianna Éireann, he stood by Pamela when she was a Republican POW, he stood with the resistance against repression and Partition.
• With fellow Tyrone Republican Michelle O'Neill in Croke Park 
"Albert fully embraced the Republican peace strategy. He revelled in Sinn Féin's growth and electoral success, culminating in the election of so many TDs, including our own Denise Mitchell in Dublin Bay North. He lived to see Sinn Féin as the biggest party in Ireland. He worked tirelessly for a United Ireland, an Ireland of Equals, a democratic socialist Republic. 
"And the political growth and success we see today that will bring that day closer was built up over many years by the hard work of activists like Albert Kane. They must never be forgotten."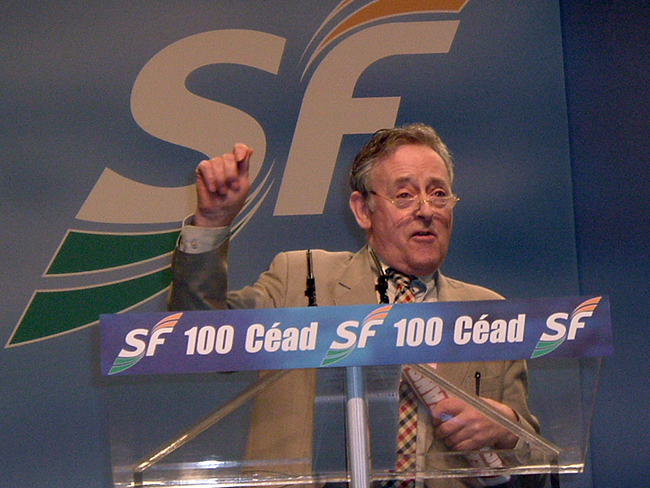 • At the 2005 Sinn Féin Ard Fheis
Seán Crowe TD, a close friend of Albert and the Kane family, spoke movingly of their friendship and comradeship. He referred to Albert's stalwart support for Republican prisoners, including going bail for them on many occasions. He continued:
"A friend best described Albert as 'having a big heart, as big as a mountain.' I thought it was a lovely way to be spoken of and remembered.
"He was the first to drop by in times of difficulty, maybe about a personal loss, the passing of a loved one, sitting quietly there, supportive, unobtrusive, someone there to listen, or offer a helping hand if needed.
"Albert was also the general manager with An Phoblacht and was tasked with modernising and expanding the sales of the paper. Rita O'Hare who worked with him said that when the Good Friday Agreement was signed they hugged and agreed optimistically that it might take a couple of years to sort things out.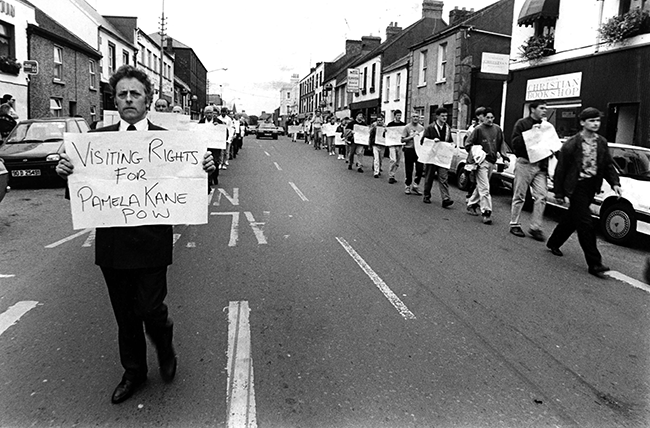 • Albert Kane leads a protest in Limerick in support of his daughter Pamela, then in Limerick Prison 
• A prison visit with Pamela
"Well it's been a few years but Albert always believed it was the right decision, the right way to move forward. He was delighted with our electoral successes and looking forward to Sinn Féin in government North and South He was proud to be an active member of Sinn Féin
"I can't think of Albert without Susie, she was the love of his life. I only wish I had the words or the ability to remove some of your sadness from you and your family. 
Albert loved you as you know, he loved his sons, his daughters, daughter in laws, son in laws, his grandchildren, all in equal measure and was proud of you all and your many achievements.
"On behalf of everyone here today and Irish republicans everywhere can I thank you for sharing Albert with us. We are all the better and stronger to have known him."
• Albert's funeral leaves his home in Baldoyle 
An Phoblacht on Twitter

An initiative for dialogue 
for reconciliation 
— — — — — — —
Contributions from key figures in the churches, academia and wider civic society as well as senior republican figures