12 August 2022
Arthur Griffith - a reflection
Remembering the Past - 100 years ago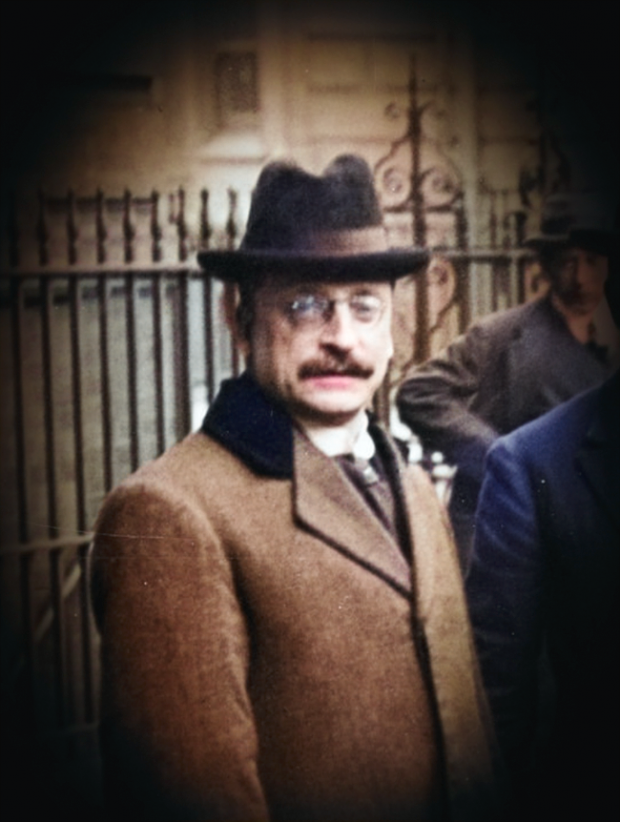 Arthur Griffith died 100 years ago as the Civil War escalated, a war brought about as a direct result of his decision to sign the Treaty. Griffith's legacy will forever be defined by that one act.
It was the end point of the remarkable career of an Irish nationalist who was hugely influential in his day. The concept of Sinn Féin - Gaelic for Ourselves - was an idea well before it was a political organisation. It was an idea developed largely, but by no means exclusively, by Griffith. His friend and mentor Willie Rooney who died very young has been justly credited with the Sinn Féin idea also.
The first Sinn Féin organisation - more a loose federation of groups than a party - was founded by Griffith and others in 1905. It sought to give political expression to 'Irish Ireland', the cultural expression of Irishness for which Conradh na Gaeilge and the language revival were primarily responsible. It sought a strategy of political self-reliance instead of  dependence on the Westminster parliament and English party politics as practised by the then dominant Irish Party under the leadership of John Redmond.
Griffith was primarily a journalist and it was through his writings that he wielded his influence. His paper 'The United Irishman' was funded by the Irish Republican Brotherhood. This fact and Griffith's actual views on the use of armed force by those seeking Irish independence are usually glossed over by Fine Gael and other revisionists.
A month before Sinn Féin was founded, Griffith expressed his view in an editorial in 'The United Irishman'. He wrote that the paper "has never advocated armed resistance because — and only because — it knows that Ireland is unable at the present time to wage physical war with England. But it has maintained and always shall maintain the right of the Irish nation to assert and defend its independence by force of arms — a right which no human being to whom God has given the ordinary complements of intelligence and honesty can venture to deny."
So, those who try to paint Griffith as a purely 'constitutional nationalist' in contrast to later 'men of violence' are peddling false history. They should also recall that when Lloyd George demanded the handing over of IRA weapons to the British before any peace talks Griffith said such an act would be surrender.
Even more ludicrous are those calls from Fine Gaelers and Fianna Fáilers for modern Sinn Féin to take seats in Westminster. Abstention from the British parliament in London was a cornerstone of Griffith's policy and for those who claim to inherit his mantle to advocate participation by Sinn Féin today is the grossest hypocrisy. To add to it, neither FF nor FG contest elections in the Six Counties and they refuse to give attendance rights even in Oireachtas committees to those who are elected there.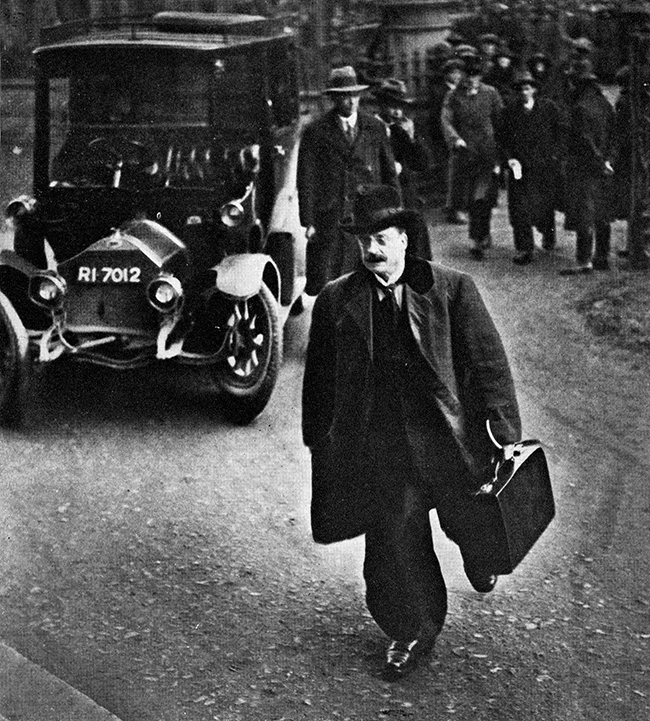 • Arthur Griffith going in to the Treaty debate 14 December 1921
The central problem with Griffith was that he was not a Republican, even after Sinn Féin adopted a Republican constitution in 1917. In fact one of the Sinn Féin vice-presidents elected at that time, Fr Michael O'Flanagan who was very much a Republican, was highly critical of how Griffith behaved after 1917. O'Flanagan pointed out that Griffith's newspaper 'Nationality', seen as the semi-official organ of Sinn Féin, never referred to the movement's adoption of Republican principles. Similarly, the paper played down the Republican commitments in the Sinn Féin 1918 General Election manifesto.
The convening of the First Dáil Éireann was of course in line with Griffith's policy but it went further in ratifying the establishment of the Irish Republic, a move he did not favour. Nevertheless he accepted office in the Dáil Cabinet and was widely recognised as a key leader in the independence movement.
Griffith was appointed leader of the Irish negotiators in London in 1921. The crucial point in the negotiations came when Griffith did what was in effect a side deal with Lloyd George, pledging his support for recognition of the crown in return for the promise of a Boundary Commission. Griffith's inflated sense of personal honour was skilfully used by Lloyd George when he produced the side deal at the main negotiations and Griffith duly stated that he would sign the Treaty even though he were to do it alone.
It seems Griffith genuinely believed the Treaty was a good outcome for Ireland, while Collins believed it could be built on. But disastrously for Ireland they signed the Treaty under the threat of war and knowing that it would deeply divide the Irish leadership. They put their belief that their personal prestige would 'carry' the Treaty before their responsibility as part of a collective leadership.
Griffith had shown a vicious streak of reaction in his opposition to Jim Larkin and the ITGWU during the 1913 Lockout. This streak emerged again in the Treaty debates and the lead up to the Civil War. Griffith displayed a visceral hatred of Erskine Childers, who had been Secretary of the Irish delegation in London and who opposed the Treaty. His public demonisation of Childers no doubt played a big part in his colleagues' decision to execute Childers in November 1922.
By then Griffith himself was dead, having succumbed to a brain haemorrhage on 12 August 1922. He had become the chief ally of the British government on the Free State side and had been incensed by the efforts of Collins and others to achieve some sort of reconciliation with the anti-Treaty side. In the end both he and Collins were caught in the trap sprung by the British when they induced them to sign the Treaty and Ireland was to pay the price in the decades that followed.