10 August 2022
Execution of Reginald Dunne and Joseph O'Sullivan 100 years ago
Remembering the Past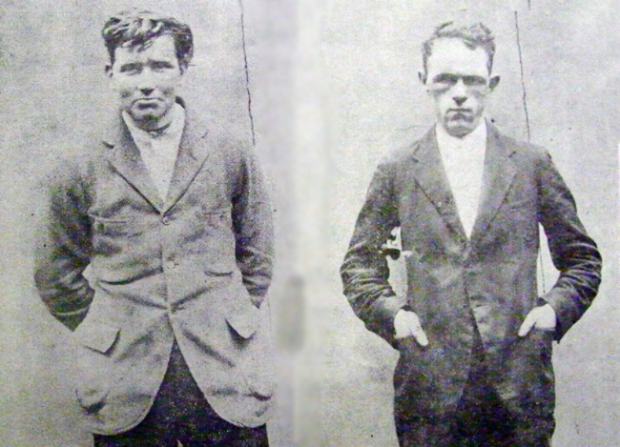 Often in history, and in politics, plans are overtaken by events. This could be said of the execution by two IRA Volunteers of Henry Wilson, the British military advisor to James Craig's Stormont parliament in 1922. Shot dead on the steps of his home, his death has been associated with the Free State's decision to attack the republican garrison in the Four Courts, thus setting the Civil War in train in earnest.
On 22 June 1922 two London IRA Volunteers walked up behind Sir Henry Wilson as he returned to his Eaton Square home after unveiling a war memorial in Liverpool Street Station, and fired the fatal shots. Two policemen were also shot as the Volunteers tried to make good their escape. They were then surrounded by a hostile crowd and arrested by other policemen.
Reginald Dunne and Joseph O'Sullivan were both former British army soldiers, O'Sullivan having lost a leg at Ypres, and during the Tan War they were active in England for the IRA. Following the Treaty Dunne leaned towards the pro-Treaty side (Cumann na mBan members in London sent him white feathers) and was firm friends with Michael Collins. Both men are believed to have been members of the Irish Republican Brotherhood; this has added to the speculation as to who ordered Wilson's execution.
Though Collins was heavily implicated no proof was forthcoming. Was it an independent operation? A joint operation aimed at reuniting IRA (Dunne had been in Dublin visiting Collins and Rory O'Connor in the Four Courts a week earlier)? Was it a GHQ or an IRB operation? Or a provocative act to get Collins the carte blanche to attack the Four Courts garrison?
• British Army Field Marshal, Sir Henry Wilson
No organisation ever claimed that the men were operating under their orders. The State backed demands for repatriation and reburial of the bodies of the two men after their execution. At their graveside a day after their re burial in Glasnevin on 7 July 1967 three men with revolvers fired a volley.
Sir Henry Wilson was a British Army Field Marshal from a unionist background who during the Tan War set up the spying team, the Cairo Gang, which was wiped out by the IRA's Squad on a Sunday morning in 1920. He was not in favour of unofficial military reprisals but, he once said, ``if these men ought to be murdered then the government ought to murder them''. He threatened to resign if Kevin Barry was not hanged.
An MP for Down after 1921 he was Sir James Craig's parliament's military advisor with £2 million at his disposal to carry out whatever measures were necessary ``regardless of consequences''. He was believed by republicans at the time to be directly responsible for setting up the B Specials and the anti-nationalist pogroms of 1921-'22.
Very few in Ireland grieved after him, but the Free State cabinet reacted like lackeys. The British predictably decided on a policy of retaliation, laying plans for a military attack on republican positions in Dublin with tanks, howitzers and aeroplanes. It issued an ultimatum to the Free State government that ``the ambiguous position'' of the IRA and Four Courts occupation could no longer be tolerated.
The invasion was cancelled at last minute. Ships en route to Dublin had to be recalled. All copies of a proclamation prepared for the invasion were later destroyed in case its contents ever leaked out. While officially no actions were carried out, reprisals against nationalists did happen.
• Wilson's assassination made the front cover of 'Le Petit Journal'
The British need not have gone that far. Their demand that Collins bring the open rebellion in Dublin "to an end forthwith'' was already underway. With Griffith calling Wilson's shooting an "anarchic deed'', the cabinet decided to attack the Four Courts at Britain's behest.
The leader of the anti-Treaty side Eamonn De Valera said:
"The killing of a human being is an awful act, but as awful when the victim is the humble worker or peasant, unknown outside his own immediate neighbourhod, as when the victim is placed in the seats of the mighty and his name known in every corner of the earth. It is characteristic of our hypocritical civilisation that it is in the latter case only we are expected to cry out and express our horror and condemnation...
"...I do not know who they were who shot Sir Henry Wilson, or why they shot him...
"I know that life has been made a hell for the nationalist minority in Belfast and its neighbourhood for the past couple of years.
"...I do not approve but I must not pretend to misunderstand.''
Dunne and O'Sullivan were tried at the Old Bailey on 18 July and sentenced to be hanged in Wandsworth Prison on 16 August. Collins, who said to General Joseph Sweeney that "it was two of ours that did it'', attempted a rescue attempt. Joe Dolan and later Tom Cullen were sent to London by him, whereas the IRA sent several Cork Volunteers over, including Frank Cremins and Billy Aherne led by Dinny Kelleher.
The Cork Volunteers talked of schemes to capture the Prince of Wales at Bournemouth, and of capturing his sister and using her as a hostage, but neither scheme got off the ground. A plan was also hatched to blow up the van carrying Dunne and O'Sullivan from Brixton prison to their trial, but again nothing resulted. The split within the IRA in London, the outbreak of the Civil War, and the decline of Collins's old intelligence system, rendered such plans more difficult. Many of Collins's old IRB men in London by that time had returned to Ireland: there were apparently no friendly warders in Brixton.
• A letter to Joseph O'Sullivan while waiting for his execution
In the end no escape effort was attempted, and pleas for reprieves were turned down. Dunne and O'Sullivan were hanged on 10 August 1922.
In a speech which Reginald Dunne prepared, but was not permitted to deliver from the dock (reprinted in the Irish Independent 21 July 1922), he said:
"...We took our part in supporting the aspirations of our fellow-countrymen in the same way as we took our part in supporting the nations of the world who fought for the rights of small nationalities... The same principiles for which we shed our blood on the battle-field of Europe led us to commit the act we are charged with.
"You can condemn us to death today, but you cannot deprive us of the belief that what we have done was necessary to preserve the lives and the happiness of our countrymen in Ireland. You may, by your verdict, find us guilty, but we will go to the scaffold justified by the verdict of our own consciences.''
IRA Volunteers Reginald Dunne and Joseph O'Sullivan were executed in London 100 years ago on 10 August 1922