22 July 2022
Remembering Martina Shanahan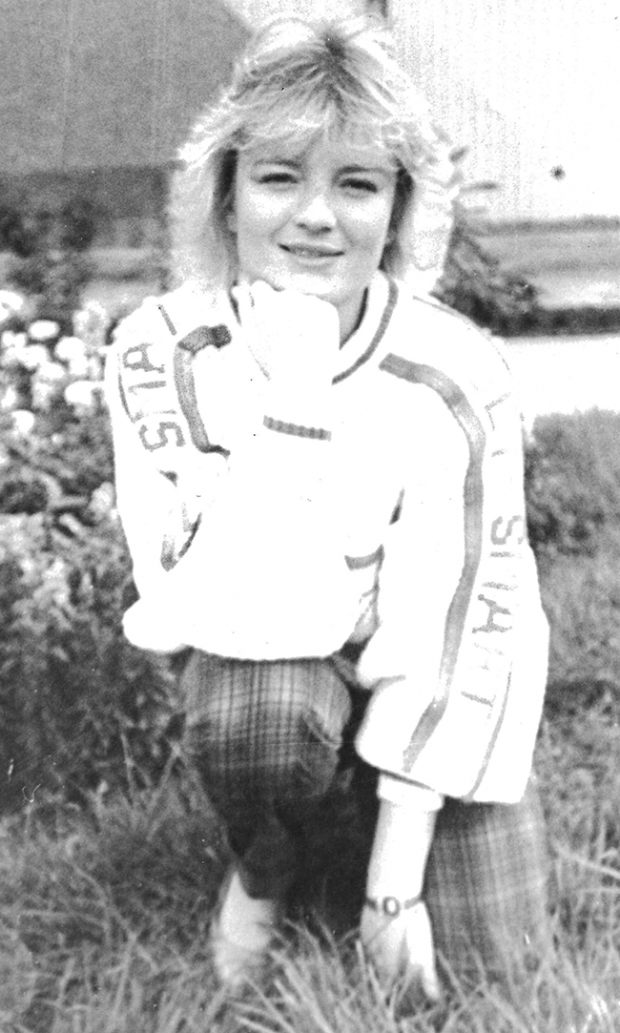 Friends, family and comrades of Martina Shanahan gathered in Dublin' Mount Jerome cemetery last weekend, to remember and celebrate the life of the republican activist who died in Spain last year after battling a long illness.
Chaired by Sinn Féin TD Seán Crowe, the commemoration included songs, music, the laying of wreaths and a speech by Martina Anderson who had been imprisoned in Britain's Durham Gaol, along with Ella Dwyer. Gareth Peirce also spoke on the day. Introducing the British Solicitor and Human rights activist Crowe said, "When Gareth heard about today's event she insisted on travelling from London to be with us and say a few words to remember her friend Martina".
Framing the day's events Crowe said, "We are here to today to remember and celebrate the life of Volunteer Martina Shanahan. Many of us will remember 17th February 2021 when the sad news came through that Martina had passed away after a long battle with illness. Martina and Gerry had moved to Spain only a few short weeks before and In the middle of the pandemic lockdown we were unable to attend her funeral service."
"Whatever about her friends and comrades this was a horrible thing for her family. At that time we said that when we had the opportunity we would do something to allow friends, comrades and family pay tribute to Martina. Today is that opportunity. We were led here to the grave by the piper Mick Foy, Dublin Colour party flag bearers and the Cabra Historical Society in uniform from the 1916 period. The 1916 reference is to honour Martina's grandfather Patrick and gran-aunt Jennie who were active in the 1916 to 1923 period."
"We are here at the grave of Martina's parents, both strong Republicans in their own right. The last time I spoke here was at the funeral of Paddy, Martina's father in 2004, and it is an honour to be here again today.  We are not here to mourn for Martina, but to celebrate her life. Her sister Deirdre will spread some of Martina's ashes on the grave. We will also have some music and hear from a couple of speakers who knew Martina and wanted to pay their respects".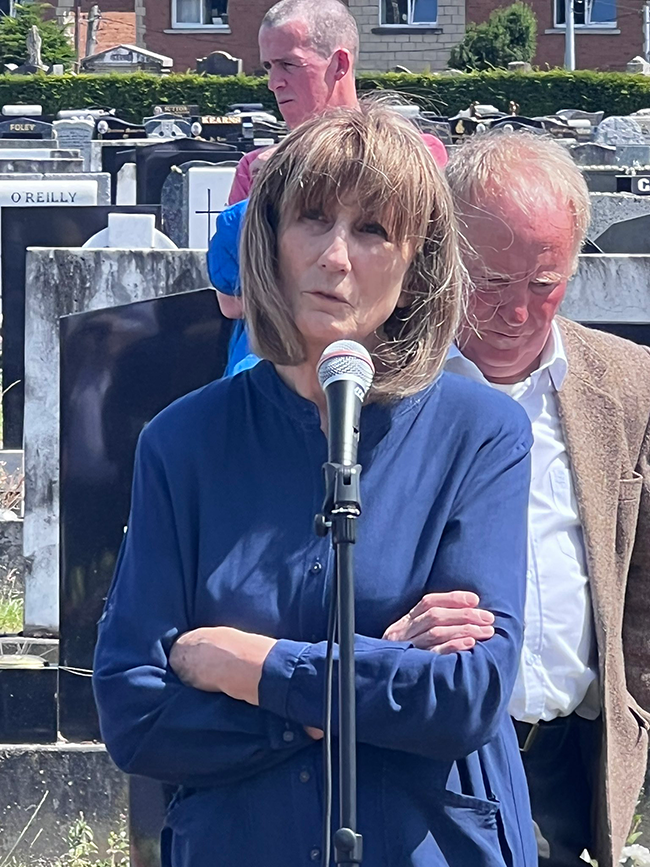 • British solicitor and human rights activist Gareth Peirce speaking at the celebration event for Martina Shanahan
Below we carry the full speech from Martina Anderson.
"I am truly honored to be asked to speak at this celebration of the life of Martina Shanahan and because of Covid we are only able to gather now, one and a half years on since we lost your loved one, our friend and comrade.
Martina Shanahan was a decent woman, a very proud working-class Dub, an ordinary woman who, in extraordinary times stood up and was counted. 
Ella O Dwyer and I are so honored and proud to be associated with her. And we are equally honored and proud that you have allowed us to recall memories. I speak on behalf of us both. 
There is no doubt that the republican struggle would not have made the achievements that it did and continues to make, without woman like Martina Shanahan and we are indebted to her to deliver on the Republican objective of a United Ireland.
Who was Martina Shanahan? Wrongly convicted in 1987 along with Finbar Cullen and John McCann, she was sentenced to 25 years in English Prisons. After 3 years they won their appeal on Martina's 25th birthday and that was achieved only because of the dogged efforts and powerful legal representatives, like Gareth Peirce. 
Born in 1965, Matina was the youngest of six, she was the baby sister. She was born into a republican family; her grandfather Patrick and Aunt Jennie Shanahan both took part in the 1916 Rising.  
In 1974, Martina's father was sentenced to nine years as a republican prisoner in Portlaoise and Martina's mother sadly died seven months before her father was due for release, Martina was only 15 years old.  Martina worked for AP/RN for several years before going to Britain and while she was there, her sister Mary died.
Martina walked the hard yards with Ella and I in Durham Jail. Upon reflection, it was a hard 'oul station. Martina was a loving, kind solid, dedicated Irish Republican and we cared about each other and for each other dearly. 
I can still hear her voice when she arrived at a throng of media at Dublin airport when she shouted "British Justice Stinks" – she certainly called that one right.  
• Sinn Féin's Martina Anderson speaking at the Celebrating Martina Shanahan event
Those words ring in my head as do the words that she spoke to me on 16 Feb 2021. I was the last person that Martina spoke to when Gerry afforded me the privilege to speak with her as she lay in her hospital bed in Spain and the last words, she spoke to me were "I love you missis".
I want to read this piece from Ella O Dwyer – Ella is the best when it comes to encapsulating one of the many moments and memories that we made.
Before reading this – I want to say that I have been the luckiest, privileged and most fortunate republican to have two of the best republican women to spend time in jail with; two women who taught me a lot, who gave me a lot and who were and are by far better women than I could ever hope to be.  I love both and wish I were as good a person. 
Ella the Great as I call her wrote, "Martina Shanahan was only in the place (Durham Jail) a day or two when Anderson and myself were for the block for something we'd done before her arrival. 
Shanahan was inconsolable: her two closest friends in the place were being locked up and she wasn't. We'd a bit of a job convincing her of the importance of the responsibility we were now placing on her young shoulders. 
She'd have to be out on the wing to write out letters about our 'dreadful' plight and hold the fort 'till our 'release' while we suffered great toils and torments!  
We could hardly hold the laughter in. Pretty soon, she was for the block too. Then the Winchester Three won their appeal in 1990 and we were wracked by conflicting emotions: joy at seeing her released and yet the sadness of letting her go".
The sadness that Ella and I felt back in the day in Durham jail, pails into insignificance at the heartache that, Gerry, Cian, Charlene, and you the entire Shanahan family have carried for too many sad months. 
Gerry, Cian. You two were Martina's world and as hard as it is, you must continue to live in this world like she would have wanted you to do. Indeed, to you the entire Shanahan family, we know that your heartache and pain lingers on, feeling the loss of Martina every day since she's gone. I do not like singling out any of you, because she loved you all - and you know that, but I think you'll accept that she had a very special place in her heart you Deirdre – she was so proud of you, of who you are and what you represent.
• Martina Shanahan
Gerry Hanratty, she talked nonstop about you. When she thought that things were "heating up" feeling the warmth through the pages of the letters that flew from Germany to England and vice versa – her feelings and emotions for you were palpable. Ella and I slagged her daily – and she loved it because she knew she was falling in love with you. 
I know you two often laughed and were very proud of the fact that you two first met down a coal mine shaft! God only knows what you two were both doing there, but the least said the better! 
Martina never refused to go anywhere, or to do any republican job - and in fact volunteered for tasks that few did.  
In later years Martina fought a very long battle with health and she did so with her typical resolve, wit, and humor. 
Who Martina Shanahan was and what she stood for must be told and heard. So, I say to all of you her family, friends and us comrades, tell your children and grandchildren about Martina.  
Cian - tell your cousins, your friends and all the people you meet about the important role your mother Martina Shanahan played in the struggle for Irish freedom.  
Charlene, tell people with pride how your Daddy was married to. Cian, tell people with pride – that your mother did not stand idly by.
Tell them about the risks she took, and I ask you to ask them to continue walking on that path that your mother helped to build and to develop her legacy and uphold the example that she set.
Martina Shanahan was involved in a struggle which is unbroken and unbowed, it's also unfinished. We still have the collective responsibility of continuing the political struggle towards justice and freedom, seeing what Martina wanted - the reunification of Ireland, and building an Ireland of equals where all rights and entitlements are guaranteed for all and not the few. 
So, let's all of us – in Martina's legacy, knuckle down, find our place and role – there is no role too big or too small for any of us. 
Let us finish what our friend and comrade and many more Republicans like Martina did over many years of resistance, let's continue until the objectives of Irish Unity are achieved. 
Martina – we stand here with broken hearts but the collective love and immense loss felt here today will keep your memory alive forever. 
The last words come from the love of your life Gerry who says  "Adios Guapa"  "Goodbye Beautiful"  until we met again!"