11 July 2022
Josie Sheppard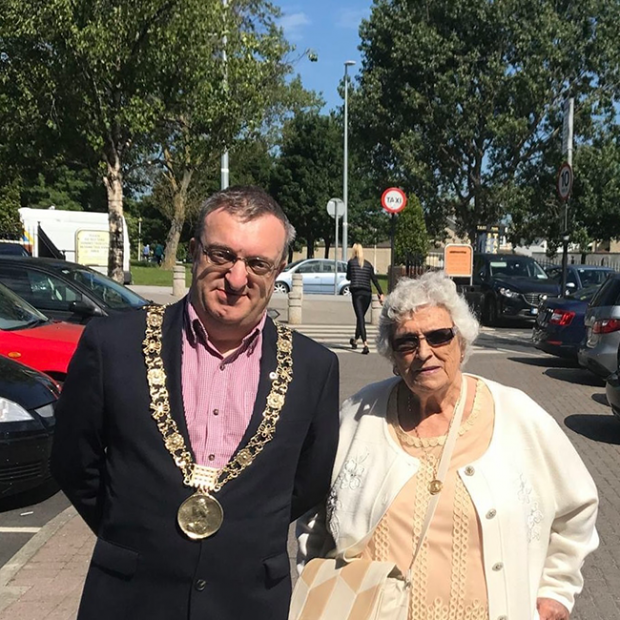 Republicans from Dublin and Belfast were among the hundreds of who attended the funeral of Josie Sheppard of Donaghmede, Dublin, on 7 July.
Born in Dublin, Josie moved to Turf Lodge in Belfast and raised her family at the height of the conflict. She was active in the Republican Movement both in Belfast and on her return to Dublin. At her home on Streamville Road her coffin was draped in the Tricolour. Among those attending were Sinn Féin TDs Denise Mitchell and Seán Crowe and Dublin City Councillors Larry O'Toole and Mícheál Mac Donncha. We carry here Mícheál's tribute to Josie.
— • — • — • — • — • — • — • — • — • — • — • — • — • —
Ar mo shon féin agus ar son Sinn Féin ba mhaith liom comhbhrón a rá le clann agus cairde uile Josie. Máthair, sean-máthair, cara agus comrádaí a bhí innti. Poblachtánach, tígráthóir, bean a bhí dílis i gcónaí do idéalacha Sinn Féin.
On my own behalf and on behalf of Sinn Féin I want to express our deepest sympathy to all of Josie's family and friends. Josie was a well-loved mother, grand-mother and great grand-mother. Her loss is first and foremost a great loss to her wide family circle.
I want to say a few words on behalf of Josie's friends and comrades over many years in the Republican Movement.
Josie was a staunch Republican, a proud Dubliner and a proud Irishwoman.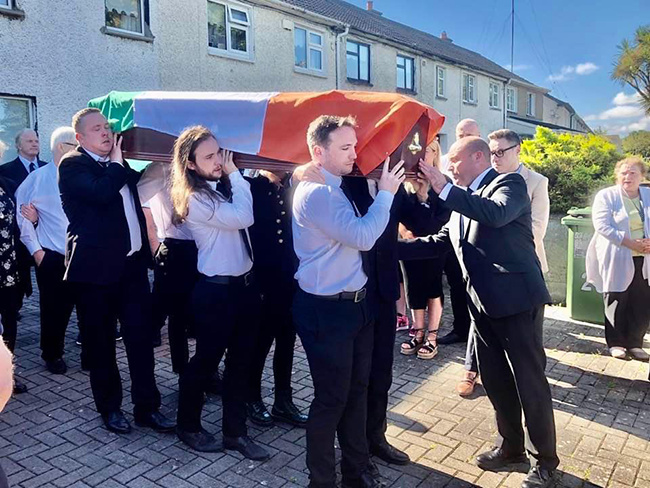 • The funeral of Josie Sheppard
From her native Dublin she went to Belfast where she was married and began to raise her young family. This coincided with the Civil Rights movement when the nationalist community challenged the injustice and oppression of the British government-backed Orange state. The reaction was immediate and violent and working class nationalist communities came under vicious attack.
It was a time when ordinary people had to step up in extraordinary circumstances. Josie was one of those people. She stood by her community under attack, she stood against the occupying forces, the RUC and British Army and she stood with the freedom fighters of the IRA.
It was women like Josie, led by Máire Drumm, who broke the British Army's Falls Road curfew in 1970. In the following year, 1971, the British regime tried to break the risen people by imposing internment without trial, and it was again Republican women like Josie who stood in the gap of danger.
Josie's late husband Liam was one of the hundreds interned in those first swoops by the British Army on 9 August 1971. Josie worked to support all the interned men and boys and their families. Long Kesh internment camp became known throughout the world as one of the worst crimes against human rights ever committed by the British government in Ireland.
Last year, on the 50th anniversary of internment, Séamus Drumm released the Long Kesh diary kept by his father Jimmy Drumm, a great friend of Josie and her family. Josie is mentioned several times in the diary. She helped to keep the internees supplied with visits and parcels and letters and all possible support.
When I was contacted by Elizabeth to tell me about Josie's sad passing she told me she had found a Long Kesh letter from Jimmy Drumm that Josie had kept among her most precious possessions.
To Josie's children he was uncle Jimmy, showing how close Jimmy and Máire Drumm were as neighbours and friends of Josie and family. Her friend Máire, vice-president of Sinn Féin, was murdered in her hospital bed in Belfast in 1976. Josie often spoke of her.
After Josie moved to Dublin, to this house on Streamville Road, she continued her active involvement with the Republican Movement. Her home was always open and welcoming to Republicans. 
It was back in the mid-1980s that many of us became very familiar with Josie and with this house.
• Josie Sheppard
Josie made her home available to us for Sinn Féin meetings. We met here most weeks of the year, it was a delivery and pick-up point for weekly sales of our paper An Phoblacht, for Easter lilies, for Sinn Féin collections and it also served several times as an unofficial election headquarters. And on a couple of occasions we even held Irish classes here.
Through all this Josie always gave us a warm welcome, she kept us entertained and indeed educated with her many experiences and stories. She was warm and witty, a straight talker and a practical activist.
It was a time when it was far from easy  to be a Sinn Féiner in this city. From the time Josie and her family moved to Dublin this home received the unwelcome attention of the Special Branch. But if the RUC, the British Army and the loyalists in Belfast couldn't intimidate Josie, the little men in their parked cars down here could certainly not distract her.
It was also a time of censorship when people who told the reality of what was happening in the Six Counties were kept off the airwaves.
And that was where people like Josie were so important. She knew from direct experience in Belfast what British oppression and occupation and Partition really meant.
She was able to tell us young republicans what successive governments and their RTE mouthpieces tried to hide.
We owe a lot to Josie and others who had lived in the Six Counties and brought that experience to us in this area, people like the late Paddy and Betty Quinn and Albert Kane who is still with us, to name but three.
Josie knew there was a time for war and a time for peace and she supported the peace process, she was delighted to see the success and the growth of Sinn Féin. She always kept the Sinn Féin flag flying high.
We will never forget that without the activism of Josie and those women and men like her, many of whom made the supreme sacrifice, we would not be where we are today.
She stood strong in very hard times, she kept going and she kept us going and kept us strong.
Josie was a great character, a great friend and a great comrade. She was a Republican, a Shinner, a United Irelander. Our greatest tribute to her will be to continue our work for Ireland United and Free, from the centre to the sea. We know Josie will be cheering us on.
Go raibh míle, míle maith agat Josie agus slán a chara.
— • — • — • — • — • — • — • — • — • — • — • — • — • —