7 July 2022
James Hazlett - a tribute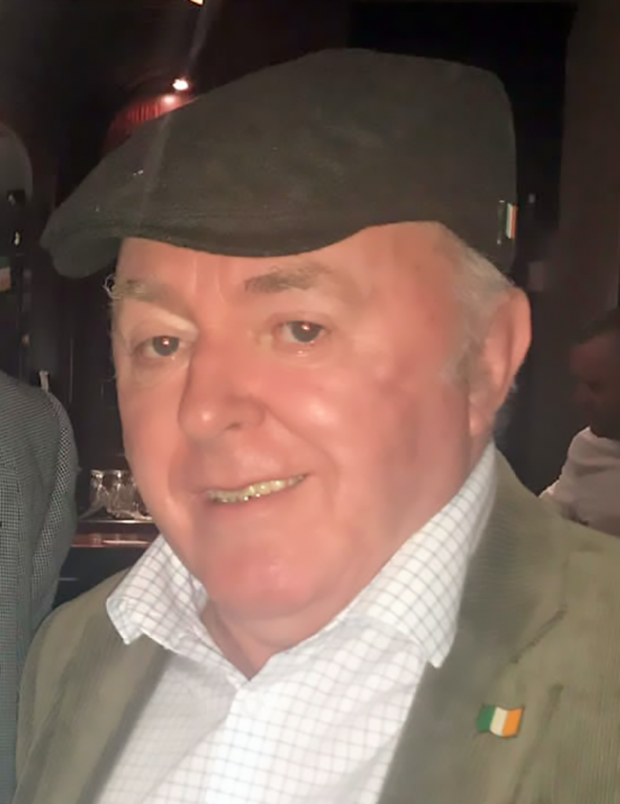 It was with some sadness that the republican family in Dublin, Derry, Donegal and further afield learned of the death of James Hazlett in the early hours of Saturday morning, 25 June 2022, aged 71. 
Originally from Dungiven in Co. Derry, Jamesie moved to Dublin in 1969 in search of work. He joined the IRA in the capital in 1970. He was arrested in May 1971 and remanded to Mountjoy for six months. He was tried before a jury later that year. The case fell apart and he was subsequently convicted after a re-trial in December 1971.
Sentenced to six years penal-servitude, he was then sent to Portlaoise Jail. Having been denied the right to wear his own clothes, he embarked on several protests culminating in a 21-day hunger strike before being transferred to the Curragh Military Camp.
Along with six other comrades, Jamesie tunnelled his way to freedom from there in a daring escape on Sunday 29 October 1972. This year would have marked the 50th Anniversary of the historic breakout. Two of the other six participants would go on to tragically lose their lives shortly after the escape - Paddy Carty in June 1973 and Micheal McVerry in November of the same year. 
James soon resumed active service in Donegal having been kept, clothed and fed in various safe houses throughout the county for over five years.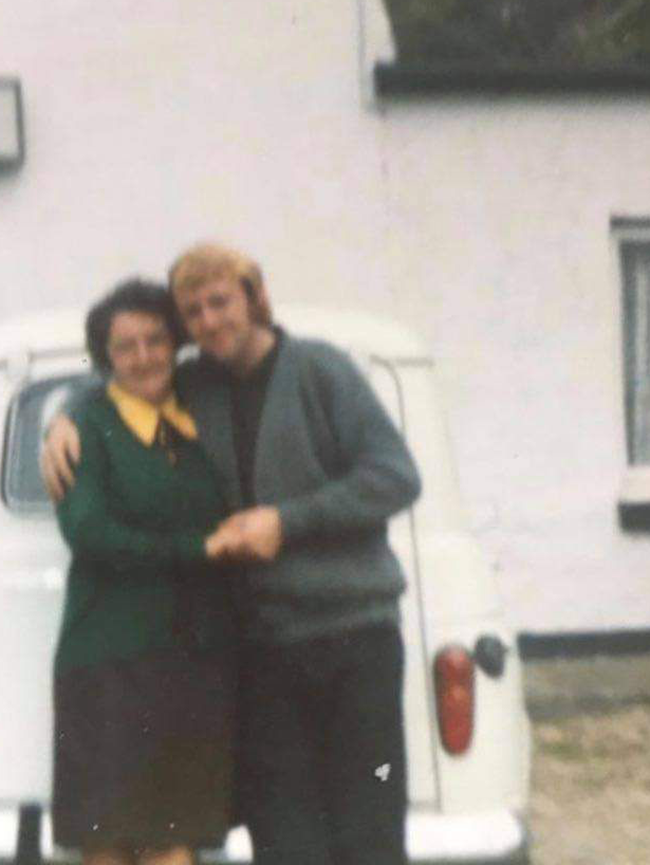 • James pictured on a secret visit from his mother Rose whilst on the run in Donegal in 1975
Gaoith Dobhair in Donegal was where he met Nóra Coll and the two fled to Manchester in June 1977 but not before hastily getting married in the presence of only two witnesses at 10pm on the night of 22nd June. Both eloped overnight and were spirited off to Dublin for a very brief sojourn before getting a flight to Britain. 
James and Nóra returned to Dungiven in January 1981 with three sons and went on to have another three in the two years after that. Having spent eight years in Derry, the family moved to Mulhuddart in West Dublin in March 1989. 
As someone who bore a deep commitment to the struggle, James had a very keen political mind. He and Nóra were regular attendees at POW fundraisers in Dublin throughout the nineties and into the early part of the new century. He loved how stories of the struggle were told through the medium of song. 
A very unassuming individual, he would quietly make his contribution to the political struggle in his own unique way. Canvassing wasn't his thing but logistics was where he weighed in. If a raffle drum had to be made or a proclamation framed or if 2,000 election posters needed to be collected from the printer and stored - he was our go-to man. He was also a great mentor for other party activists in the area, particularly younger people who joined the party. 
• Martin Ferris and James
Having been diagnosed with prostate cancer, James refused to yield to his illness. Such was his foresight, he was lacing up hundreds of election posters with cable ties for Paul Donnelly in his backyard two days before the government fell in January 2020.
Nobody relished Paul's victory and his toppling of Taoiseach Leo Varadkar from the top of the poll more than him. He was immensely proud of the party and the struggle in the count centre that day. 
Unfortunately, he was confined to his home for much of the last six months of his life as a result of his illness.
We and his family had a good sense that he probably wouldn't live to see the 50th Anniversary of the 'Escape from The Glasshouse' and so we presented him with a small framed print on Christmas Day last year in recognition of over half a century of selfless, loyal dedication to the cause of Irish freedom. He wouldn't want us to mourn his passing for too long - "carry on folks until that certain day" he'd say to us, paraphrasing the late Tom Williams. 
I had the privilege of getting to see Jamesie only a few short hours before he passed. He was in good form and we talked about his time in prison in the early 70s. He was so proud that the system couldn't break him. He was never recaptured on the run, a source of immense pride for him in his final hours.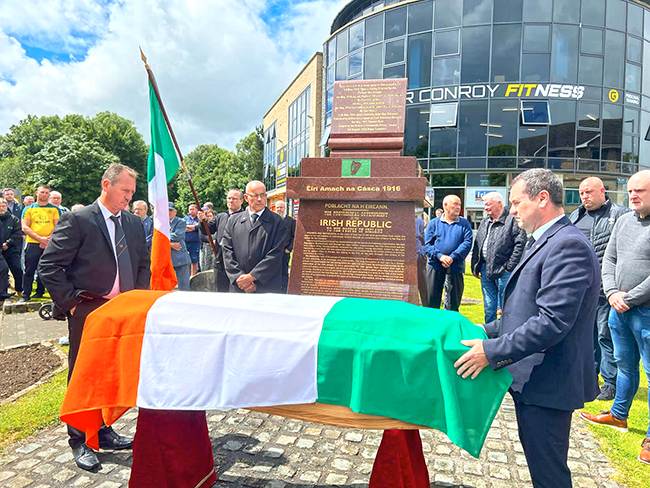 • Dublin,  Alan and Paul Donnelly lay the Irish tricolour on the coffin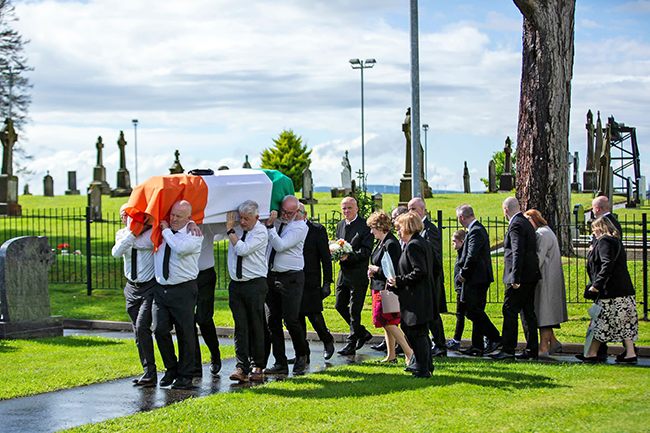 • Dungiven
We gave him a very fitting send off. He was waked in his family home in Dublin for two nights before being buried in his beloved Dungiven on what would have been his 72nd birthday. A great number of people travelled in from Donegal, his second home, to say their goodbyes. The 'unsung heroes', as he used to refer to them. We are all the poorer for his passing.
On behalf of the Sinn Féin Comhairle Ceantair in Dublin West I want to send our deepest condolences to his wife Nóra, to his six sons, to his grandchildren and to his extended family.
The best tribute we can pay him is to fulfil his wishes and to 'carry on until that certain day'.