9 May 2022
We are only going forward. We are never going back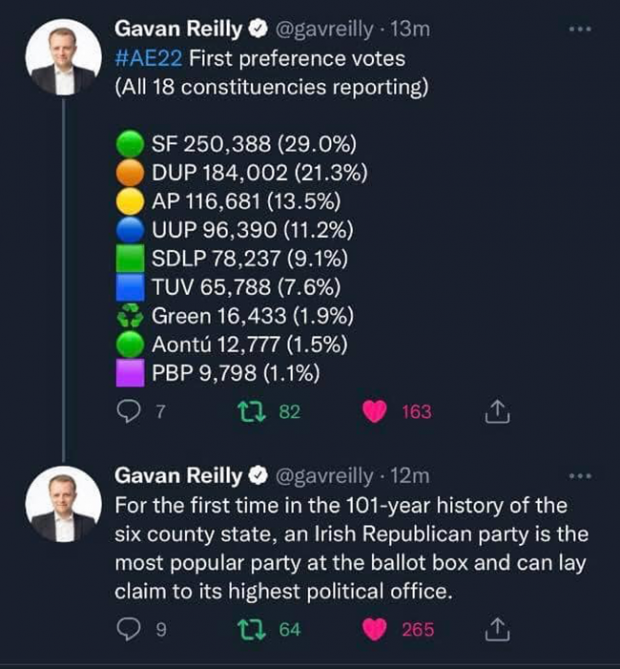 In the 41 years since Bobby Sands was elected an MP for Fermanagh South Tyrone, Sinn Féin's electoral performance has demonstrated the resilience of nationalist and republican voters. This year the party's 250,388 votes, and record 29% vote share that returned 27 MLAs demonstrated the widespread support for the party's platform of positive change, for equality and social justice, for an executive that will represent all.
Both Mary Lou McDonald and Michelle O'Neill stressed these and other key points last weekend as the election counts moved towards installing Sinn Féin as the largest party in the Northern Ireland Assembly. 
McDonald stressed the importance of voter issues such as the growing cost of living crisis throughout Ireland. She told reporters that, "We knew that the campaign had been hugely positive, that our message had been received in terms of the here and now, the cost of living crisis, the real urgency to get money into people's pockets".
Mary Lou also highlighted the issue of the need for effective partnership going forward. She said, "We also know that the message around partnership, working together, building the future together and planning for the future together was powerful. And of course people could see for the first time the possibility of a nationalist or republican leading the executive in an inclusive ay and working hard for everyone. And that really animated people in a significant way. The success of power sharing relies on the ability to inclusive, to work in partnership, and to be collaborative".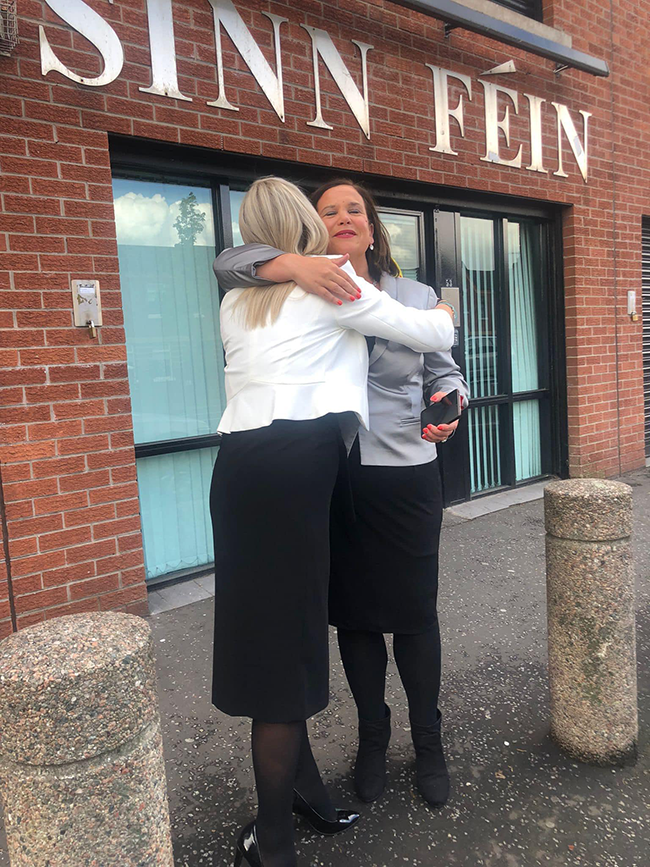 • Mary Lou McDonald and Michelle O'Neill
The importance of this seismic result was summed up by McDonald when she said, "Just remember that this place was organized more than a century ago to ensure that a Michelle O'Neill would never occupy the position of first minister".
"So, it's a great moment for equality. It is a great moment that says beyond a shadow of a doubt that things have changed in Ireland. We are only going forward. We are never going back. It is great day for nationalists and republicans, but also for the whole of society it says that there is no position anywhere that excludes anybody and anyone can aspire to the highest office.
Returning to the urgent need to restore the executive McDonald Said, "It is imperative to have an executive. I don't think there is another alternative bar a partnership of working together. We are still in the heat of an election count at the end of what's been a very long campaign, but I think the DUP need to take time, to pause, to reflect now. The votes have been cast and counted. It is very clear across the political spectrum that whatever are the things people differ on, the things people agree on is the need for good government, for leadership, and for people who are being paid from the public purse, to get back to work and to deliver. So there is no alternative other than forming an executive".
McDonald also recognized the challenges that lie ahead for Sinn Fein, acknowledging that, "This is a big day for Sinn Fein and our activists. We are enjoying this success. But we know this places a big responsibility on us to show up for people and to deliver for people, and to work very hard".
"The theme of this election, just like the election in 2020 was change, and that incredible, wonderful, optimistic appetite for change, at least among younger voters and I want to thank them all who came out with such a heart and such a sense of optimism and ambition for their country"
Addressing the issue of voter concerns McDonald said, "We need a functioning executive. We are very well aware that people are struggling, and struggling badly now"
"We are in circumstances where families are struggling to put bread on the table, are struggling to heat their homes. This is not a time for theatrics. This is not a time for playing games. This is a time for grown up sensible partnership politics".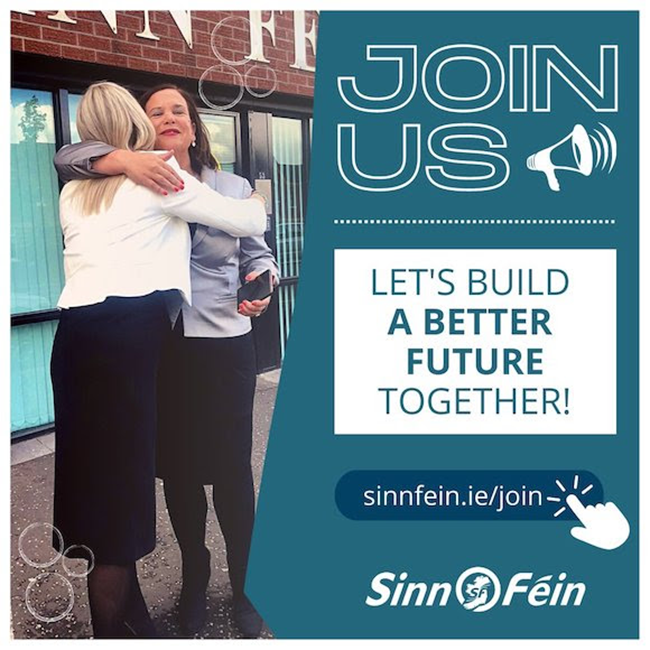 Sinn Féin Vice President Michelle O'Neill speaking after topping the poll in Mid Ulster said that, "Today represents a very significant moment of change. It is a defining moment for our politics and our people. Today ushers in a new era which I believe presents us all with an opportunity to reimagine relationships in this society on the basis of fairness, on the basis of equality, and the basis of social justice".
"Irrespective of religious, political or social backgrounds my commitment is to make politics work. My commitment is to work through partnership not division".
Speaking to reporters alongside Mary Lou McDonald, O'Neill addressed the realities of restoring the executive and the political challenges for the Assembly, She said, "Let's have a healthy debate about what our future looks like, something that is better for each and every one of us, where we all have a place where we are valued by society".
On the issue of a border poll, both O'Neill and McDonald called for positive action from the Irish and British Governments, particularly in the context of establishing a citizens assembly on the United Ireland question. O'Neill said, "I really encourage that conversation. I have made an ask of the Irish Government consistently that they must create the conditions for a conversation around constitutional change".
An Phoblacht on Twitter

An initiative for dialogue 
for reconciliation 
— — — — — — —
Contributions from key figures in the churches, academia and wider civic society as well as senior republican figures