28 April 2022
John Mc Comb remembered
Belfast's Short Strand republican, John Mc Comb died suddenly a few weeks ago. A life-long dedicated republican John spent seventeen years in prison. The suddenness of John's death shocked and saddened his family, his girlfriend Siobhan, his comrades and friends.
Republican activists spanning more than fifty years of struggle, turned out to say farewell and thanks to IRA volunteer John Mc Comb. They joined John's family and close friends as his cortege made its way to the Garden of Remembrance in Belfast's Short Strand/Ballymacarrett area.
Among the mourners joining with the family, and the large turnout from the local community, were Gerry Adams, Gerry Kelly MLA, who served time in jail in England, Harry Duggan, one of the Balcombe Street IRA unit, who served time in jail in England, a number of republicans who also served time in jail in England, Jennifer McCann, former MLA and junior minister in the north's Executive, Sean 'Spike' Murray, Danny Morrison, Eibhlin Glenholmes a comrade and friend, Danny Devenny, the renowned wall muralist and painter, the historian Ruan O Donnell, former councillor and deputy Mayor of Belfast Joe O Donnell and former councillor and Mayor of Belfast Seanadoir Niall O Donnghaile.
Comrades and friends travelled from Dublin, Kerry, Clare, Meath and Dundalk to pay their respect. The guard of honour was made up of John's comrades including councillor Seanna Walsh.
Former councillor and local Sinn Fein representative Mairead O Donnell chaired the proceedings at the Garden of Remembrance. John's daughter Maria paid a beautiful tribute to her father and Jim Gibney his friend for over fifty years gave the oration, which is carried below. Gibney said:
"When John's daughter Maria asked me to write her daddy's life story she was sitting on the edge of John's bed, in his Divis Tower flat, where a few hours earlier he had taken his peaceful last breath.
I could see in Maria's tear-filled face, shock and disbelief and in the faces of those, John's children, relatives and friends, who were moving around John's flat, arranging and preparing and shaping its contents.
I was numbed by the news of John's sudden passing. I held in my hand a framed colour photo of Johnboy and me, taken 50 years ago, while we stood at the corner of Thompson Street and Moira Street. We were 17-years-old. Damien, John's brother, handed me the photo as I walked through the front door of John's flat with the words, "This is yours. It couldn't be given to anyone else".
At the centre of what Maria called John's life story is love and his active role in the IRA in the struggle for a united Ireland:
Love for his family – his parents, Ceile his mother and JJ his father. His brothers Hugh, Eugene, Damien and his sister Elizabeth, the youngest child and a long-awaited daughter. Love for his children – Maria, Francine, Patrick, Aine, John, Pearse, Ciaran and Eimear. Love for his grandchildren – Morgan, Ella, Brody, Sophie, Aidan, Oisin, Fiachra and Tara. Love for Siobhan, his partner for over ten years. Love for his nieces and nephews: Tara, Aisling, Fionnuala, Alice, Anna, Cara, Christine, Caitlin, John, Caoimhe, Jade and Gerard. Love for his country and especially for the people of the Short Strand – 'our people who had suffered so much' he would often say to his daughter Maria.
John's story is of love in a time of war and peace. A time when difficult choices had to be made between time spent with loved ones and time spent at war – abnormal choices of course, but choices that John and many like him, all young and inexperienced in life, who served their people and country in the ranks of the IRA, were forced to make.
Forced to make because of the circumstances of the time, with British armed forces in occupation of areas like the Short Strand. Choices that were not easy for loved ones and relatives, no matter how understandable. Choices that led to John and his brothers Hugh, Eugene and Damien going to prison.
John was immensely proud to be in the IRA in the Short Strand because it was there the modern IRA was reborn after the Battle of St Matthews on June 27th 1970. They were very dangerous times in this area – eight IRA volunteers, John's comrades, had died in premature explosions in 1972 and several local people had also died. Dozens of republicans were in jail.
John was also immensely proud of his brothers and rightly so, for their part in the freedom struggle. Between 1971 and 1993, some 22 years, the Mc Comb brothers were in prisons in Ireland and in England – Hugh, John and Eugene in Long Kesh and Crumlin Road jail, at the same time, and later John and Damien in jail in England, at the same time.
And throughout those 22 years their mother Ceile moved from prison to prison visiting them. She never missed a visit. It was 25 years before the family and their mother were together for a family occasion under the one roof; it was 1996 the same year that Ceile died.
Ceile was a great source of strength for her children and grandchildren; a kind, gentle and determined woman; a provider; with more than one job; to make ends meet. Ceile was an amazing singer. I remember the day that John was sentenced to ten years in jail in August 1972 with Mickey Cupples, Willie Cunningham, Gerard Pridgent and John Mulhearn – all teenagers. All in the service of this country's freedom and independence. She sang beautifully 'Boy of Mine' for John. There wasn't a dry eye in the Martin/Treacy club.
On one of the many trips to visit John in prison in England Ceile was knocked down crossing the road. Although injured and in acute pain she refused to see a doctor for fear of losing her visits with John. She covered up her discomfort with a coat so that John wouldn't see the bruises.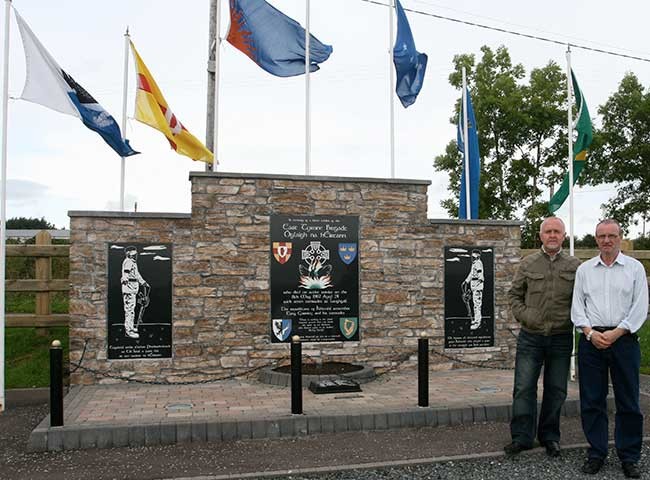 • Former POWs John McComb and Jim Gibney visit the East Tyrone Brigade memorial at Killeeshil, Tyrone
Even though John agonised, throughout his life, over what his mother went through, especially on her visits to him and Damien, Ceile never once complained; she was with her children wherever they needed her – at home or in prison. Family life and prison life went hand-in-hand during the war years. John spent 17 years in jail – five in Long Kesh and 12 in various jails in England. 
Siobhan received a text message from Harry Duggan, one of the Balcombe Street unit, who spent 23 years in jail in England. He said of John, 'he was great in jail helping the Palestinians and others with language, dealing with governors etc. He was like the jail social worker'. High praise from a man who was part of an iconic IRA unit.
John used his time in prison wisely. He educated himself. He studied his country's history and journalism. He had great hands. He made presents for family and friends, from wood and leather, and brightened up Christmas for Maria with special hand-made toys for her. 
And when John wasn't in prison he was on the run. His life on active service in the IRA revolved around the Short Strand, England, along the North Armagh border, South Down and Twinbrook. He was fearless and determined.
In an interview I did with IRA leader Brian Keenan he said that he had toured Ireland looking for IRA personnel to go to England on active service. He told me he got a positive response from the Short Strand. Brian praised the area and the IRA volunteers for their bravery and willingness – John was one of the IRA volunteers.
He told a life-long friend and comrade that he went to England to 'fight the monster' so that 'our children didn't have to'. I was told that John was still active a few months before the IRA's ceasefire in 1994.
Although in the relative safety of Dundalk, while on the run from England, John wanted to be closer to Theresa and Maria. During that time, he lived discreetly in safe houses in Twinbrook provided by family friends and supporters. The Cupples family in Twinbrook meant a lot to John.
When John had to leave the area he did so disguised as a priest. And as misfortune would have it when I was arrested and in Castlereagh interrogation centre, in January 1982, unknown to me, John was also arrested in the Short Strand.
As I lay in the cell in Castlereagh I heard the sound of an inhaler being used and feared it was John because I had heard him use it often. And it was. It was thirteen years before I was able to tell John that story face to face. 
He laughed his husky laugh. And that is how he responded to life whatever came his way. He had a great personality – passionate about everything and a great sense of humour. He was very funny.
He made people laugh. And what a treat if you were lucky to be in the company of the 'three John's' as Maria described them, John Leonard senior, John junior and John himself – it was belly laughing the whole time. The Leonard family meant a lot to John and him to them. 
He visited Mary, Laura and Claire, often, after John junior died to comfort them. He did the same with Mary Cullen when her son Emmaunel died.
He was loyal to his friends. John regularly called to the family home in Twinbrook of Harry and Geraldine Cunningham. In John's hour of need – on trial in London – Harry attended as a character witness for John. That was a huge gesture of friendship and John never forgot it.
Johnboy loved to dance. He was often on the dance floor with his pal Sean McMullan or on his own. Around John the craic was 90. He was generous and thoughtful. He was charismatic, intelligent, well read and wrote poetry about everything said Maria.
John told her that to get into his prison cell in England you had to say a poem, tell a story or sing a song. He wrote a poem inspired by a visit from Maria and her mum Theresa while in a prison in England during which Maria played the tin whistle – 
Daddy got a whistle/And daughter got one too/I want to play the whistle/Yes Daddy/Just like you/So mammy sent daughter to classes/For what seemed like a year/ Daddy sent out passes/At last the time was near/She'd be happy to surprise her daddy/Play a tune or two/She'd show off with her mammy there/She'd play the Foggy Dew.
John ended his letters and birthday cards to Maria, Tiochaidh ar La, knowing the prison officers read them. He often told Maria the key to life was knowledge and education.
He had pet names for her children – Morgan 'the beautiful one', Ella 'the intelligent one'', Brody 'brodster' and their daddy, 'the chosen one'. Maria described her daddy as being very open, easy to talk with, a lovely human being, one of the best.
In the company of his other children, Francine, Aine, Eimear and their mother Edna, their memories of John the 'big child' and 'practical joker' brought laughter. Friday night was movie night, for all, whether it was a good movie or not, said Francine.
Sometimes he bought clothes out of charity shops no one wore. He encouraged them to learn Irish, helped with homework and tried to press gang Aine into an acting career, against her will.
He played cards and dominos and ate all the Jammy Dodger biscuits and stole the rest. He risked Eimear's life on a climb up the face of Napoleon's Nose and tried some homemade training for her as a 'weatherwoman'. 
She was beautiful, he told her, because he was handsome and her mother was beautiful. He placed regular 'keep the peace notes' about the house.
And somewhere in it all the tin whistle got an airing. Music, poetry, cooking, an infectious zest for life, a keenness to help, compassionate, considerate, emotional, generous, was Siobhan's experience with John for over ten years and more.
His favourite songs, 'Couldn't Love You More', 'Give me one Reason' and 'Have I told you Lately' were frequently played. Siobhan's children and grandchildren enjoyed John's visits.
Siobhan said that John made 'her a better person'.  And that wherever he went he did the same with others. He had an unintentional mission, as a son, a brother, a daddy and grandfather, an IRA volunteer and friend and that was to make a difference for the better.
And he did that and more. And the evidence of that is all around us, in those he loved, in his children, grandchildren, his comrades and friends and in the new political circumstances where the struggle for a united Ireland is stronger than it has ever been before.
The pandemic brought a new friend into John's life – his neighbour Sean Mc Caul. They walked together, talked together and ate together. They were special friends. Sean will miss John a lot.
Seanadoir Niall O Donnghaile said of John, 'When I was a kid Johnboy had me selling copies of 'An Glor Gafa – The Captive Voice'. John's contribution to the republican struggle was immense'.
Mary Lou Mc Donald in a message to the family said: "We are all sad at the loss of such a great man and loyal comrade". Mickey Cupples and Gerard Pridgent were lifelong comrades and friends. They were never too far from his side.
Mickey Cupples said of John, 'He put the struggle in front of his life. He didn't look back in anger; didn't complain or boast. He was discreet. A great friend'.
A few days after John passed Laura Leonard gave me her brother John's mass card. And inside it was an apt description not only of her brother but also of John Mc Comb
'Wherever there is A beautiful soul, there will always be beautiful memories'.
John Mc Comb was a beautiful soul.
An Phoblacht on Twitter

An initiative for dialogue 
for reconciliation 
— — — — — — —
Contributions from key figures in the churches, academia and wider civic society as well as senior republican figures