14 April 2022
IRA occupation of the Four Courts
Remembering the Past - 100 years ago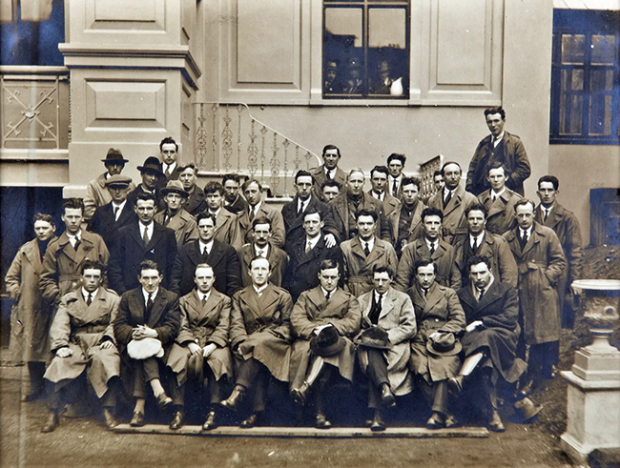 100 years ago on 14 April 1922 the anti-Treaty IRA occupied the Four Courts in the centre of Dublin. The pro-Treaty Free State Army, then being built up, had already occupied evacuated British Army barracks in the capital, including Beggars Bush which they made their headquarters.
The IRA believed that they needed a centre of their own to rally support. They commanded the majority of the pre-Truce Volunteers, while the Free State had a majority of GHQ staff and the new recruits of what they began to call the 'National Army'.
At the 9 April meeting of the adjourned IRA  Convention some delegates urged resumption of action against British forces. However, a proposal for immediate action was defeated by a few votes. A new constitution for the IRA passed at the convention undertook "to guard the honour and maintain the independence of the Irish Republic" and that the IRA would "place its services at the disposal of an established republican government which faithfully upholds the above objects".
An Executive of 16 was elected and from among its members an Army Council was appointed. Liam Lynch was Chief of Staff; Florence O'Donoghue, Adjutant General; Liam Mellows, Direct of Organisation; Joseph Griffin, Director Of Intelligence; O'Connor, Seamus O'Donovan and Seán Russell were Directors, as formerly, of Engineering, Chemicals and Munitions.
Immediately after the convention the IRA occupied strategic buildings in towns and cities where the Free State forces had seized barracks and other key positions.
• Rory O'Connor who led the IRA occupation of the Four Courts
On 13 April the IRA's Army Council decided that it was necessary, in order to strengthen their position and to maintain the cohesion of its forces, to set up military headquarters in Dublin. The Dublin Brigade was ordered to occupy the Four Courts. In the early hours of the following morning 14 April the men of the first and second battalions of the Brigade led by Rory O'Connor quietly entered the Four Courts and established their headquarters there. Over the next two months senior IRA officers joined the original garrison of 180.
Elsewhere in Dublin, buildings at points of strategic importance for the defence of the Four Courts were occupied, including the Ballast Office and Lever Brothers' premises on Essex Quay. The Masonic Hall in Molesworth Street, the Orange Hall in Parnell Square and the Kildare Street Club, centres of unionist influence, were also seized. These buildings were later used as emergency accommodation for nationalist refugees fleeing from the pogrom in the Six Counties.