28 March 2022
The fall of Stormont 1972 
Remembering the Past - 50 years ago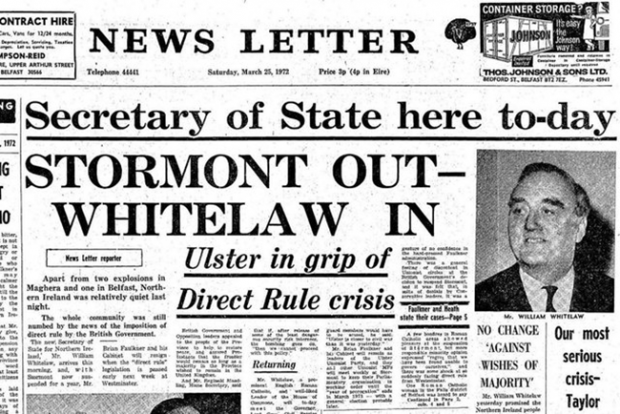 After over five decades in existence with its in-built Unionist majority, described by its founder James Craig as "a Protestant parliament and a Protestant state", the Parliament of 'Northern Ireland' at Stormont reached the point of collapse at the end of March 1972. 

The Six-County state was engulfed in armed conflict. The campaign of the Civil Rights movement had been met with state violence in 1968 and a new loyalist pogrom against nationalists in 1969. Then in August 1971 the Unionist regime at Stormont and its British government masters in London used the British Army to impose internment without trial.

The oppressive onslaught of the British Army culminated in Derry on Bloody Sunday, 30 January 1972. In the political crisis that followed, the future of Stormont was in doubt, leading to a new upsurge of Unionist reaction in the form of the Vanguard movement. It was led by dismissed former Unionist Home Affairs Minister Bill Craig who whipped up support at fascist style rallies. On 18 March Craig told a 60,000-strong crowd in Belfast: 

"We must build up a dossier of the men and women who are a menace to this country because, if and when the politicians fail us, it may be our job to liquidate the enemy." 

These were not empty words. Like James Craig and Edward Carson 50 years before, Bill Craig was encouraging loyalist paramilitaries whose toll of sectarian killings of Catholics increased throughout 1972.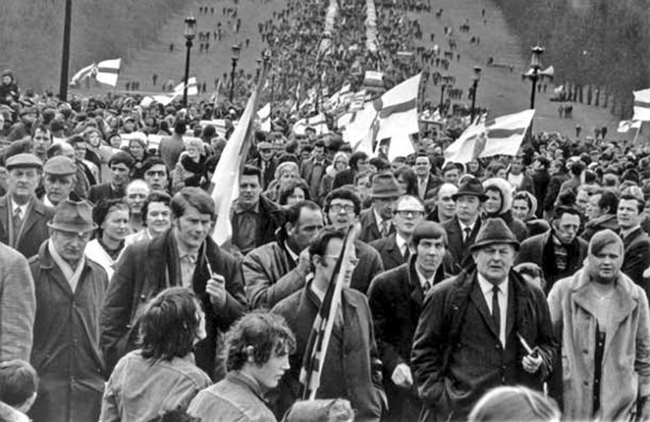 •  The Vanguard movement
The IRA called a three-day ceasefire 10-13 March to show clearly that it aimed at a political settlement and was a disciplined force. The IRA made three demands - withdrawal of British troops from the streets and a British government statement of intent to withdraw from Ireland, abolition of the Stormont Parliament and amnesty for all political prisoners. There was no response from the British government and the IRA resumed armed attacks on 14 March. 

Relations between British Tory Prime Minister Ted Heath and Stormont Prime Minister Brian Faulkner reached breaking point. Heath demanded that 'security' powers be removed from Stormont to be exercised directly by London. The British government and its armed forces wanted to fully control the war, including the RUC and counter-insurgency operations. Faulkner refused, determined to retain rule by force which Unionists had enjoyed in the Six Counties since 1921. 

On 24 March Heath announced that in the absence of agreement from Faulkner to transfer 'security' powers the Stormont parliament would be suspended and London would take "full and direct responsibility for the administration of Northern Ireland". It was the end of 50 years of one-party sectarian rule and was lamented by Faulkner at a rally of thousands at Stormont on 28 March, the day of the final parliamentary sitting.

The replacement was direct rule from London. Irish Republicans made clear that while the removal of the Stormont regime was a step forward, British rule was not acceptable. The IRA said: 

"We call upon the British government to remove their armed forces from the streets and to specify a date for eventual withdrawal from Ireland. Further military oppression will be met with increased resistance until eventually Britain will be forced to acknowledge that Direct Rule cannot work…Centuries of British exploitation can now be ended and by acknowledging the common heritage we share as inhabitants of one island, we can move forward to create a form of society which will bring peace and prosperity to all our people."
An Phoblacht on Twitter

An initiative for dialogue 
for reconciliation 
— — — — — — —
Contributions from key figures in the churches, academia and wider civic society as well as senior republican figures