25 November 2021 Edition
European voices for unity will be heard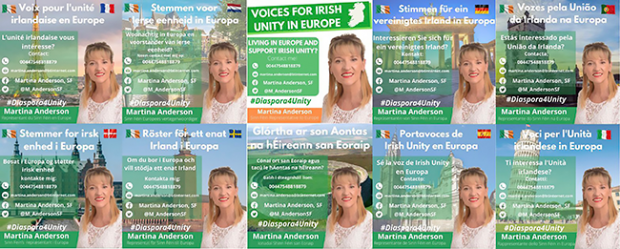 Martina Anderson outlines the ambitious scale of work in her new appointment as Sinn Féin's Representative to Europe.
Brexit has caused an earthquake at the heart of the British establishment and the aftershocks are felt across continental Europe and beyond as people witness the "UK" potentially breaking up from inside out.
The Tories' pursuit of narrow English sovereignty is as evident in Europe as it is as toxic and it has poisoned intergovernmental relations not only between Whitehall, Holyrood, and Cardiff, but also between London, Ireland, and the wider continental Europe.
A few weeks ago, I took on the role of Sinn Féin's Representative to Europe. This is a strategic and political project which I will work on with energy and determination.
Uachtarán Sinn Féin Mary Lou McDonald sees this moment as a time for big thinking and credible action nationally and internationally to secure a unity referendum.
As a member of Sinn Féin's National Officer Board, I am tasked with promoting Irish reunification across 44 countries in continental Europe. Countries now exposed to Brexit Britain behaving like a rogue state refusing to implement another international agreement – "Perfidious Albion" – a country that cannot be trusted and never keeps its word. 
My aim will be to secure engagements with government ministers, political parties, ambassadors, think tanks, trade unions, employers' groups, civic society organisations, universities and editorial boards across Europe to raise awareness of the real possibility of constitutional change in Ireland and the important role that Europe can play to support and assist the full implementation of the Good Friday Agreement, which includes the unity provision.
I will work to mainstream understanding about the political situation in Ireland among the sectors of European and civic opinion.
The Sinn Féin message will be clear; the Partition of Ireland is not only a problem in Ireland or between Ireland and Britain, Brexit has made it a European problem too.
Europe is watching with interest the changing political landscape in Ireland and it is hearing the conversation about potential constitutional change and Irish reunification.
We must capitalise the growing interest of Sinn Féin potentially being in government across Ireland. The real possibility of Sinn Féin securing the positions of Taoiseach and First Minister has started to capture the attention of European governments and their officials who will see Irish reunification being a central plank of Sinn Féin's engagements with them; government to government, party to party, official to official. 
• Uachtarán Sinn Féin Mary Lou McDonald 
As Sinn Féin Representative to Europe, I will engage with as many influential Europeans as possible and establish networks for Irish Unity, Irish Unity champions across Europe, initially, but not exclusively, in France, Germany, Spain, Italy, and Portugal.  
In each country, there are the Irish diaspora and supporters interested in initiatives like the campaigns #Diaspora4Unity.
This is the moment for European voices for Irish unity to be heard, for big thinking to give expression to the guaranteed democratic pathway back into the EU for the Six Counties via the Good Friday Agreement unity referendum.
Our right to self-determination, the case of Irish reunification has been expressly agreed by the British and Irish Government in the Good Friday Agreement.
In 1990, the European Council made a statement on the potential reunification of Germany which facilitated German reunification. In 2017, the European Council made a similar statement on Irish reunification, known as the 'German Clause' which stated if Ireland is united through the Good Friday Agreement unity process, "the entire territory of such a united Ireland would thus be part of the EU".
• German reunification in 1990
That crucial 2017 EU Council Statement on Irish reunification needs to be built upon. Progressive European solidarity and support for Irish Unity is the bright and brilliant vision of tomorrow's hopeful future for every person in Ireland. It is that foresight which has inspired Uachtarán Sinn Féin Mary Lou McDonald to advance this project.
It is a vision that thrives in the connections of communities across Europe who strive and work for peace and justice, every day in every way.  
It is those connections which I will work to cultivate, and I ask for your assistance to establish and to firm up such connections. Many of you will likely know someone in Europe from political or civil society – or even a family member who would want to play their part in advancing Irish reunification. Inform them about this project and give them my contact details. 
I go forward in this new role with the confidence instilled in me by Irish republican poet, freedom fighter, and hunger striker Bobby Sands. His words will echo throughout Europe "everyone has a part to play, no part is great or too small, no one is too young or too old to do something". Even from afar, the diaspora and supporter can play their part.
It is that confidence that lives in international support which warms the heart of countries, of people of all ages, of cultures and genders, who strive for justice, equality, and human rights that will advance European support for Irish reunification. 
As Sinn Féin Representative to Europe, I will convene a European Committee which adopts knowledge-driven strategies for reunification and you can rest assure that I will drive these forward with energy and determination across Europe.
There is no doubt that I have taken on a formidable project that will take time and dedication to deliver: A challenging task; Yes. A daunting one; Perhaps. But then it always seems impossible until it's done.