25 November 2021 Edition
Just Transition Commission needed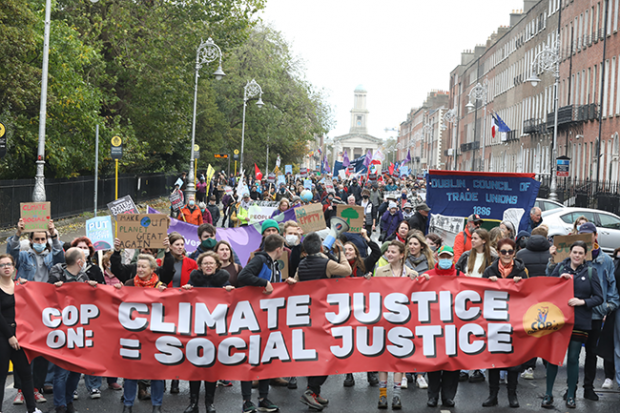 COP26 took place in Glasgow from 1 to 12 November. A COP or 'Conference of Parties' takes place annually, involving all states that are party to the 'United Nations Framework Convention on Climate Change'. COP26 is the 26th such summit. 
The purpose of a COP is to review the implementation of the Convention, including the Paris Agreement which aims to keep global temperatures to 1.5 degrees above pre-industrial temperatures by the end of this century. A further purpose of a COP is to take decisions necessary to promote the effective implementation of the Convention.
It is beyond question that we are in the midst of a climate crisis brought about by rising greenhouse gases as a result of human activity. The past six years have been the warmest on record since 1880 and global greenhouse gas emissions hit a new record high last year.  
In advance of COP26, the Intergovernmental Panel on Climate Change published its sixth assessment report which was described as a 'code red for humanity'. It detailed that temperatures globally will exceed 1.5 degrees over the next 20 years and 2 degrees before the end of the century.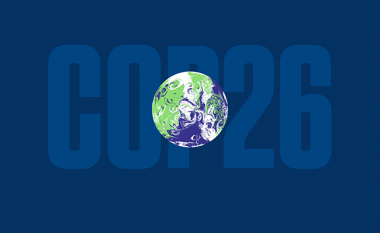 Starkly, the report stated that "unless rapid and deep reductions in carbon dioxide and other greenhouse gas emissions occur in the coming decades, achieving the goals of the 2015 Paris Agreement will be beyond reach". This is the context within which COP26 took place.
In advance of COP26, goals were set out for the conference. Countries were asked to come forward with ambitious targets to reduce emissions by 2030 with a view to reaching net zero by the middle of the century. This would include accelerating the phasing out of coal, curtail deforestation, speeding up the switch to electric vehicles, and encourage investment in renewables.
The conference would encourage countries to put in place measures to protect communities and natural habitats. And importantly, COP26 would seek to mobilise finance, with developed countries making good on their promise to mobilise at least $100 billion in climate finance per year by 2020.
The climate crisis is global; it will affect all countries and all communities, but some, often poorer countries, are already feeling the impact to a much greater extent and they need the support of more developed states. The climate crisis does not recognise borders which is why action needs to be global, with ambitious local commitments to contribute to global targets and plans to achieve them.  
It is unacceptable that the Six Counties remains the only part of these islands without its own climate legislation, lagging behind other European countries. A bit like London buses, there are currently two bills proceeding through the Assembly in the North; one of which is co-signed by my colleague Philip McGuigan MLA. The other has belatedly been brought forward by the DUP's Agriculture, Environment and Rural Affairs Minister; it lacks ambition without even having a commitment to meet net zero greenhouse gas emissions by 2050. This is not good enough to meet the Paris goal of limiting global temperature rises to 1.5 degrees.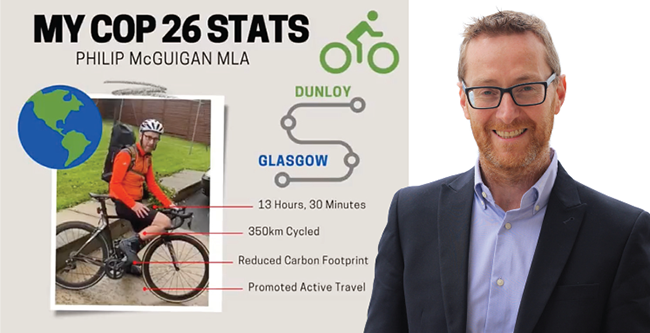 • Sinn Féin MLA Philip McGuigan MLA attended COP26 in Glasgow
Sinn Féin is very clear that climate action must be delivered on the basis of social justice. We must have a 'just transition' to net zero and ensure that those who are least able to afford it are not left behind and do not foot the bill including unfair taxes levied on fossil fuels without the ability to switch away.
Sinn Féin has also been consistent and clear that the planning to meet our decarbonisation targets must be done with communities not to them. All parts of our society: civic, business, agriculture, academia; have a stake in the process and need to be involved in shaping the strategies and plans, and setting targets. That is why we have called for a 'Just Transition Commission' in the North to accompany the new climate legislation.  
The Just Transition Commission would bring together representatives of all those groups, to have informed discussion and debate, and set out plans for how we achieve the goal of net zero and limit global warming. It is vital that action is taken now, without it our country will be unrecognisable within the space of a couple of decades and likely irreversibly so.
This year, COP26 also took place in the context of an energy cost crisis; the causes of which are largely geopolitical and outside the control of government North and South. However, this cost crisis highlights the failures of a capitalist system where global demand drives up prices, hitting those least able to afford it hardest, while big corporations make huge profits.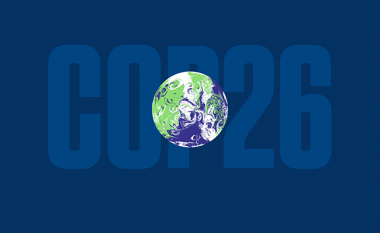 Over recent months, global gas prices have soared to record levels and this is now hitting people in their gas and electricity bills, with prices having been raised for households North and South on numerous occasions. Many families this winter will be facing the very real prospect of choosing between heating their homes and putting food on their tables. Furthermore, these price hikes also hit business and will result in increased costs being passed onto customers for goods they buy in the shops.
These price hikes highlight the need in the slightly longer term to accelerate the move away from fossil fuels and invest in renewable energy. However, workers and families also need to be supported to deal with the cost of living crisis in the short term. We need to see direct financial intervention to support struggling families and we need to see action by government to reduce the burden
One such action would be to cut VAT on energy bills and we have called on both the Dublin government and British government to do this. Other options on the table should include windfall taxes on generators who are making profits from the increased costs – this measure has been applied in other European states.
We need to help families across the island to get through this winter, and support businesses protect jobs and livelihoods. 
Caoimhe Archibald is a Sinn Féin MLA for East Derry and Chairperson of the Assembly Economy Committee