25 November 2021 Edition
The roadmap for government
Three years as a senator, and nearly 12 as a TD for Donegal going head to head with three different Finance Ministers has honed Pearse Doherty's economic policy skills leaving him ready for Sinn Féin in government. An Phoblacht's  Robbie Smyth sat down with Pearse to talk Budgets, radical policies, and being a messenger for the people.
Getting a sit down with Pearse is not easy. His diary is packed with not just Dáil speaking or committee work, he and the Sinn Féin team are fine tuning the package of policies and initiatives that will form the party's platform for government. 
The Budget
So straight off, we asked Pearse about the recent Fine Gael, Fianna Fáil, Green Party Budget presented by Minister for Finance Paschal Donohoe. Pearse told us: "One of the things he completely missed was the issue of renters. He didn't give any reprieve to renters out there. We know there is about 300,000 private renters. This was initially a problem that was felt in Dublin, Cork, maybe Galway and some of the other cities. Now, Roscommon has a 20% increase in terms of rent in the last year. In Donegal, it is 18%. These were areas that had low rents, they also had low disposable incomes. This now very much a state-wide problem. That is a big gap in the budget".
The "clear alternative", according to Pearse is, "giving a rebate, a refund to renters, by putting a month's rent back into their pockets. We developed this policy by looking at what happens in rental policy down through the years".
A tax credit will "never work unless you have a rent freeze at the same time" said Pearse. "This ensures that rents can't go up and the payback isn't absorbed by landlords. It gives those benefits to the tenant". 
Pearse believes that the second failure in Paschal Donohoe's budget was capital investment. "Let's just take the housing crisis" begins Pearse, "which is obviously more than renters. It is social housing, affordable housing, being able to have that ambition to own a home if you are in your twenties or thirties". This is an ambition "which has been snatched away from a lot of people at this stage".
"Capital spending needed to be ramped up in this Budget. We know in Sinn Féin that it takes a good long time to bring some of these investments on stream. But unless you make the money available now, you are not going to have the houses in two or three years' time".
The coalition are engaged in a sleight of hand, according to Pearse, by arguing that the that the housing crisis is like the pandemic, an externally driven crisis. We must remember "it is a manmade policy".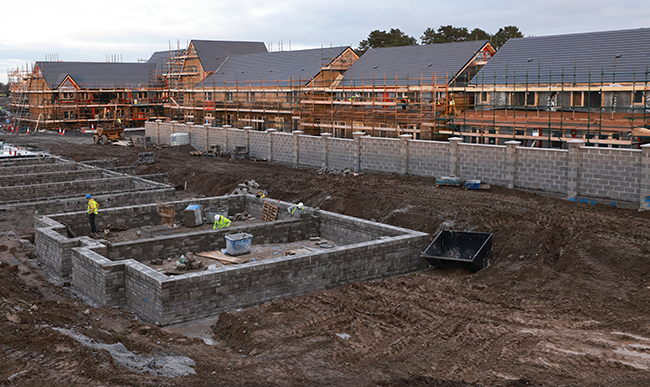 • Capital spending -Unless you make the money available now you are not going to have the houses in two or three-years' time
Pearse pointed to his experience in the Seanad when Sinn Féin opposed the then government policy "to stop building social housing, to rent long term from landlords, and knock down ghost estates".
At the time Pearse argued that "those three policies would lead to a housing crisis, mass evictions and housing prices would be back in 10 years' time to where they were at the Celtic Tiger peak".
Pearse stressed, "That's what happens when you decide not to build social housing, when you reduce the stock level, when demographics are growing and house prices rebound after a crash globally".
Pearse then turned to the issue of reforming the childcare system, which he believes is "one of the most transformative things we could do and we could do it quite easily". 
"To me, childcare is the policy that is like the introduction of second level education in the 1960s. Our vision for affordable and accessible childcare is the normal in many European countries. We can move. We have the lowest investment in childcare in the developed world, and as a direct consequence of that, we have the highest levels of fees in Europe in childcare".
"We have an ambitious programme which is about investing in childcare over a three-year period, that will cut the fees for parents by two thirds, and will bring those working in the sector up to adequate wages. In the first year, everyone would move to a rate above the living wage".
"That's an important policy tool that not only to support parents and those working in the sector, but is really, really important for the economy and to allow participation in the workforce into the future".
Finally on the Budget, Pearse turned to Social Welfare payments which he believes need to be increased. "Working age payment rates needed to be increased by €10. They would help payment rates stay ahead of inflation. That would give people a real lift. It didn't happen. The increases were below the inflation rate of the last two years".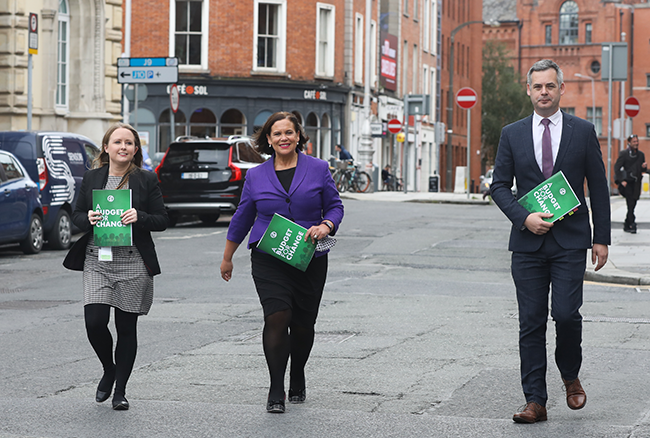 • Alternative Budget 2022 - Sinn Féin's Mairéad Farrell TD, Mary Lou McDonald TD and Pearse Doherty TD at the launched of 'A Budget for Change'
Sinn Féin in government
The interview turned to what actions would a Sinn Féin Finance Minister take in his first weeks of office. First off, Pearse said that given the crisis in housing, "we would bring forward supplementary estimates to increase the investment that was required in housing", and "we would also move on the renters' part of it", meaning a rent freeze and tax rebates.
Sinn Féin would also deal immediately "with the insurance rip off in an appropriate manner. There are a number of pieces of legislation we could get passed".
"A year into government, we would have convinced the public that Sinn Féin are very much a different political party and that what we said in opposition, we have delivered and while everything cannot be delivered overnight, we would have set about transforming society".
"We would have made a multiannual pledge in relation to healthcare that can deal with not only the trolley crisis or the pressures on the health service in the here and now, but actually that transformative programme that we need to move away from a two tier to a single tier public health system. We have the road map for that".
Pearse's checklist for the first year of Sinn Féin in government included ensuring "there was a redistribution of wealth by closing down those sweetheart deals made by previous governments, those cuckoo and vulture funds".
On taxation, Pearse that Sinn Féin would ensure "there were solidarity taxes applicable to those on the highest incomes to pay for many of the things that we want, to provide not just for the few but for the many".
Summing up, Pearse said, "Providing access to affordable childcare is a benefit for everybody. Providing a proper healthcare system benefits everyone, whether you are rich or poor, and investing in the likes of third level education is also one of our priorities".
A fighting opposition
When it comes to speaking in the Dáil debate, Pearse says, "I prefer committees. It is only in committees that you can get a proper debate" and. "You can get a lot of changes done in committees".
Specifically, Pearse highlighted, "The work we did on the tracker mortgage scandal was instrumental in that. We grilled all the bankers and helped expose that, and offering that platform to the public was a game changer in that campaign".
Sinn Féin always "gets more scrutiny because we offer an alternative to the status quo.
"Sinn Féin argued that bondholders should be the first to take a hit". And that, "We shouldn't be paying out subordinate bonds and unguaranteed bonds. That didn't happen, the cheques were written by Irish Finance Ministers and paid for by the Irish tax payer".
"Those who supported the status quo including elements of the media would try and ridicule that position. It is now the legal position across every country in the EU".
"You are going to get that challenge from the establishment when you set out an alternative", said Pearse, who added that, "We were proven correct in terms of austerity. We argued that austerity was not the thing to do when we had a fiscal crash. Austerity policies implemented by the government of that time deepened and lengthened the recession. That policy is not being followed now".
"Our credibility on these issues is clear for everyone to see. Nobody is challenging our figures any more. People know that the team that works with us on our budgets and manifestos are very, very thorough".
"The debate needs to be about the policy options. We are getting a real debate now about the type of options we want as a society. So, do you want to continue to hope and pray that the private sector resolves the issues in healthcare and housing or in childcare, or do you want to see the state getting involved to make sure that it has your back, to make sure that you can afford a house, that you can afford to send you child to childcare, that you can get that bed and that operation if you fall sick. So, it's that type of debate that is happening now. It's more ideological and that's one that's welcome".
All-Ireland finance initiatives
Here, Pearse highlighted the issue of cross-border workers, where if they work one day at home across the border from their designated workplace, they lose tax relief. "That's not the way the world works anymore. After the pandemic, there will be more people at home working. It goes against the spirit of the Good Friday Agreement", said Pearse, who believes that, "This is one issue with the proper heads around the right table that you could resolve this with an all-Ireland approach".
"From an island point of view as Finance Minister, we would be looking very much at our competitiveness in the global economy. And that means the type of investment we need in infrastructure, the type of investment we need in the regions. There is no point having a strong Donegal if you have a weak Strabane or Derry or vice versa. Also, the investment we need in education has to be all Ireland. Those will be the foundations for us in the future".
Environmental issues
Focusing on the environmental taxes being implemented by the government, Pearse said, "We are very clear that taxes that encourage behavioural change work. That's why we have argued for and supported those type of taxes in the past, like the sugar tax".
"Carbon taxes could work if the alternatives were there, available and affordable to people. You can't just jack up the price of heating your home and expect that a householder is going to be able to find that €20,000 under their mattress to do air to water heating overnight or change their whole plumbing system. And that's the reality of where we are at".
"I have said, with regards to the carbon tax, what the government are doing at the minute is a con job. We got a parliamentary question answered by the Minister for Finance just yesterday which confirmed that the €9.5 billion they expect to take in carbon taxes over the next 10 years is based on no reduction in carbon. So, it's clear they are not expecting behavioural change. They are banking on this €9.5 billion that we all continue to consume the same amount of carbon".
"What we really need to do is instead of coming out with the big stick, we need to come out with the carrot, we need to provide the incentive".
"We believe it's the wrong debate to be having. Climate change is a huge challenge for us buts it's a huge opportunity for us as well. It's an opportunity to get things right to make sure we have the right infrastructure, the right type of planning, the right supports for communities and decent jobs in this transition".
• 2010 Election - Pearse has spent nearly 12 years as a TD and three as a senator: "I have been doing responses to the budget since 2010 ... it prepares you for the job we hope we will have in the future, leading the government, leading the change"
12 years as a TD
Pearse has spent nearly 12 years as a TD and three as a Senator before that. "I have been doing responses to the budget since 2010, and have been opposite a number of Finance Ministers, including Michael Noonan and the late Brian Lenihan".
"It prepares you for the job we hope we will have in the future, leading the government, leading the change and to have a Sinn Féin Finance Minister there".
"My core message to people is that, you will have a Finance Minister that will always provide an ear for the ordinary people, as opposed to those vested interests who always have too often a say at the highest places in the corridors of power. That's not the right way. We have seen that exposed this week with the investment road show".
I asked Pearse about what it means to be a TD and he took a focus from the Irish name of Dáil members saying that, "First and foremost, you are a messenger of the people".
Being a TD for Pearse means that, "It comes back to being grounded in your own community, rooted in your own community, and to be relevant to your own community. If you lose that, you shouldn't be in politics anymore. That's we first and foremost supposed to do. We are supposed to serve the people".
Finally, I asked Pearse about the Mica redress campaign. "The Mica campaigners have brought the whole county together, the whole country together. We need to remember their homes are falling apart".
"I think they are being tortured. This should have been over a long time ago. Government is refusing to do the right thing". Focusing on the role of Paschal Donohoe, Pearse said, "He hasn't phoned them, he hasn't written to them, he hasn't spoken with them about the banks or insurance companies making a contribution, yet we understand that he is one of the blocks in Cabinet to a proper redress scheme that would meet the needs of those families".
"We have the Minister standing up saying he sympathises with these families, but he won't meet them. He will go to London to meet the vulture funds. Actions speak louder than words".

• Pascal 'Donoghue, Michael Noonan and Brian Lenihan