25 November 2021 Edition
We must stand up for our language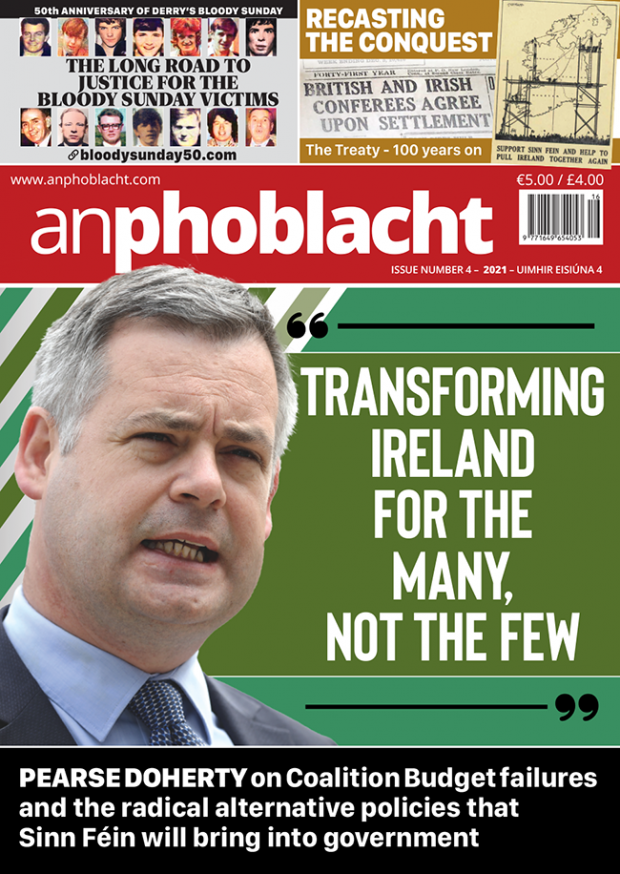 If there is a theme to this issue of An Phoblacht, it is about when governments fail and the power of simple, honest people-driven activism takes over. We have articles that touch on a range of government failures; whether it the looming implications of the Comprehensive Economic and Trade Agreement (CETA) being negotiated by the EU with Canada, the British Government response to Bloody Sunday, and the long campaign by relatives of the victims for justice. 
We have articles about the 1921 Anglo Irish Treaty, the resulting nightmare and tragedy of Partition, and the government failures in how this anniversary was marked in 2021. Pádraig Mac Lochlainn writes movingly on the Mica crisis and the government inaction here shamed by the commitment and action of the Mica redress campaigners.
Our interview with Pearse Doherty outlines in stark detail other failures of this Fianna Fáil, Fine Gael, Green Party government, and its immediate predecessors who condemned a generation of Irish people to years of unneeded austerity from 2009 on.
This current Coalition is drowning in failures of its own making on the economy, housing, healthcare, education, and the environment. Sinn Féin President Mary Lou McDonald aptly characterised the Coalition's response to the renewed Covid crisis as "dithering, delaying and indecision".
As we edited and considered the articles for this issue, Eoghan Finn's piece on Irish language rights stood out. It was in stark contrast to Aled Roberts' article on how the Welsh National Assembly has taken positive steps to standardise institutional access to and use of Welsh. Roberts wrote how, "The basic principle of the standards is to ensure that the Welsh language is treated no less favourably than the English language and to facilitate and promote it". 
What a difference between Wales and Ireland. Finn writes how in the 26 Counties "we now face the farcical situation of the government going to court to block any requirement to treat Irish on an equal footing with English". So how do we respond here? Positive activism is the key. And that means in An Phoblacht. 
There are some great examples in Sinn Féin of increased use and integration of Irish into daily party work and An Phoblacht could do more and needs to take an activist role here too. We will commit to have more articles as Gaeilge in every issue and on the website too. We want to facilitate readers who have something to say in Irish to consider An Phoblacht as a platform. Maybe the time has come for an editorial as Gaeilge too. No matter what, we must stand up for our language.