13 February 2022
Political unionism has mounted a new offensive to stop the process of change – Kearney
Today Irish unity is fixed on the political horizon. The momentum for constitutional change is growing every day. Partition has finally run out of road.
Cargin chapel and cemetery is one of the significant places in my life. 
Each sit on a sloped hillside between Toome village and the hamlet of Creggan, two miles outside Randalstown. The shores of Lough Neagh are just a distance of fields away.  
Cargin chapel is where my parents were married. When they left this life we scattered their ashes in the ruins of the ancient church at nearby Cranfield on the lough shore itself.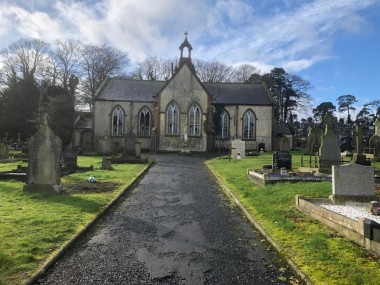 Two of my grand parents are buried in the graveyard along with other relatives, including young cousins who died soon after birth. Over the years I have attended countless funerals of other friends and acquaintances, in both the old and new chapels, as well as witnessing the happy weddings of several cousins.  
Cargin is also a burial place for many unsung heroes of the Irish freedom struggle, who supported the armed struggle in the past, and then strongly advocated for the Irish peace process.  
Some of the best known were both family friends, and personal friends of mine. They included republican veterans such as John and Nan McCoy; John and Mary Cushinan; and Bob and Eileen McNeill.  
Anne McCoy was a daughter of John and Nan, and a Volunteer in Cumann na mBan who died in a road accident returning from Long Kesh in 1976. I still remember her friendly nature visiting in the homes of relatives. Another friend, comrade, and fellow Sinn Féin member, Peter Gallagher, who was assassinated by a unionist death squad in 1993, is also buried there. 
As a youngster, from the 1970s I attended the annual commemoration at the republican plot where local IRA Volunteers Phelim Grant and Charles Mc Cann are buried.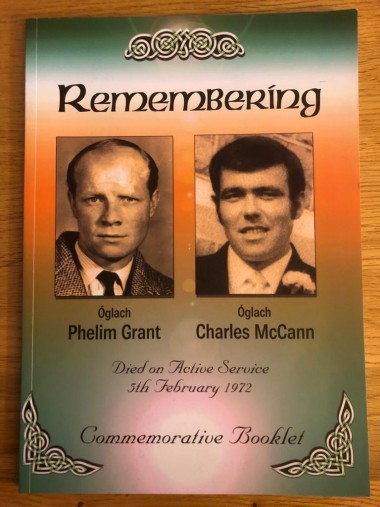 Phelim aged 32, was from the town land of Ballynamullan, and Charles aged 27, originally from Belfast, lived with relatives outside Toome. They were killed in a premature explosion in 1972 on Lough Neagh at Ballyginnif, which is near to Aldergrove.  
I was mindful of all these associations with Cargin on Saturday 5 February when I spoke at a commemoration to mark the 50th anniversary of the two Volunteers' deaths.  
Members of their families, both young and old, attended; so too did their comrades and friends who stood with them in the Bearna Baoil in the past; alongside other republicans from counties Antrim and Derry.  
I spoke about the historic and immediate political context which led Phelim and Charles to join Óglaigh na hÉireann, and their untimely deaths in the military operation that happened just six days after Bloody Sunday. 
During 1972 the British state crushed the civil rights movement. Internment without trial was in place. There was no peaceful way to effect political change or achieve self determination in Ireland. The repression of the state was met with popular armed resistance. 
I reminded our commemoration that war can never be glamourised. Even legitimate armed struggle should not be romanticised. It is right for republicans to honour and commemorate our patriot dead, and it is also right that we acknowledge the loss of all others during the political conflict in Ireland. 
Thankfully the Good Friday Agreement (GFA) created a peace settlement, and drew a line under the use of political violence in Ireland.  
The Agreement is not a political settlement, and it recognised that reality by making provision for a peaceful, democratic route to secure self determination and a united Ireland. 
Today Irish unity is fixed on the political horizon. The momentum for constitutional change is growing every day. Partition has finally run out of road. 
As a result the peace process is now in a defining period. It is for this reason that political unionism has created a new deep political crisis in the north of Ireland, which has paralysed our power sharing government.  
At its core this is a crisis about power sharing; with a sub text of 'no nationalist need apply' – an old mantra synonymous with the institutionalised sectarianism of the Orange state. Phelim and Charles would have recognised it only too well. 
The DUP does not want the GFA to exist. And its leadership only wants power sharing and democracy in the north on terms which it dictates. 
Political unionism has mounted a new offensive to stop the process of change, and that fact goes to the very crux of the forthcoming Assembly election on 5 May.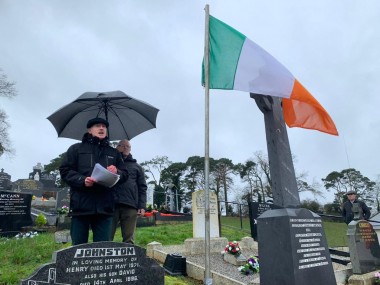 We are now in the end game. Irish history is being made in plain sight. That is really what political unionism's opposition to the Protocol is all about.  
But it is too late. Political unionist leaders cannot and will not stop the change which is happening.  
There will be no veto exercised by political unionism and the DUP over power sharing.  
Nor will there be a veto exercised by the DUP and this British Tory government over constitutional change in Ireland. 
The message in my speech at Cargin was that the days of the veto are over and they are finished.  
The shadow of partition is being eclipsed by a new future, and a new Ireland which will be modern, inclusive and welcoming to everyone: A new Ireland which is built on citizens' rights, social progress and anti sectarianism. 
There is an unprecedented momentum for self determination and it is essential that those from the Protestant and unionist traditions are centrally involved in managing the unfolding change. 
The truth is that political unionism has never served the interests of ordinary Protestant and unionist working people. And, the Tory fat cats in Whitehall don't care about any of us living in Ireland, regardless of our culture or creed. 
That is why I asserted that it is indeed time for change in Ireland: Big change – constitutional change.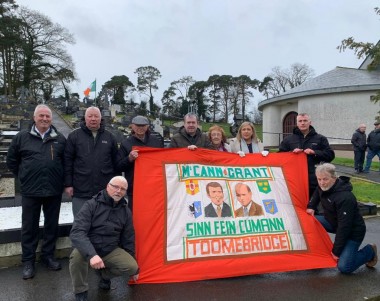 As a people we can achieve more united than divided, in pursuit of our common interests. 
An agreed, pluralist united Ireland is the only way forward.  
Achieving that ambition will be the most appropriate epitaph to the memory of Volunteers Phelim Grant and Charles McCann and all of Ireland's patriot dead. This will be the ultimate honour which can be paid to the unsung heroes of the freedom struggle in Cargin cemetery.
Speed the day! 
An Phoblacht on Twitter

An initiative for dialogue 
for reconciliation 
— — — — — — —
Contributions from key figures in the churches, academia and wider civic society as well as senior republican figures