22 December 2021
Pat Rehill – A tribute
Republicans across Ireland but particularly in the border counties of Leitrim, Cavan and Fermanagh were saddened by the recent death of Pat Rehill.
Pat was an extremely committed and dedicated IRA Volunteer during the most recent phase of armed struggle against British occupation in Ireland. His name will rank with Volunteers such as Jim Lynagh and Séamus McElwaine in the border counties as one of the legendary republicans of his time.
Born near Ballyhaise, County Cavan in May 1943, Pat worked at odd farm jobs after finishing school. His father served one term on Cavan County Council as a Fianna Fáil member.
Pat left for London in 1959 with his older brother and sister. He was just sixteen years of age. Initially, he worked in pubs around Euston Square before moving to the building sites at a time when work was plentiful for Irish labourers.
When the North exploded in 1969, Pat was determined that he would play a part in defending the nationalist people of the Six Counties and he returned to Ireland in 1970 with one thing in mind - to get involved in the republican struggle. Years later, Pat would describe how he was "afraid the war would be over before I would get home."
While Pat was in England, the Rehill family had relocated to a farm in Crosserlough, County Cavan and it was to there that he returned. Around that time, attempts were being made to establish Sinn Féin in the Kilnaleck area, and Pat and his father first attended a Sinn Féin meeting addressed by John Joe McGirl and J B O'Hagan.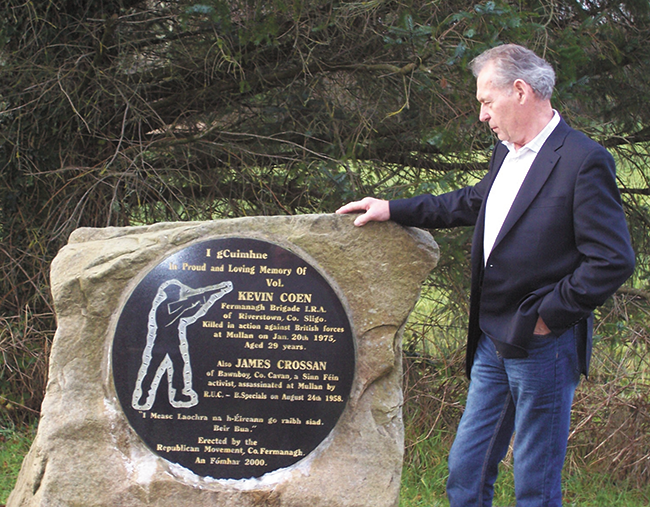 • Pat at the memorial to his fallen comrade, Volunteer Kevin Coen
Things were moving rapidly in 1970 and the next meeting in Kilnaleck was to enlist Volunteers in the IRA. Pat was among eight or ten men who came together to join and he was soon immersed in the Movement.
Before long, Pat Rehill was a frequent visitor to Ballinamore, a centre of IRA activity in the border region, thanks mainly to the leadership of John Joe McGirl.
In May 1976, Pat Rehill was arrested in Crosserlough and taken to Cavan Garda barracks where he was at the receiving end of severe ill treatment, including brutal beatings, lasting from 9am to 2am the following day. He received a one-year sentence on a charge of IRA membership, which he served in Portlaoise in the company of Leitrim men, Tom Joe Keaney, John Gilheaney and Denis Downing.
On his release Pat immediately reported back to the IRA. Moving to live in Ballinamore in 1979, he married Tina McLoughlin, whom he first met in the Sliabh an Iarainn Hotel at a Sinn Féin dance.
Tina came from a well-known republican family in the Ballinamore area. Her two uncles, Peter and Jack, were interned in the Curragh in the 1940s.
As an IRA Volunteer, Pat went on to spend many more years on active service. He would describe nights spent sleeping in hedges in the dead of winter, or in a hayshed, sometimes on his own.
Despite his commitment to the IRA, Pat still managed to play football with his home club, Crosserlough, at a time when they were the kingpins of Cavan football, winning an unprecedented seven-in-a-row senior titles. Pat played on the last three of those winning teams in 1970, 1971 and 1972.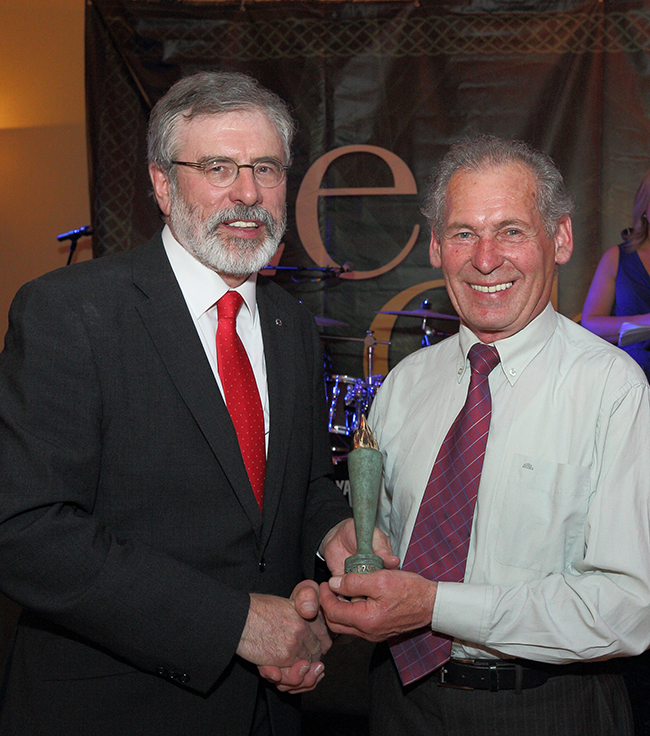 • Le Chéile 2013: Gerry Adams and Pat Rehill, Connacth Honouree 
When he moved to Leitrim, he played football with the Aughawillan club and also won a senior hurling championship with Ballinamore in 1987.
Pat's talents also came to the fore on stage. He took part in Scór in figure dancing and recitation for Aughawillan, was a member of the Sliabh an Iarainn Players and also a valued member of the Leitrim Percy French Players, performing on stage in the National Concert Hall in Dublin. He could also sing and was involved in the Sweet Spirit Gospel Choir.
As a republican activist, Pat had a keen political brain and was a strong supporter of Sinn Féin, of the republican peace strategy and the various political tactics of the Movement.
Summing up his republican involvement, Pat said, "I did my best. I had an opportunity, and I am happy with that."
Pat died on 30 November, 2021 a committed republican, as he had been throughout his life. There was a very large turnout at his funeral in Ballinamore with republicans from every corner of Ireland represented. He was buried in Oughteragh Cemetery, also the final resting place of his son Seán who predeceased him.
We extend our sympathies to Tina, to his daughters, Catherine and Clare, his son Michael, and to all his family and friends.
Fear calma, cróga a throid go dúthrachtach ar son athaontú na hÉireann agus nár dhiúltaigh riamh aon ghnó a dhéanamh ar son na cúise.
An Phoblacht on Twitter

An initiative for dialogue 
for reconciliation 
— — — — — — —
Contributions from key figures in the churches, academia and wider civic society as well as senior republican figures