14 December 2021
British government amnesty legislation will make legacy a permanently toxic issue – Declan Kearney
"As 2022 approaches we have turned full circle once again. The gains of the peace process are being threatened by the indifference and recklessness of another British government. The peace process must be protected; and the Good Friday and Stormont House agreements must be implemented in full."
In 2009 Sinn Féin published our policy on dealing with the past. At the core of this policy, we proposed the establishment of an independent, international truth commission to comprehensively address all the legacy challenges arising from the political conflict in Ireland. 
This was a bold position to adopt. While others from within the political process and human rights constituency supported this approach, no solid consensus developed.  
When the negotiations facilitated by Richard Haass and Megan O Sullivan took place in 2013, which foreshadowed the Stormont House Agreement (SHA) on legacy the following year, in 2014, our Party offered a compromise on our policy advocating an international truth process. We did so to help build a wider consensus with other parties and the British and Irish governments to find a way forward on legacy. The Stormont House Agreement achieved that broad agreement.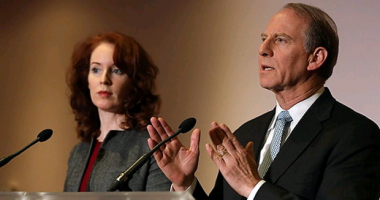 Since 2014 this British Tory government has dragged its feet and systematically frustrated implementation of the SHA mechanisms. 
Then in 2015/16 it began to suggest that national security considerations were creating difficulties. 
Sinn Féin took this position at face value and initiated good faith engagements to find solutions. 
Ultimately, we brought forward further compromise proposals in 2016 to allay these concerns by producing a series of protocols which would address Britain's ostensible national security issues, whilst allowing full implementation of the SHA mechanisms. 
Securing an effective road map to deliver for all victims and survivors of the conflict regardless of their political or community association, has been our Party's consistent and overriding objective. 
Sinn Féin has never allowed our own political priorities to get in the way of making progress on legacy. The failure to properly deal with the past remains an enduring fault line at the heart of our political and peace processes.
Seven years on, and the SHA has still not been implemented. There is only one reason for this failure, and that is a refusal by the Tory government to meet its international legal obligations under the SHA. 
One consequence is that families in the north of Ireland whose loved ones were killed as a result of actions by British state forces and their agents, or by state sponsored death squads, including those decisions made by British cabinet ministers, have been denied access to legacy inquests for up to fifty years. 
Truth or justice delayed, is truth and justice denied - and more especially when the state itself has evaded disclosure and accountability as a protagonist for its own dirty war in Ireland.
So, when the 'New Decade, New Approach' (NDNA) document, which provided the basis for a restoration of proper power sharing on 11 January 2020, included a requirement to implement the SHA in full, Sinn Féin welcomed this as an important commitment to prioritise a final resolution of legacy issues.
However, as early as 18 March 2020, Brandon Lewis, the Tory Secretary of State for the north, was already signalling his government's intention to break with the NDNA obligation to implement the Stormont House legacy mechanisms within a 100-day period. 
It has been a source of renewed deep hurt for victims' families across the community that nothing has been done by the two governments since then to deliver on this specific commitment. 
Throughout, Tory government ministers and politicians have repeatedly raised the need for their state forces and agents to be given legal amnesty for their actions in Ireland through the enactment of a legislated statute of limitations.
So, when eventually a British Irish Inter-Governmental Conference (BIIGC) on 24 June this year proposed a new round of talks to make progress on dealing with the past Sinn Féin entered this BIIGC sponsored process in good faith, despite our misgivings about the sincerity of the British.
Our Party did so because we are committed to finding durable solutions to the issue of legacy and dealing with the past: And because we are committed to implementation of the SHA.
However, the unilateral action by the Tories in publishing a Command Paper proposing amnesty legislation at the behest of the British security, intelligence and defence establishment on 14 July, and at the very outset of this process, was a cynical and destabilising intervention.
These same proposals were unanimously rejected by all parties in the northern Assembly on 20 July.
Since then, these have been rejected by all victims and survivors, eminent NGOs, international human rights institutions within Europe and the United Nations, and other leading figures in the international community, most notably US Congress representatives. Twenty-one bipartisan members of Congress formalised their objections to Secretary of State Andrew Blinken in correspondence on 14 November. 
The Command Paper proposals published are not human rights compliant.
They are in fact even more reactionary in their intent and potential effect than the mechanisms deployed by Agosto Pinochet's dictatorship in Chile.
That assessment has been made by the Model Bill Team in Queen's University Belfast.
Their concerns are shared by the European Commissioner for Human Rights, and the UN Special Rapporteurs.
The fact is that the Tory government amnesty proposals are an affront to victims and survivors.  
The Command Paper and it's political and policy intent mocks their suffering and pain.
I directly confronted Brandon Lewis on these points when representing Sinn Féin during a round table meeting between all five main parties and the two governments on 30 November.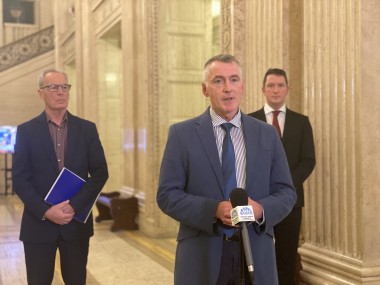 I challenged him on why his administration is ignoring the universal opposition from all political parties and victims' representatives in the north to the planned amnesty proposals.
The Irish government Foreign Affairs Minister, Simon Coveney was also in attendance. I asked him would the Fine Gael, Fianna Fáil and Green Party coalition in Dublin stand by the need to implement the SHA. I also asked what Dublin will do if the British government once again breaks an international agreement and international law.
I then questioned both governments about the jointly convened process which they had promised after the BIIGC meeting in June.
The reality is there has been no intensive engagement and no working groups since this process was announced.  And no progress has been made.
It is now clear that the Tories were never serious about doing so. They have been kicking the can down the road and have again attempted to 'play' victims and survivors. The 'process' has been a smoke screen.
This Tory government has no moral compass. It has no commitment to deal with the past. It treats legacy issues here as just another bargaining chip or commodity.
Its only concern is to placate a military and security establishment in Whitehall which has never been reconciled with the peace process and has remained psychologically at war with the Sinn Féin leadership.
Sinn Féin will not be part of a sham process, or worse; any stroke designed to undermine attempts at finding a lasting resolution of legacy issues.
We will not be involved in any attempts to erode or deny the human rights of victims.
Suggestions that no alternatives exist to the British Command Paper are bogus.
Implementation of the Stormont House Agreement is the only way forward.
There is no justification for further stalling.
In the narrative to justify their July Command Paper, the Tories have argued it provides the only way to achieve reconciliation.  
That is an absolutely deceitful position. Their Command Paper is the antithesis of reconciliation and healing.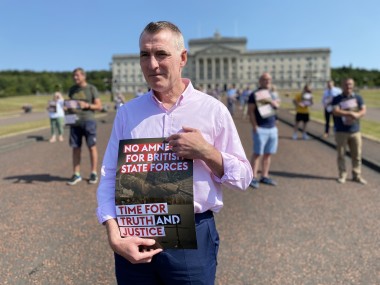 The Tories continued blocking of progress on legacy has already begun to introduce a new poison into the legacy process.  If amnesty legislation is implemented, the entire legacy issue will become permanently toxic.  
Perhaps that is what is what they want: Calculating that a permanent corrosion of the peace process is an acceptable price to pay to avoid any disclosure or exposure of British state violence in Ireland.
Sinn Féin will oppose any effort by them to deal with legacy on their own terms. The current position, however imperfect, is less hurtful than what is being proposed.  
So, the British government should withdraw its amnesty proposals and stop subverting the SHA.
The ongoing expressed concern from senior US politicians such as Congressmen Chris Murphy and Richie Neale, among others, and the interest in this issue by the US administration, is hugely important and welcome.
The resolution of legacy issues through implementation of the SHA is a matter of international law.
It is essential that both governments with responsibility for the Irish peace process should fully observe their obligations under the associated international treaties, which include both the Good Friday and Stormont House Agreements. 
That is what I told acting US Ambassador to Britain Philip Reeker during a recent visit to Belfast. 
Then last Thursday, during a meeting with Doug Jones, US Deputy Assistant Secretary of State for Europe and Eurasia, I explained to him that this latest Tory government has the least investment in, or commitment to, the peace process of all administrations since 2010. I said that its approach was totally in hoc to the military and security establishment, because of a shared objective to conceal the level of state and cabinet involvement in authorising extra judicial killings and the role of state sponsored death squads.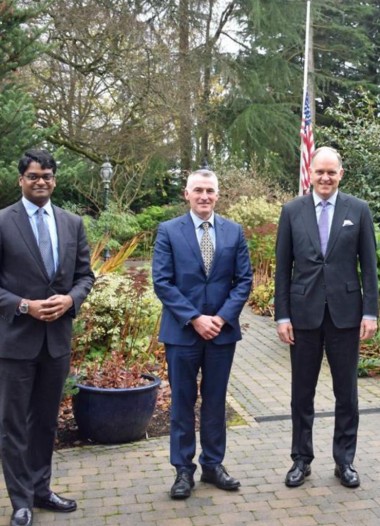 I paraphrased John Major's characterisation of this Tory government as one which breaks the law; breaks international treaties; and breaks its word.
As Brandon Lewis moved to shut down the round table meeting on the 30 November, I demanded to know why he was not listening to the actual consensus opposing his government's amnesty proposals. He refused to answer that question too.
The meeting was an arrogant piece of theatre by the British which was only about going through the motions. 
But it was also the clearest indication yet that this Tory government is hell bent on bringing forward its unwanted amnesty legislation imminently, and regardless to the views of victims, survivors, human rights advocates, and local political parties. 
The tone and purpose of the meeting was summed up by Lewis' dismissive closing remark that he'd give us all 'a ring' before they did so. 
The Tories don't care about anyone in the north of Ireland, and they care even less about their international obligations under the GFA, and to the overall peace process. 
It is for that reason the involvement and concern from the US, and wider international community is so critical in this period.
As 2022 approaches we have turned full circle once again. The gains of the peace process are being threatened by the indifference and recklessness of another British government.
The peace process must be protected; and the Good Friday and Stormont House agreements must be implemented in full. 
An Phoblacht on Twitter

An initiative for dialogue 
for reconciliation 
— — — — — — —
Contributions from key figures in the churches, academia and wider civic society as well as senior republican figures