8 December 2021
Máire Drumm our 'Unmanageable Revolutionary'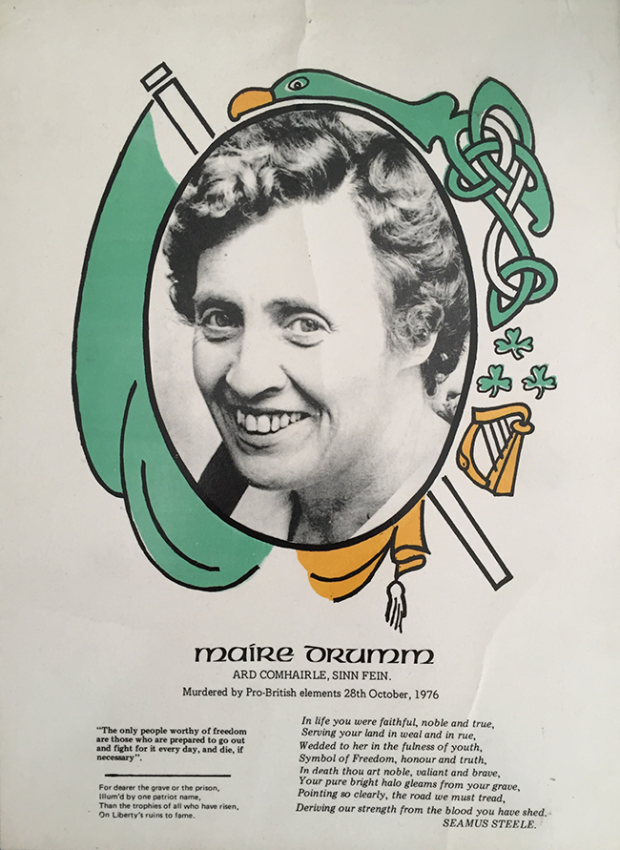 I want to thank the organisers, not just for the invitation to speak to you, but more for the focus of tonight's event – we are all here remembering a republican visionary - Máire Drumm.
Many years ago, Margaret Ward wrote a book called Unmanageable Revolutionaries. The theme of the book was to highlight how Irish women have always played a key role in our liberation struggle and were a driving force in that struggle.
Sadly, in our patriarchal society, women have been seen as unmanageable simply because we refused to conform with how men perceived we should behave - and so the contributions of women like Máire Drumm have not been properly documented.
For too long women's role in the struggle has been largely written out of the Republican history. In my house I have a plaque which reads, "Well behaved women rarely make history". Marie Drumm was not considered to be "well behaved" so she did make history; she was a proud unmanageable revolutionary and our struggle is enriched because of that.
The very fact that a loyalist death squad, under the control of Britain's security services armed a gang to murder her on 28 October 1976, whilst she was in hospital, shows how much they feared Máire Drumm our Unmanageable Resistance Leader.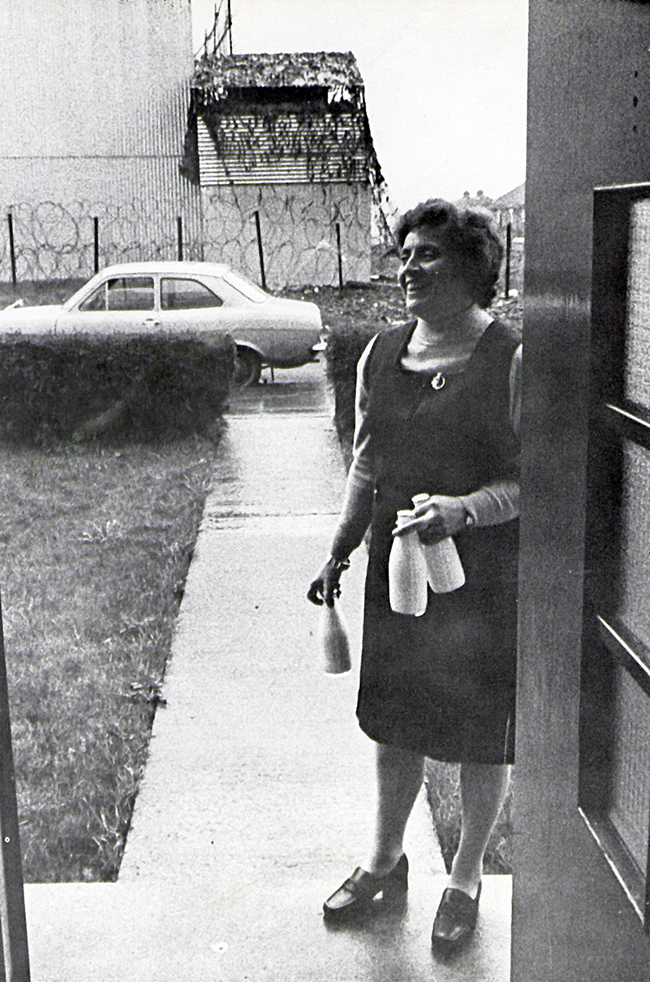 Máire's involvement in the Republican struggle began when, at the age of 21, she joined Sinn Féin back in 1940. She loved Irish culture – holding Irish classes in her home and she loved camogie and Irish dancing.
In 1958 she led a protest to Crumlin Road Gaol after letters and parcels to republican prisoners were stopped. An escape tunnel had been discovered and many of the prisoners had been severely beaten during the follow up searches.
Facing down batons-waving screws, women, led by Máire Drumm rushed the gates, using prams to clear the way and she got inside to deliver the letters and parcels.
In August 1969 following the unionist sectarian pogroms - Máire opened her house to those who had been forced to flee their burning homes.
Speaking about that time, her son Seamus said, 'my mother taught me and all of us the practice of being a socialist, not just the theory of it.
Elected as Vice-President of Sinn Féin in 1970, Máire was a natural leader. That year she led another 'pram invasion' breaking a military curfew imposed by the British army on the Lower Falls area of Belfast.
Families under curfew in the area had no access to food, and again Máire Drumm led from the front and women broke through British barricades to deliver food and medicines to a besieged and imprisoned community.
Máire actions were generally considered to be the sole domain for men. She was no stranger to jails. Whilst it was through her support for republican prisoners that Máire first met her future husband Jimmy who was in Crumlin Road jail, her experience of jails was not limited to visiting them. On a number of occasions Máire Drumm was the one getting the visits.
In February 1971, Maire was sentenced to six months for inciting people to join the IRA. Whilst she was serving that sentence, the British Government brought further charges against her, for promoting the objectives of the IRA and she was subsequently sentenced to a further six months in jail.
In November 1972, she appeared at the Special Court in Dublin, charged with inciting people to possess arms and of being a member of the IRA. Máire refused to recognise the court and was sentenced to 22 days imprisonment.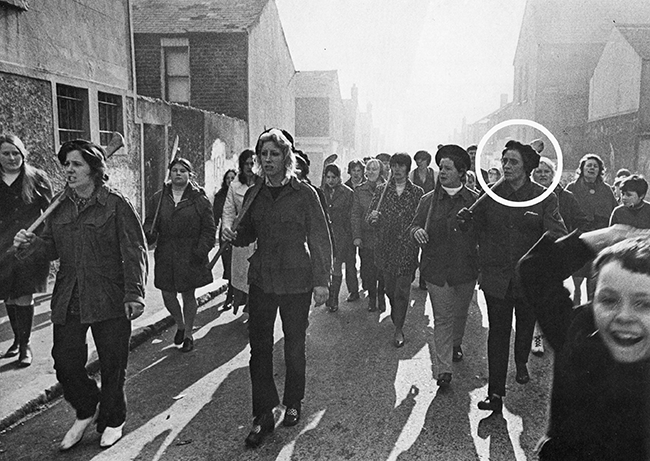 Máire was at the forefront of organising protests against internment. On 7th January 1973, she led 500 women and girls in protest against the internment of Liz McKee, the first female internee. And on another occasion, she organised a planeload of wives and mothers of internees to fly to England to protest outside Downing Street.
Máire's oratory was legendary - she could sum up the mood of the people very easily and very quickly. Speaking about the introduction of internment she said, "On 9th August 1971, we had a Republican Army; after the 9th August we had what was more important – we had a risen people'.
In one of her last speeches in her native South Armagh before she was murdered, Máire rhetorically asked, "What is Peace? Her answer was, "The kind that the Republican Movement has been fighting for is Peace with justice. Peace that our people can live, peace that our people can work and have houses, and peace that our people can walk free through the streets of their own towns, their own cities, and their own country. It will be the Peace that will be restored to the nation after 800 years when British imperialism leaves our shores."
Whilst Márie was inspired by republican women who had gone before her; women such as Constance Markievicz and Maud Gonne, Republican women today are inspired by women like Máire Drumm, Mairéad Farrell and Sheena Campbell – all were also murdered by British controlled forces because they fear "unmanageable revolutionaries".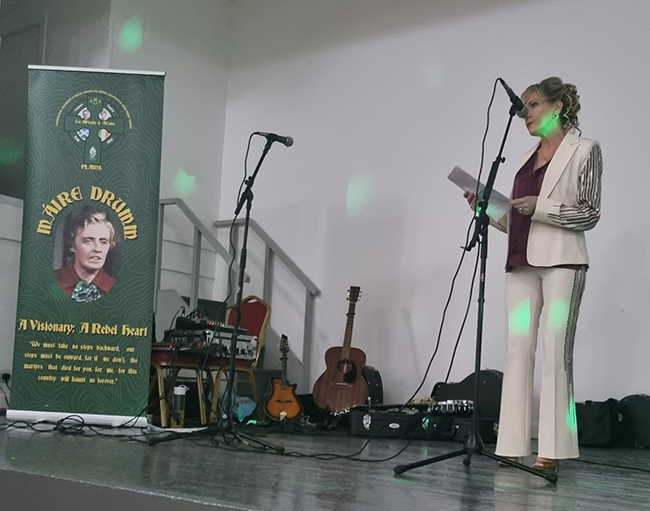 Márie was a leader who fought for the Irish people. She did not fear the might of the British empire and that is why they killer her. She left behind an inner inspired strength for younger Republican women to carry on, loudly and proudly.
There is a maxim, you can kill the revolutionary, but you can't kill the revolution. Márie Drumm's memory as a revolutionary still guides us today.
She taught woman like me not to be well behaved, not to be silenced, not to conform and to spend our lives righting wrongs – and that includes refusing to let Máire Drumm's contribution to the struggle be airbrushed out of the history.
So that is why it's a privilege addressing you this evening as we collectively ensure that a woman born with what Gerry Adam's Léargas booklet call A Rebel's Heart is not erased out of the history that Máire Drumm was so instrumental in making.
An Phoblacht on Twitter

An initiative for dialogue 
for reconciliation 
— — — — — — —
Contributions from key figures in the churches, academia and wider civic society as well as senior republican figures