19 August 2021 Edition
'The Session' by Danny D – comrades, community agus ceol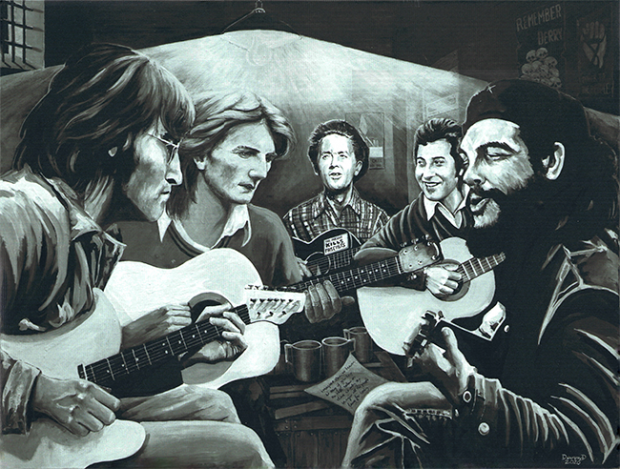 "When I decided to create the painting, I hoped to have Bobby remembered not only for his death in the H-Blocks but also as we knew him - full of life, energy, serious and focused when needed, but also bursting with passion, laughter and craic. The same attributes that made him such a leader when called upon. How the great ones should be remembered." – Danny Devenny
In the glow of light, tightly gathered in a cell, they play music and sing together. John Lennon, Bobby Sands, Woody Gurthrie, Victor Jara, Che Guevara. It is an extraordinary picture, a vision of revolutionaries who were also ordinary people who loved music and knew the value of friendship and comradeship. The picture can be seen in one way as Bobby's dream of playing music with these men, something its creator Danny D was well placed to express as he was a friend and fellow political prisoner with Bobby. 
"I think of him in his cell, big smile on his face, playing his guitar," recalls Danny. He first met Bobby in Crumlin Road Prison when Bobby came looking for a 'hanky', a cotton handkerchief decorated with republican images by Danny, the first flowering of his activist art. 
In 1973, Danny had been arrested and wounded in an IRA bank raid that went wrong. He was lucky to survive, as was the RUC man who wounded and arrested him. Both were in a position to shoot the other fatally at close range. Neither did so. Many years later, Danny was confronted by a UVF gunman at An Phoblacht's office in 44 Parnell Square, Dublin, where he was working. The gunman could have killed him, but shot him in the leg instead. No wonder Danny talks about having had several lives. 
He is renowned for his long connection with the Short Strand district, but he jokes that it all began across the city on Durham Street on the Lower Falls. His father and uncle were from County Donegal and arrived during the 1921 pogrom and his uncle was wounded in a loyalist attack at that time. Danny's father's first wife Molly McEvoy died young and he then married a Donegal woman, Mary Lafferty, Danny's mother, who still lives in Short Strand to this day. 
"I grew up in a mixed community. Apart from relatives, having Protestant cousins and friends, all my neighbours - their fathers were working in the shipyards. So, we grew up, we mucked around, sectarianism wasn't talked about, wasn't thought about. Bear in mind, my parents were from Donegal and we didn't see ourselves as anything other than Irish from day one. My mother was from the Gaeltacht and went to an Irish speaking school." 
• Bobby Sands and Danny D (circled) in the Cages of Long Kesh

He recalls returning to Short Strand from a social outing one night in 1970, the very night when the district was attacked by loyalists, intent on another pogrom, who were thrown back by armed Volunteers of the IRA and civilians of the local defence committee. The following year, on the day internment without trial was imposed, Danny joined the IRA. "I was probably one of the worst IRA men ever invented. I was told 'go away there Dan and paint the walls!'" he laughs. 
In jail, his artistic skills were discovered and he moved from decorating handkerchiefs to illustrating articles in Republican News. On his release in 1976, some of his comrades had died in the struggle or were re-captured and in jail again. Danny went to work full time for Republican News in Belfast in the period when British Labour Secretary of State Roy Mason was attempting to close down the paper. He failed and Danny, after another spell in jail, went on to head up the design and graphics of the newly amalgamated An Phoblacht/Republican News, based in Dublin from 1979. He speaks highly of the team of young people who transformed the paper into one of the most dynamic and popular revolutionary publications in the world. 
Week by week, it chronicled the tragedy of the 1981 Hunger Strike, which was deeply personal to Danny. It was he who had taken delivery of a 'comm' with one of the first pieces of writing for publication by his friend Bobby Sands. And based on an illustration of a sky lark he found in an ornithology book, Danny designed the image of the lark and barbed wire that illustrated Bobby's story 'The Lark and the Freedom Fighter', an image that became known as the Spirit of Freedom, an icon to republicans from then on.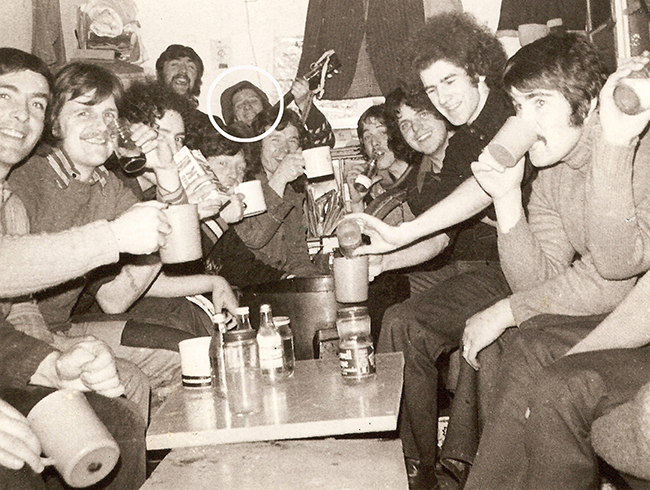 • Bobby Sands (circled) and comrades enjoying a session in the Cages
It was the rediscovery of Gerard Harley's photographs of Bobby Sands carrying a flag at a march in West Belfast in August 1976 (see An Phoblacht, Number 4, 2019) that gave Danny the image he needed to make 'The Session'. He had long wanted to do it but lacked the right image of Bobby. The picture immediately captured people's imaginations and prints of it now hang in many homes. He recalls that Bobby's favourite singer was Rod Stewart on whom he styled his looks, earning him the nickname Rod in the Cages of Long Kesh. And his most vivid memory of Bobby singing was with the late Rab McCullough at a Christmas concert in the Kesh in 1975 when they sang 'The Mandolin Wind'. 
Working with other mural artists whom he is always quick to credit, Danny has created hundreds of murals in Belfast and in many places beyond. An activist first, he says:
 "When asked the question, do you see yourself as an artist, well I always say Jimmy Lundy who sat beside me in primary school used to say to me all the time 'Dan, you're some artist!' And that's good enough for me."
Danny's recollections are laced with the names of comrades, friends, family, and community, especially those in Short Strand, where he is resident for nearly 60 years, though he says he is still seen as a "blow-in". "My parents had 16 children and half the Short Strand are related to us now. It is like a village. Everyone knows each other and everyone looks out for each other." 
Danny D rarely signs his work. He is content to let the image go its own way and the message with it. He says that, whatever his talents, they have "sailed me through life" and he is not interested in adulation as an artist: "We are accidental celebrities. This is all about the community." 
The above article draws from Danny's interview with Ruairi Mac Corsáin in the Rebel Rebel Podcast. Full interview available on Youtube 'Ro in Conversation With, Episode #5 Danny Devenney' 29 June 2021. 
The singers 
John Lennon (1940-1980) 
Of Liverpool Irish descent, John Lennon spoke out against internment in 1971 and Bloody Sunday in 1972. At an anti-interment march in 1971 he said: "If it's a choice between the IRA and the British Army, I'm with the IRA. But if it's a choice between violence and non-violence, I'm with non-violence. So, it's a very delicate line." He recorded two songs, 'Sunday Bloody Sunday' and 'The Luck of the Irish', both banned by the BBC. He met Irish republicans in New York, including the late Gerry O'Hare. He successfully fought US government efforts to deport him because of his progressive politics including opposition to the Vietnam war. Bobby Sands was among prisoners in Long Kesh who signed a petition to support him. He was murdered in New York on 8 December 1980.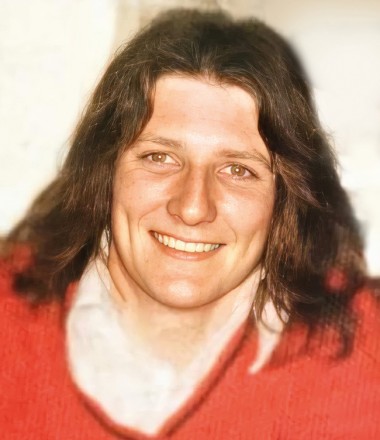 Bobby Sands (1954-1981)
"Bobby loved John Lennon. He would have loved being in a session with him. And the others. He admired them all. There is a photo of a session of poitín-drinking prisoners in Cage Eleven which Danny based his painting on...Ewan McColl's fine ballad 'Tim Evans' was one of Bobby's first songs. Christy's renditions led him to Woody Guthrie. James Taylor, Neil Young, Dylan, Bowie, Loudon Wainright III, and Leonard Cohen, all influenced him. He used the melody of Gordon Lightfoot's 'The Wreck of The Edmund Fitzgerald' years later in the H Blocks for 'Back Home in Derry." - Gerry Adams 

Woody Guthrie (1912-1967)
American singer-songwriter, socialist, anti-fascist. He championed working people and labour unions and their struggles, especially during the Depression of the 1930s. "I am out to sing songs that will prove to you that this is your world, and that if it has hit you pretty hard and knocked you down a dozen times and knocked you for a dozen loops, no matter how hard it's run you down and rolled over you, no matter what colour, what size you are, how you are built, I am out to sing the songs that make you take pride in yourself and in your work. And the songs I sing are made up for the most part by all sorts of folks just about like you." 

Victor Jara (1932-1973)
Chilean singer-songwriter, poet, theatre director, cultural ambassador for the socialist government of President Salvador Allende. He started the 'new song' movement in Chile and became a powerful and popular performer with an international reputation. The democratically elected Allende Popular Unity government was overthrown in a military coup backed by the US Government in September 1973. Victor Jara was tortured and shot dead in the national stadium in Santiago and his body dumped on the street. In July 2018, eight retired Chilean military officers were sentenced to 15 years for Victor Jara's murder. 

Che Guevara (1928-1967)
Cuban revolutionary of Argentinian birth and Irish ancestry (Lynch). 
"We must strive every day so that this love of living humanity is transformed into actual deeds, into acts that serve as examples, as a moving force." 
"I am not a liberator. Liberators do not exist. The people liberate themselves." 
"The first duty of a revolutionary is to be educated." 
An Seisiún: 
Do Danny Devenny 
Cúigear cairde i gcillín le chéile 
Faoi sholas láidir ag seinm cheoil.
John, Bobby, Woody, Che 's Victor,
Gáire á roinnt agus poitín á ól.
— • — — • — — • —
Ruaig á chur ar brón 's ar eagla
Buille láidir in éadan daoirse
Ceol an phobail, ceol gan srianta
Amhrán ghrá 's amhrán saoirse.
Mícheál Mac Donncha