19 August 2021 Edition
Change is happening – Government support erodes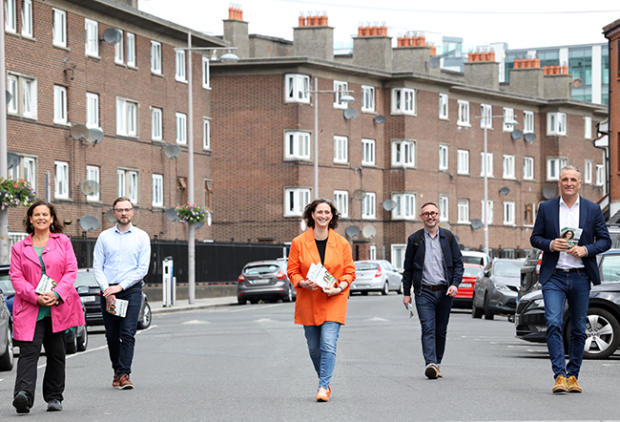 The results of July's Dublin Bay South by-election, triggered by the resignation of disastrous former Fine Gael Housing Minister and local TD Eoghan Murphy, sees the Fine Gael-Fianna Fáil-Green government living on borrowed time.
The by-election results confirmed that the process of political change, witnessed in last year's historic general election, is ongoing with Fine Gael's Dáil numbers further depleted and Fianna Fáil recording an historically dismal result.
Fine Gael's James Geoghegan entered the by-election as the favourite to retain Murphy's seat. However, his campaign was marred by issues around his political record, including membership of the right-wing Renua party and his work as a lobbyist for the tobacco industry.
Geoghegan was Varadkar's favoured candidate over former local Fine Gael TD Kate O'Connell and divisions within the party were obvious before, during, and after the by-election. In the end, Geoghegan was overtaken by Labour's Ivana Bacik and Fine Gael lost the seat they held here.
Fianna Fáil's by-election campaign was an unmitigated disaster from beginning to end. Their efforts on social media were a recurring joke. Their candidate, Deirdre Conroy, performed miserably in TV and radio debates and her candidacy was marked by controversy around a blog she wrote on being a landlord, which included derogatory comments about her Latvian tenant.
Ivana Bacik was ahead of Geoghegan from early in the election count with transfers from Sinn Féin's Lynn Boylan and Green Party candidate Claire Byrne ensuring her victory. 
Bacik – the darling of the establishment media from early on – received a major boost from an Ipsos/MRBI poll in the week before voting. It was the only public poll conducted in advance of the election and assisted Bacik by placing her as the most likely candidate to beat the government and giving her much needed momentum in the final week of campaigning.
To be fair to Bacik, she has a long and admirable track record of campaigning on issues of civil liberties, including abortion rights, same sex marriage, and the scandal of Mother and Baby Homes. She lives in the constituency and was a high profile Senator and former European election candidate.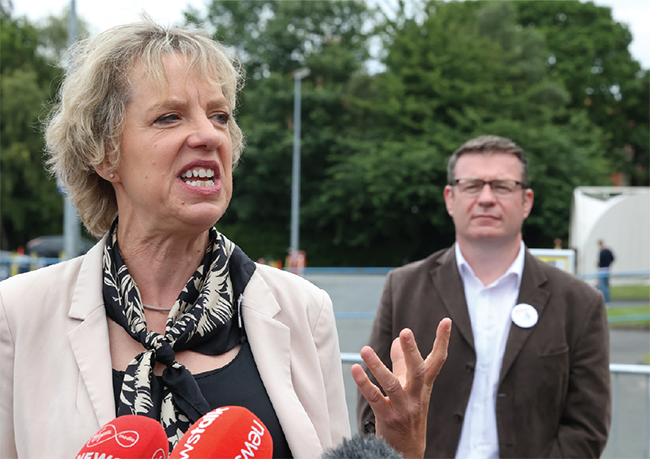 • Labour candidate Ivana Bacik with leader what's his name?
The by-election saw a very solid campaign for Sinn Féin's Lynn Boylan who – although she did not win – ran a positive, progressive campaign in a difficult constituency for the party, with a sharp focus on the most pressing issues, particularly housing and consolidating the party's support here.
Boylan forced the issue of housing to the centre of the by-election debate and this has put further pressure on the government parties.
Not long ago, it would have been difficult to imagine Sinn Féin contending for a seat in such a Fine Gael stronghold. However, at the first count, Lynn Boylan had a total of 4,245 first preference votes – 15.8% of the total vote – and retained the breakthrough support won by sitting Sinn Féin TD Chris Andrews in last year's general election. In the working class areas of the constituency, Lynn dominated.
In the end, she was eliminated on the eighth count with a total of 5,237 votes which is very positive for Chris Andrews holding his seat at the next general election.
The result is a hammer blow to Fine Gael as this was a seat held by the party in a constituency where they came close to taking two seats in the General Election.
For Fine Gael now to be without a TD in what has always been a major Fine Gael stronghold is a severe setback for Leo Varadkar's leadership. This remember is the constituency of former Fine Gael leaders Garret Fitzgerald and John A Costello. The party now drops to 34 seats in the Dáil, behind the 37 for Sinn Féin and 37 for Fianna Fáil.
But it was also a truly dreadful day out for Fianna Fáil. Conroy struggled to get enough votes to keep her deposit. On the first count, she received 1,247 votes, a mere 4.6% of first preferences and 9.2% down on Fianna Fáil's 2020 general election result.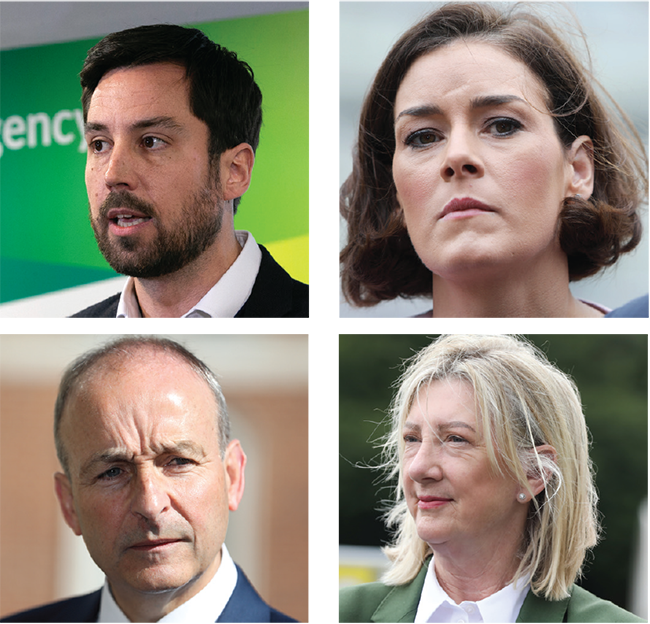 • Eoghan Murphy, Kate O'Connell, Mícheál Martin and Deirdre Conroy
This kind of result is unheard of for a government party led by the Taoiseach. The votes had not been fully counted before issues around Mícheál Martin's continued leadership of Fianna Fáil resurfaced, with several Fianna Fáil TDs, some on record, briefing heavily against Martin and calling for his resignation.
If Fianna Fáil's dire performance was repeated in a general election, it would see a loss of seats on a huge scale. It continues the historic downward trajectory for the party and comes just weeks after one of their own TDs described the party as "toxic and irrelevant" to a whole swathe of the population. 
And it was not just the two bigger government parties which suffered. The Greens vote also collapsed in the constituency of party leader Eamon Ryan.
Much post-election commentary has focused on whether Ivan Bacik's performance represents a change in Labour's fortunes. The reality of course is that Ivana Bacik's profile, who has a long-established record as a campaigner, is actually bigger than the Labour Party itself, which is now a very minor player on the Irish political landscape. 
An Ireland Thinks poll has shown that support for Bacik was strongly related to her specific candidacy. Much more than other candidates, she received a personal vote (60% of those who voted for her) rather than one for her party.
There is also the feeling that Fine Gael divisions, sidelining a female former TD with a strong liberal profile, in favour of a male with a conservative track record played to Bacik's advantage, particularly in terms of transfers. Fine Gael voters, over many years, are used to transferring to Labour with whom they have been coalition partners in successive governments.
Polling also indicates that Bacik's vote strongly correlated with that for Green Party leader Eamon Ryan in 2020 and much of her support came from the 14.4% decline in support for the Green Party.
Bacik made no significant inroads within working class areas, which is unsurprising considering that she has consistently supported the brutal austerity policies of governments involving Labour, which inflicted so much harm on ordinary people.
Despite the valiant efforts of elements within the media to revive Labour's relevance, the Dublin Bay South result will undoubtedly prove to be the exception as opposed to the rule.
Fine Gael's willingness to engage in shameless class snobbery was exposed during the by-election campaign with crass social media messages warning that working class areas of the constituency were experiencing high voter turnout, and appealing to their supporters not to "let Sinn Féin in".
Varadkar's hopes of a poll boost for Fine Gael relating to the vaccine rollout or ending of severe lockdown measures demonstrated the government's underestimation of the frustration and anger over the housing crisis, as well as inequalities in employment conditions and income and within health system and childcare services. 
First preferences for the government parties was just over 37% - a huge fall from 64% in the general election.
While merely a snapshot of opinion in a very untypical constituency, the by-election has nevertheless highlighted again the unpopularity of the policies of Fine Gael and Fianna Fáil.
It has also underlined Sinn Féin's position as the preeminent voice of ordinary, working people and whose policies are speaking to those most affected by the government's abysmal handling of the housing crisis.
As society emerges from the pandemic and other issues come into even clearer focus, the challenge for Fine Gael, Fianna Fáil, and the Greens will only increase. Government support is eroding fast and the mood for a general election is growing.
It is clear too that Sinn Féin's phenomenal and historic 2020 General Election result was no 'flash in the pan'. The process of real and fundamental political change continues.
Seán MacBrádaigh is a Sinn Féin political activist