19 August 2021 Edition
Britain's 50-year harvest of failure
Editorial - Eagarfhocal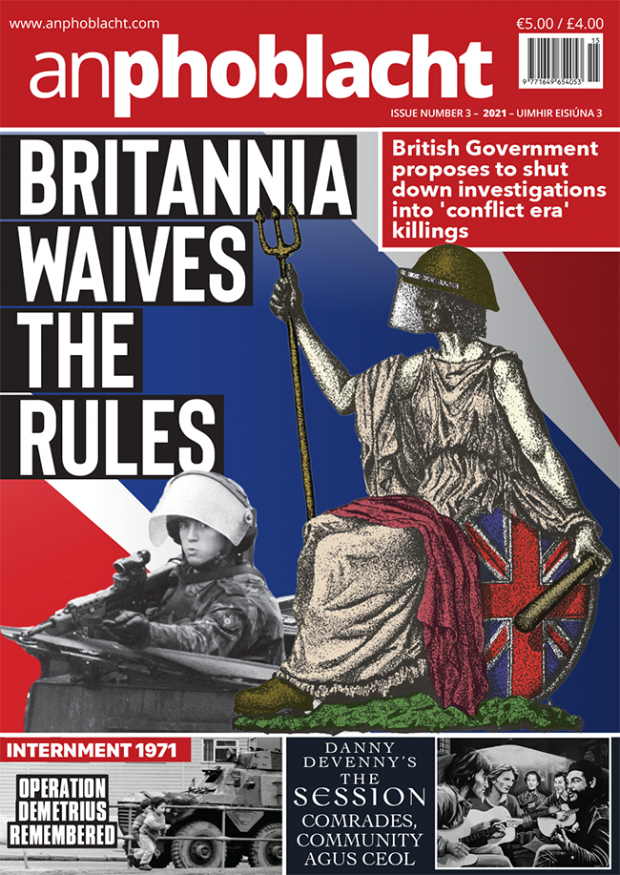 Marking the anniversary of internment, the so-called 'Operation Demetrius', executed by the British Army in August 1971, has been an important moment in the conflict in Ireland for Irish republicans to commemorate and remember.
Coming just two years after the 1969 pogroms, the response of the British Government to two years of conflict, of nationalist communities under siege, to two more years of denial of basic civil rights and any role or participation in the government of the Six Counties, was to once again, attack a whole community.
The experience of thousands of soldiers in armoured cars swarming through the nationalist streets of the Six Counties must have been a terrifying one. Internment, agreed and planned at the highest levels of the British political establishment, became another chapter in the annals of the British Government's selfish and strategic interest in Ireland.
The decades of attempting to marginalise and exclude the republican voice from Irish politics failed. Internment failed to subdue Irish nationalists and republicans, as did the policies of criminalisation and normalisation. Torture and abuse of prisoners failed. The Diplock Courts, and Special Powers legislation, the media censorship, the shoot to kill strategies of the 80s and 90s, all failed.
Peadar Whelan's article in this issue catalogues another aspect of Britain's failure in Ireland. It marks the trail of murders and massacres perpetrated by British soldiers in the years after internment. It catalogues the policies of cover-up, lies, and deliberate obstacles placed in the way of the families from Derry, Ballymurphy, New Lodge, and Springhill as they fought and campaigned for the truth to be revealed of the circumstances in which their loved ones were murdered.
50 years on, the failure of internment and the subsequent decades of tragedy are symbolically marked in part by the 45 inquests waiting to be heard and 40 more awaiting progress. And now, the British Government are proposing legislation to stop any inquests and, most critically, any prosecutions resulting from their findings. They propose that there will be no justice when it comes to investigating their role in shoot to kill, state murder, and collusion.
The Sinn Féin position was made clear by Vice President Michelle O'Neill, who stated that: "If the current legacy process is to deliver for victims, in a human rights compliant manner, there can be no amnesty or statute of limitation for British state forces or intention to interfere with due legal process in respect of legacy inquests".
Demetrius is a name linked to the ancient Greek deity of harvest and agriculture. 50 years on from the first phase of internment, it is clear that the British Government's harvest has been a bitter and deadly one they want to cover-up. Irish republicans will not allow the truth of the British war in Ireland to be silenced. ⊟