1 November 2021
Remembering Tony Birtill – Scouse Not English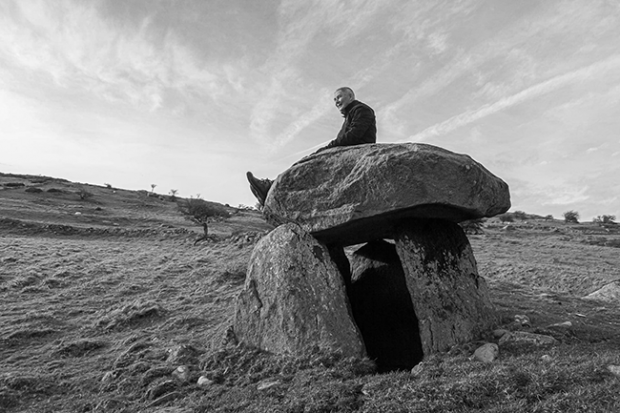 The Irish community in Liverpool was left bereft on Thursday 21 October with the passing of Tony Birtill. The journalist, activist, and teacher had fought a long and hard battle with cancer and in recent times had entered hospice care, but the news of his untimely death still came as a shock to all who knew him.
Tony was a mainstay of the Liverpool-Irish community and one of the foremost authorities on the history of the Irish diaspora in the city. In particular, he was an expert on the indelible influence that the Irish language had left on the regional dialect. A topic which he ably examined in his seminal work 'A Hidden History: The Irish Language in Liverpool / An Ghaeilge i Learpholl'. Which was fully revised and republished at the beginning of 2021.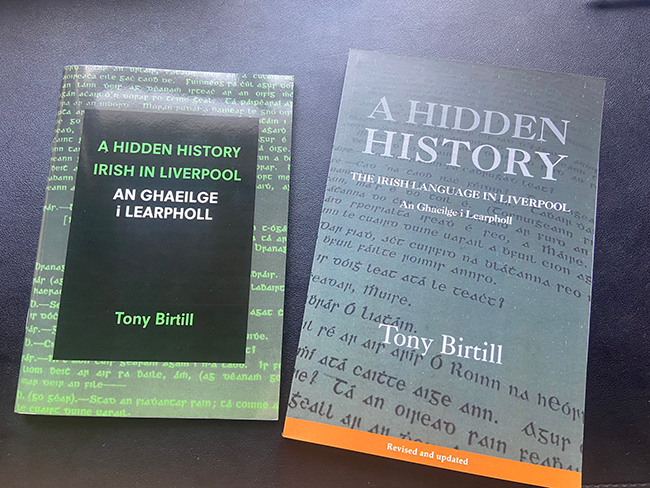 Tony was never found wanting when it came to activism. He was an active member of Cairde Na hEireann (Liverpool), Conradh na Gaeilge, the Liverpool Easter 1916 Commemoration Committee, the Great Hunger Commemoration Committee, and also sat on the board of the annual Liverpool Irish Festival. He could be found every Wednesday evening in the Liverpool Irish Centre delivering his Irish language lessons. 
Tony was a keen supporter of local republican flute bands; initially with the James Larkin Flute Band from 1996 onwards, before it was reformed in 2008 as the Liverpool Irish Patriots Republican Flute Band. In the past few years, he joined the Liverpool Irish Patriots RFB as a full member and was immensely proud to wear the band uniform. 
While he loved Liverpool with a passion, he also relished his regular escapes to his home-away-from-home in Gleann Cholm Cille, County. Donegal. Where his guided hill walking courses around the Sliabh Liag peninsula were legendary.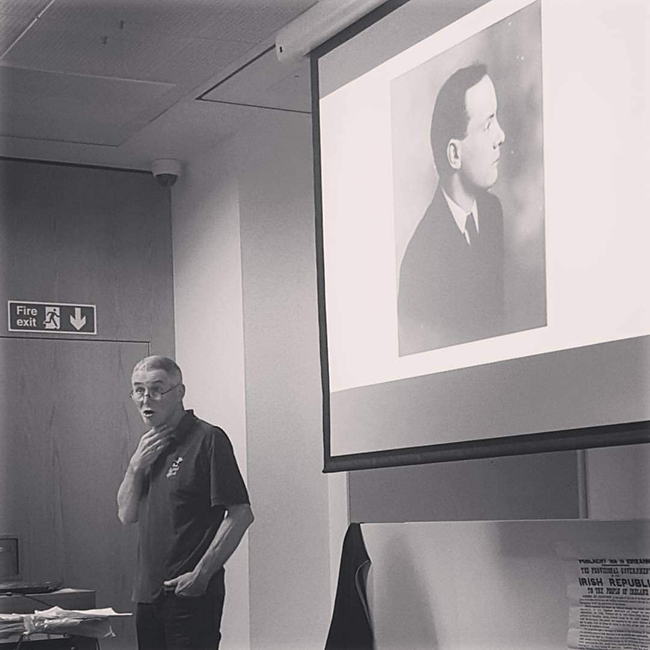 He was a supporter of Sinn Féin and a committed socialist and republican. He believed thoroughly in the cause of Irish unity and was convinced that there was a positive role that the diaspora could play in helping to build the campaign towards a new Republic.
Following the news of his death, the MP for Newry and Armagh, Mickey Brady extended his condolences on behalf of Sinn Féin. Mr Brady commented:
"I was deeply saddened to learn of the passing of Tony Birtill. Tony was a committed republican and friend of Sinn Féin. As a community historian and activist for Cairde na hÉireann in Liverpool, Tony was an excellent advocate and ambassador for our Liverpool-Irish diaspora. In particular, his unique work in documenting the influence of the Irish language on everyday scouse slang was commendable."
He continued, "Tony's activism, expertise and breadth of knowledge will be sadly missed. On behalf of Sinn Féin, I would like to extend our deepest condolences and sympathy to his family and friends. Ar dheis Dé go raibh a h'anam dílis."
Tony leaves behind an admirable legacy and we are blessed to have his writings to guide and inform us in his absence. As he wrote himself in 'A Hidden History':
"Beatha teanga í a labhairt, buanú teanga í a scríobh – to speak a language is its life, writing a language gives it permanence."
To his family, friends, colleagues, and comrades, we extend our heartfelt sympathies.
An Phoblacht on Twitter

An initiative for dialogue 
for reconciliation 
— — — — — — —
Contributions from key figures in the churches, academia and wider civic society as well as senior republican figures