18 October 2021
Our people deserve a future beyond the failure of partition – Declan Kearney
"After a century of division, our people deserve a future beyond the failure of partition – in an agreed, united Ireland, built on equality, reconciliation, respect, inclusivity and hope" - Declan Kearney MLA
Uachtarán na hÉireann, Michael D Higgins' decision last month not to take part in the Armagh ceremony organised by the leaders of the main Christian churches in Ireland brought sharply into focus the importance of the need for great care and sensitivity when addressing a century of partition in Ireland. 
At the beginning of 2021 the British Tory government got its approach typically, and badly wrong by announcing that 100 years of the northern state was a cause for celebration. It unveiled a programme which referred to a church service in Armagh later in the year. 
President Higgins raised valid concerns. He has thoughtfully engaged with the decade of centenaries throughout setting out his own perspective on ethical remembering and the shadow of imperialism in Ireland. 
Last December the Presbyterian Church of Ireland (PCI) initiated a private conversation about an event it wanted to stage in 2021 at the Theological College in Belfast where the Stormont parliament first convened.  
Church representatives advised Sinn Féin they wanted to organise an event which would include an historical lecture, dramatic and musical recitations, a speech from the Presbyterian Moderator, and a panel discussion which would enable the presentation of political perspectives on partition and history of the northern state, followed by a discussion.  
As a Sinn Féin Minister within our power sharing government I welcomed the opportunity to provide a republican analysis of partition and the current state of politics and society in the north. 
I began my presentation by referring to the ongoing decade of centenaries marking seminal events between 1912 and 1922, which have shaped modern Irish history during the last century. 
These events have defined our relationship with Britain over the past 100 years. 
That relationship has been characterised by colonialism, partition and political division: But now with the advent of the peace process, it has begun to point towards peace, reconciliation and co-operation.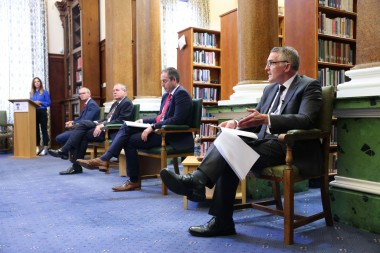 December 1920 marked the introduction of the Government of Ireland Act in the Westminster parliament, which forced partition on Ireland.  
The Government of Ireland Act later came into force on May 21st 1921.  
In June British King, George the fifth, inaugurated the six counties parliament in Belfast City Hall, and James Craig became Prime Minister of the northern state. 
100 years on political unionism is marking these events as a celebration of the northern state.
I told the PCI event that Irish republicans and nationalists have no reason to celebrate the partition of Ireland. 
Irish nationalism and republicanism have our own perspective and experience of partition. 
Discrimination and state repression were the lived experience for successive generations.
Unionists have a separate narrative; their's was a different lived experience. 
One recently announced unionist centenary event in Coleraine plans an historic reenactment of a 'B Specials' checkpoint.  
My great uncle was shot by the 'B Specials' while driving his motorcycle outside Randalstown in 1939 at one of their 'checkpoints'. The 'B Men' terrorised the nationalist people of the six counties. 
The political, social and cultural consequences of what happened during the decade 1912 to 1922, and the repression and discrimination of partition continue to reverberate throughout this island until today. 
The peace process and the Good Friday Agreement drew a line under decades of political conflict. 
The peace agreement guaranteed parity of esteem, and it removed the British government's veto on constitutional change and replaced it with the consent of citizens who live here.  
The Good Friday Agreement has provided a peaceful democratic pathway to Irish Unity. I believe that prospect will become a reality during this decade. 
I told the invited audience that the current Assembly is unrecognisable from the old unionist regime at Stormont. 
Today, the political process in this region of our island is defined by power sharing. 
The fact that the five main parties share power together has created a dynamic which has been essential to the effectiveness of our whole community fight back against COVID-19. 
I noted that change is happening all around us.
The once monolithic unionist majority has gone.
And, the notion of a perpetual unionist majority – the historic lynchpin of partition – has also gone. 
The balance of power has shifted and this is reflected in today's Assembly. 
The onset of Brexit has also exposed the undemocratic nature and failure of partition.
It has created the biggest constitutional crisis for unionism and the British state in a century. 
New political, social and economic uncertainties exist for Ireland and Britain.
Brexit has stretched British-Irish relations over the past five years. 
Political unionism's opposition to the Protocol has injected a new instability.
At the same time the realignment of Irish politics on this island is happening in plain sight.
Irish unity is now on the horizon.
And the decisions that all of us take in this period will shape the direction of our island for the next generation.
A defining watershed has opened in respect to relationships in Ireland, and between Ireland, Britain and the European Union.
I suggested that some of a British/unionist identity have begun to re-evaluate what this means.
That is not to say they are not British, nor have they given up their allegiances. 
But some within wider civic unionism are refusing to have their thinking limited by old zero sum politics. 
They want a future built on modern and pluralist values.
They have begun to rethink their economic future and the merits of reentry to the EU in a united Ireland.
As a republican I welcome any opportunity to share our vision of an open, inclusive and agreed Ireland. This event organised by the PCI provided an opportunity to do so.
I went on to say that the challenge for us all is to navigate the political flux around us with sensitivity and generosity. 
Building the foundations for authentic reconciliation must be central to all that we do.
And we each need to fearlessly challenge sectarianism and oppose any deepening of divisions in our politics and community.  
Dealing with the past and honouring the Stormont House Agreement, with a victim centred approach must be a key priority. 
This British government's proposal for amnesty legislation is contemptible to all reasonable people.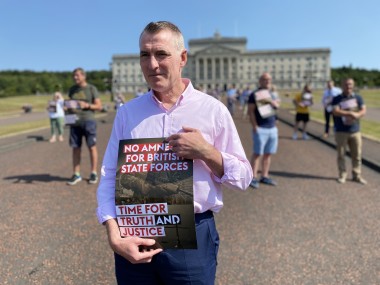 It is opposed by every party within our local democratic institutions, across the island and internationally by the US Congress, UN experts and human rights organisations. 
But powerful forces within the British government and its defence and security establishment have decided they will not have their role revealed in the conflict.  
That is the primary motivation of this proposed amnesty legislation.
So truth must speak to power. 
In my closing remarks I acknowledged that a lot of hurt and pain has been caused by us all towards each other, throughout the last century of conflict.
As a republican leader I expressed my sorrow that it has been so. We can all see things which we would wish had been done differently or not at all. 
It is now surely time to acknowledge our shared suffering which we, as unionist and republican; as planter and Gael; and as British and Irish, have endured.
It is time to heal those wounds of the past in order to move forward together. 
I expressed my clear conviction that Irish reunification and reconciliation are inseparable. 
And, that the current discourse on constitutional change in Ireland must also address the challenge of building a reconciliation and healing process.  
We will all need to bring humility, forgiveness and grace to how that is done. 
Our common purpose must be to create a space where in friendship, we can seek to harmonise the complexity of our relationships.
To look towards the future together, affirmed in the knowledge that tomorrow is another country.
And inspired with the conviction that the new Ireland, cannot and will not be the old Ireland.
This is a time for debate, big ideas and a public discourse that threatens no one.
After a century of division, our people deserve a future beyond the failure of partition – in an agreed, united Ireland, built on equality, reconciliation, respect, inclusivity and hope.
An Phoblacht on Twitter

An initiative for dialogue 
for reconciliation 
— — — — — — —
Contributions from key figures in the churches, academia and wider civic society as well as senior republican figures