13 October 2021
Mica redress campaign lands in London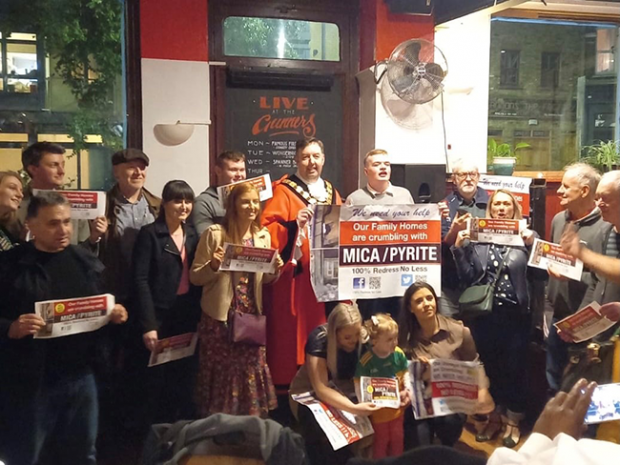 The Mica Redress Campaign landed in London on Saturday 9 October, when The Gunners pub in Highbury/Islington played host to the launch of a Mica Redress campaign London-Irish support network.
The previous day saw an estimated 20,000 people rallied in Dublin to call for 100% redress for the families, primarily in Donegal and Mayo, affected by the defective block scandal.
Saturday's awareness event was the brainchild of The Gunner's landlord and Donegal native Brian Doherty and his business partner, Cork man, Philip O'Sullivan. 
Concerns have increasingly been raised that the current Defective Block Scheme does nothing to address those resident in either the Six Counties or Britain who have been impacted by the Mica scandal in Donegal, Mayo and other neighbouring counties.
This new London-based initiative will seek to build awareness of these particular cases in Britain while also supporting and assisting the wider Mica Redress campaign back home in Ireland.
The launch was attended by local MP, former leader of the British Labour Party, and long-standing friend of the Irish in Britain; Jeremy Corbyn MP. Also present was the Mayor of Islington, Donegal-man, Troy Gallagher and local Labour Party Councillors Mick Gilgunn and Michael O'Sullivan. Music for the evening was organised by Tom McCann originally from Derry.
A statement of solidarity was read from Pádraig Mac Lochlainn, one of Sinn Féin's Donegal TDs. The message welcomed the initiative and pledged Sinn Féin's continued support for the redress campaign. It stated that the Mica scandal has rightly been described as "an earthquake in slow motion" and recognised that "These families have done nothing wrong. They were failed by the light touch regulation, self regulation or no regulation of the State over many years. All affected families should receive 100% redress from our State."
In his address the Mayor said "we the Irish community in Islington, us from Donegal and all round the country, need to stand in solidarity - send a loud message across the water to the families over there that we support them. And we need to use every level of influence with Irish government ministers to say 'Irish emigrants, the Donegal people, the people over here no matter what county they're from: we're not taking no for an answer.' We want 100%."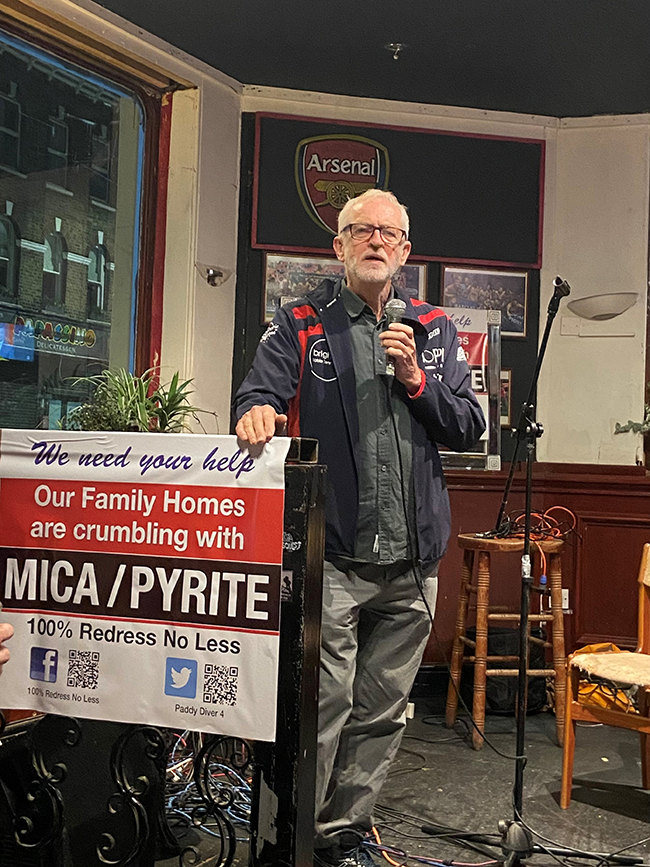 • Labour MP Jeremy Corbyn speaking at the London Mica Campaign event
The headline-act was Jeremy Corbyn who delivered a well received impromptu speech pledging his support for the campaign and pledging to follow up with questions in the House of Commons. The former Labour leader said, "This campaign is about one of injustice," and continued, "It is a desperate situation for people all over Ireland. I don't know whether it affects places in England, Wales, or Scotland. But I will find out, I suspect it might but I don't know as of now. But we do have to do everything we can to support this campaign and I've been following everything that's been happening in Dublin and in Donegal and in other places, the way there's been big rallies, demonstrations and meetings. We need to make this more international. That's why we're holding this event here in Islington, in Highbury."
At this point a member of the audience shouted out the refrain "So what do we want!" Corbyn picked it up and led those gathered in the chant:
"So what do we want?"
"100%!"
"When do we want it?"
"Now!"
Jeremy smiled and said "I agree!"
Anyone based in London interested in getting involved in a London-Irish Mica Redress Committee is asked to please email: [email protected]
An Phoblacht on Twitter

An initiative for dialogue 
for reconciliation 
— — — — — — —
Contributions from key figures in the churches, academia and wider civic society as well as senior republican figures