20 May 2021 Edition
A year of worker resistance at Debenhams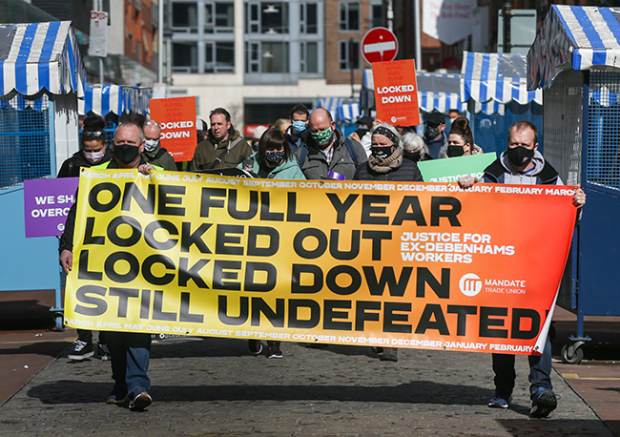 One year ago, when many of us were facing into COVID lockdown, Debenhams workers faced a real David and Goliath struggle.
Debenhams had split the company in two, moving the profits to the newly established Debenhams UK, and saddling Debenhams Ireland with all the debt. The bold move made 1,000 staff in Ireland redundant. Adding insult to injury in April last year, workers received their redundancy notice in an email. 
The final sting was that the Debenhams bosses were refusing to pay any redundancy. The 10,000 years of total service counted for nothing. The company, quite legally, would be absolved from paying one cent of the €20m owed to the workers.
MANDATE mounted pickets on Debenhams outlets, but no amount of pickets, protests, lobbying or online meetings would move either Debenhams or the government into taking a just course of action. Debenhams held firm. The Government refused to take any responsibility.
Workers and their families were literally thrown to one side by an unholy alliance of the incoming Fianna Fáil/Fine Gael/Green Party Government, KPMG, and Debenhams PLC.
There were plenty of statements of support. The great and the good all joined in the chorus of support for the Debenhams workers.
Buoyed up by his elevation to the office of An Taoiseach, Micheál Martin said: "I have to say that the treatment of the Debenhams workers has been very, very shabby and shoddy and unacceptable". Martin also asserted that, "The failure to honour collective agreements that these workers had entered into is, in my view, unacceptable and the manner in which they've been treated is unacceptable".
Fine Gael's Leo Varadkar said, "I do think the Debenhams workers have been very badly treated by their employer throughout this process".
But none of this rhetoric would amount to anything if it was not backed up by action. The conservative coalition were not in any mood to challenge big business. They did not do it for Clery's workers and they were certainly not going to do it for the Debenhams workers.
In April, it was announced Kieran Wallace and Andrew O'Leary of KPMG would be appointed as joint provisional liquidators to Debenhams Irish operations. Their job was to oversee the liquidation of Debenhams in Ireland and to pay the debts of the company. Unless of course, you were a Debenhams employee.
KPMG themselves get paid before the workers receive any payment. In fact, KPMG are well paid to oversee liquidations and redundancies. The company generates tens of billions of dollars in revenue annually. On 12 December 2019, KPMG announced record revenues of $29.75 billion for the financial year ending 30 September 2019.
After five months of pickets and protests, KPMG made a redundancy offer to the workers.  It was not well received. Responding to the offer, Madeline Whelan, who worked 30 years in Cork's Patrick Street store, said: "It was a disgrace, not an offer. There are divide and conquer tactics happening now, trying to insinuate that we are stopping others from considering the offer. It won't work".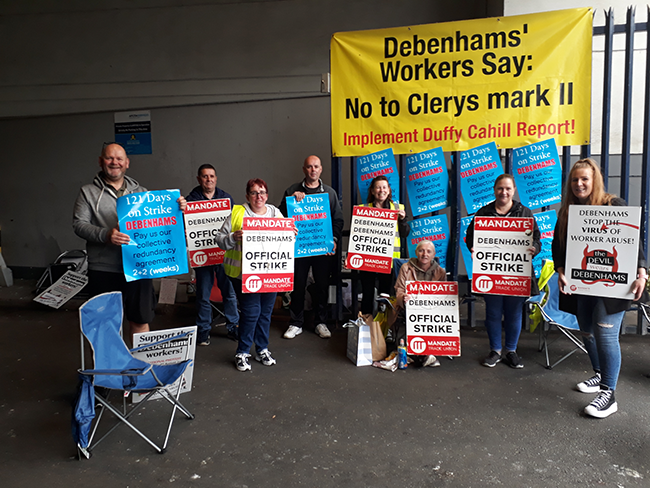 The strikers took immediate action. Debenhams stores in Cork and Dublin were occupied. KPMG responded with bully boy tactics. Issuing a statement, they said: "No further settlement agreements will be negotiated by the liquidators with the former employers".
KPMG had pulled the deal off the table and were refusing to talk to the workers or MANDATE.
This amounted to sidelining MANDATE, further isolating the workers during a COVID lockdown that prohibited any marches or public meetings. Undeterred, the pickets continued. There were celebrations in October to mark six months on the picket line, further celebrations in April this year to mark 12 months of an unbroken, 24 hour a day picket line.
Mandate's National Co-ordinator, Brian Forbes, praises the workers' commitment, he says:
"Whilst the global pandemic, level five lockdowns and restricted travel limitations over the past year somewhat inhibited attendance at some pickets, these strikers demonstrated a steely resolve by steadfastly refusing to be ignored or forgotten by the company, the government, trade unions, national media and the general public. Our collective trade union admiration for their fighting spirit and example in adversity should be remembered for many years to come".
Shortly after the 12 month milestone, KPMG, with Garda support, broke through picket lines and moved in to the Henry Street store to remove all the remaining stock. This stock was to be sold off to pay the company's debtors, but not the redundancy owed to workers. 
Speaking to An Phoblacht, Jane Crowe, MANDATE shop steward in the Henry Street branch, remains unbowed. She said, "the workers remain focused on the Cork, Waterford, and Limerick stores where pickets are still in place".
• Mary Lou McDonald at the Debenhams picket
At a recent shop stewards' meeting, it was agreed that all ex-Debenhams workers would be balloted on an agreement which could bring to an end one of the longest running industrial disputes in Irish history. The deal includes statutory redundancy and a €3 million training package all funded by the Government.  
Regardless of the outcome of the ballot, it has been a long, long battle. It should be remembered that the workers only wanted what the company had signed up for as part of a collective agreement. The agreement negotiated and agreed with MANDATE guaranteed an enhanced redundancy package of two weeks wages per year of service plus another two weeks per year of service. This agreement was in line with the Duffy-Cahill report.
It might surprise many to know that the Duffy-Cahill report is contained in the current programme for Government and has been for five years. However, sadly, it remains gathering dust on Minister Leo Varadkar's desk. 
This report, if implemented, would ensure there would be no more Clery's disputes or Debenhams strikes, or Connolly's Shoes strikes, or Paris Bakery occupations. The list is endless and costly. 
More recently in November 2020, 490 workers were made redundant by Arcadia and Carphone Warehouse let 480 staff go. None of these 970 workers will get redundancy from their employers. To rub salt in their wounds, the bosses at Arcadia demanded that staff continue to sell stock to pay for all debtors but the staff. 
This all comes at a huge cost to the tax payer. In 2014, the year of the Paris Bakery occupation, the State forked out €58.5 million in redundancy payments, where employers were unable to pay redundancy. The 26 County taxpayer has paid over €500 million in redundancy payments like this since 2010, while the company owing the money gets off Scot free.
Every day the Duffy-Cahill report remains on Minister Varadkar's desk, the Irish tax payer carries the cost. This is bad economics and totally unacceptable. This Government are happy to let the cost of redundancy mount up at the taxpayer's expense. 
It appears that the resistance to implementing the Duffy-Cahill report is more than what it seems. Any legislation based on Duffy-Cahill would strengthen the role of trade unions. The agreements that would give employees proper redundancy could only be reached if they are in a union which reaches a collective agreement with their employers. This is a major incentive to join trade unions. The pill of workers joining trade unions is just too bitter for either Fianna Fáil, Fine Gael or the Greens to swallow.
Looking to the future, Jane Crowe says, "Going forward, we won't give up our fight until legislation in introduced to protect all workers during liquidation and to ensure the collective agreements are upheld."
Looking back over the last year, Crowe says she has been hugely impressed by "the strength shown by all the employees over the last 12 months."
Forbes agrees, "Whatever the final outcome of this protracted and unnecessary dispute let no-one attempt to report a defeat against these striking workers. A year of struggle has shone a light on government prevarication and deflection when the answer to this dispute was clearly within their gift. Government deliberately chose to follow Debenhams example by ignoring the plight of these abandoned workers. Fine Gael and Fianna Fáil offered very little substantive to resolve the dispute other than some tea and sympathy and public pronouncements that these workers had been wronged by the company. The truth of the matter is they have also been wronged by their elected government representatives in Dáil Eireann. Tea and sympathy doesn't put food on the table."
Sinn Féin spokesperson for Workers' Rights Louise O'Reilly TD has assured workers that there is an alternative. O'Reilly said, "I can assure all workers that this is a priority for us. In government, we aim to introduce legislation based on the Duffy–Cahill report. The current system has been a disaster for working families. It has been hugely unfair. People should expect their employers to honour redundancy agreements reached in good faith with their unions. Nothing short of this is acceptable in 21st century Ireland. It certainly won't be acceptable under a Sinn Féin government".
In the meantime, workers in Ireland face an uncertain future. Many companies may not survive in to a post-COVID economy. This will amount to many more redundancies. Many more Debenhams disputes unless immediate action is taken. 
There needs to be a strong, united response from the trade union movement. The campaign must not be left to trade union officals. It needs to be a broad-front campaign involving the trade unions members and progressive political parties, similar to the Right to Water and Right to Change campaigns. These proved to be very effective in mobilising public opinion. A similar, popular campaign can be effective in ensuring workers have proper redundancy paid in full when faced with job losses. Nothing less is acceptable for Irish workers. 
Cllr. Daithí Doolan is Dublin City Councillor for Ballyfermot-Drimnagh and a member of Unite the Union.