20 May 2021 Edition
The workers' voice is central in shaping a new Ireland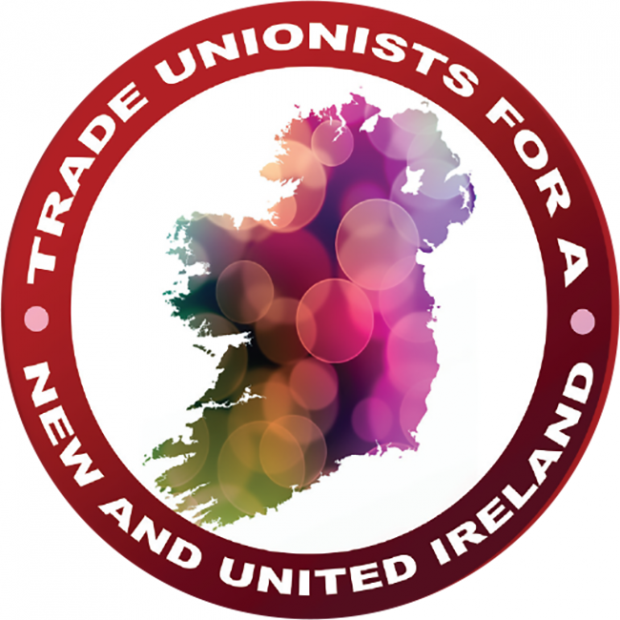 Trade Unionists for a New and United Ireland (TUNUI) is a dynamic and growing pressure group within the broader Irish trade union movement. Its membership is made up of trade unionists from most of the unions affiliated to the Irish Congress of Trade Unions (ICTU). The group's membership consequently reflects the variety of opinions and ambitions that enrich trade unionism across this island. TUNUI was established to encourage the labour movement to engage actively in the debate around Irish unity, to ensure the workers voice is central in shaping a new Ireland.
What sets TUNUI apart from other ginger groups inside the trade union movement is the wealth of campaigning and negotiation experience that its membership possesses. The reservoir of skills, abilities, and network of relationships the group can draw on leave it ideally placed to promote and encourage the active participation of organised labour in the discussion on reunification. 
The profound social and constitutional changes we have all experienced and witnessed across this island in recent years has re-invigorated this most important of debates. Experienced trade union activists familiar with the economic and social realities on this island can only add to this necessary debate that will shape a new Ireland. 
The two states that emerged following Partition, allowed conservative interests to shape public policy and practice. Workers were divided along sectarian lines and the interests of workers were subordinated to the interests of big business and ruling classes. 
Societal change was inhibited and prevented, while sectarianism, homophobia, misogyny and poverty have been allowed to fester for too long. The work of undoing these injustices and their accompanying inequalities was taken up by the trade unions and other progressive forces with limited success, their efforts frustrated by the by the ruling classes and their allies in industry and business. 
TUNUI is determined to play its part in encouraging and assisting the trade union movement to involve itself positively and proactively in the refreshed debate for Irish Unity as a pathway to righting these institutionalised wrongs.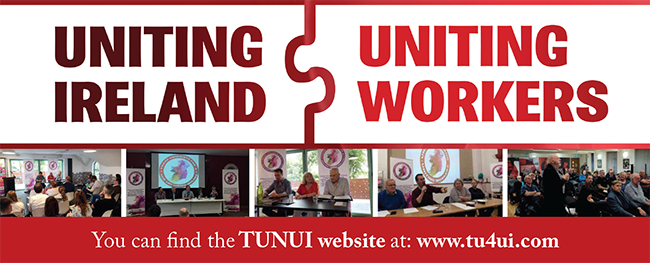 To this end, TUNUI is actively avoiding becoming an echo chamber; rather, it is reaching out to those both within and without the union movement who see the future of our island differently or who would rather see the status quo maintained. 
The group has published an initial policy pamphlet setting out its views on the key issues affecting everyone who lives on this island with a particular focus on working people and their families. It lays out a trade union vision for a united Ireland and why every trade unionist should embrace this vision. 
The pamphlet confirms the Good Friday Agreement as the pathway to delivering the opportunity to build this new Ireland. It articulates how trade union members can involve themselves in achieving this goal. This pamphlet is the first in a series of such publications that TUNUI is currently working on. 
Issues such as workers' rights, climate change, health and social care, and education will each be the subjects of future pamphlets. 
In tandem with these publications, TUNUI has hosted a series of webinars which can be accessed on their web site and social media platforms and plans are advanced for a series of further webinars. The webinars to date have been well attended and the audiences have been reflective of the wider trade union movement and the range of political opinions shared by members. 
TUNUI has been keen to encourage discussion and questions from participants and the experience to date has been valuable. The group intends with future webinars to continue to seek to inform and challenge, while simultaneously maintaining the safe space it has carved out for this most important of discussions.
A third string to the TUNUI bow is the availability of TUNUI speakers to address trade unions and trades councils and to participate in forums which other progressive elements are hosting on the issue. 
Speakers have been sharing TUNUI's vision of a new and united Ireland and just as importantly providing an opportunity for fellow trade unionists and others to raise directly with the group questions and concerns they have on the potential opportunities and challenges which will arise as more active consideration is given to building a new Ireland with workers and their families at its core. 
TUNUI is particularly keen to continue and grow this direct engagement and several future activities are already in the pipeline. Those who would like a TUNUI speaker to address a meeting can reach out to the group via their website and social media platforms and every effort will be made to facilitate requests for speakers. 

To date, these engagements have proved to be positive and encouraging events clearly demonstrating trade unionists of every hue are interested in and wish to be part of the discussion. TUNUI itself has found the events to be useful and helpful in refining and shaping the views of the group itself as it strives to continue the work of raising the profile of the discussion across the trade union movement. 
Especially encouraging so far has been the spirit and tone of these engagements. There is a concern in some quarters that the question of Ireland's future and the discussion that is ongoing around it could be a threat to the unity of the trade union movement. TUNUI is cognisant of these concerns and is determined to avoid this obvious pitfall. 
To achieve an Ireland which is different, better, and fairer, it is essential that the unity of the working class is maintained. Our trade union movement on this island already serves as a model of the unity TUNUI seeks, encompassing as it does workers in both parts of this island, from both established traditions and none. 
This has been achieved by carefully building a structure that is accessible to all, permits everyone a voice, where difference is respected, and agreed positions are arrived at via mature debate. This is the same model TUNUI is bringing to the work it is undertaking encouraging the discussion on a new Ireland. 
Trade unions as the voice of organised labour are best placed to advocate for workers and to contribute more widely on the social and wider economic changes needed to give meaning to the idea of a new Ireland. TUNUI is the only vehicle actively facilitating the trade union voice in the wider discussion on this issue across the island now and it is open to and welcomes trade unionists not already engaged in the discussion to join us. 
Gerry Murphy is ICTU President and the Northern Secretary of the Irish National Teachers' Organisation.