20 May 2021 Edition
The Risen People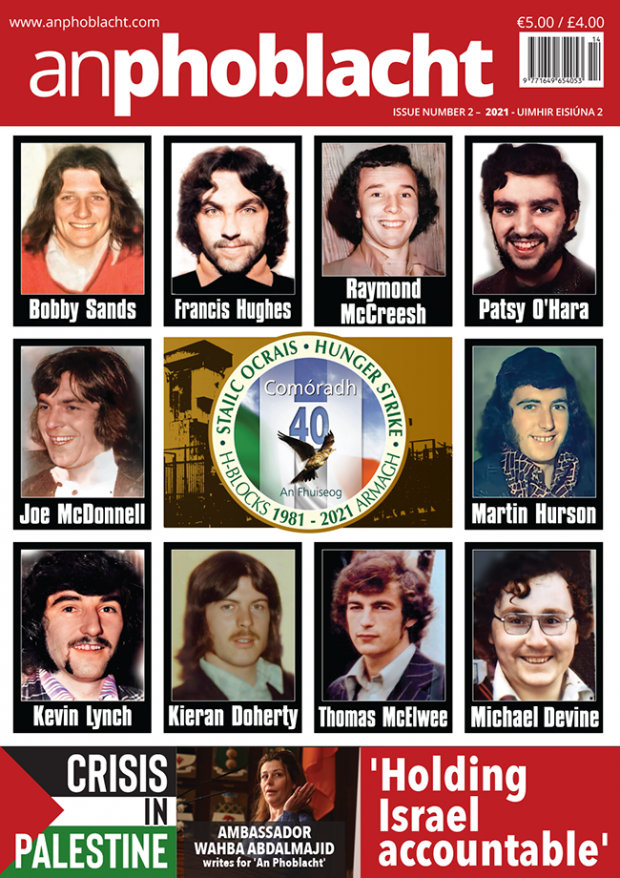 1981 was a pivotal year in the history of modern Irish republican struggle. More than a decade after the maelstrom years of the civil rights movement, the pogroms of 1969, and the collapse of one party unionism, Irish republicans were under siege on many fronts.
In the Six Counties, the policy of criminalisation and attempted normalisation of an aggressive and deadly militarised occupation was being borne by nationalist communities. A series of hostile governments in Dublin, indifferent to the causes or costs of the conflict, fixated on a policy of criminalising, censoring, and marginalising republicans.
Republicans were barred from TV and radio broadcasts, while the print media's focus was a fragmented one, concentrated on IRA actions, often ignoring the brutality of not just the British and RUC activity, but also that of a police force in the 26 Counties pursuing a campaign of brutality and attempted intimidation of republican activists and their supporters.
The emergence of the prisons as a site of struggle and the resulting hunger strikes were pivotal, not just because of a demonstration of an unbreakable resolve by the hundreds of prisoners on protest in the H-Block and Armagh prisons, but also because of the community reaction it triggered.
It was clear by the time of Bobby Sands' election as an MP in April 1981 that hundreds of thousands of people across Ireland supported the hunger strikers. In June 1981, Kieran Doherty and Paddy Agnew were elected to the Dáil demonstrating the resilience of that support.
It was local communities throughout Ireland who held black flag vigils for the hunger strikers, who leafleted and canvassed for the prisoners, who travelled from all over the island to attend the ten funerals. 
Despite the intimidation and isolation they endured, communities across Ireland, like the prisoners, refused to be broken, refused to be corralled and ignored. It was they who elected five Sinn Féin assembly members in 1982, Gerry Adams as an MP for West Belfast in 1983, and Caoimhghín Ó Caoláin in 1997. It was they who slowly built the political organisation that is Sinn Féin today.
The main focus of the 40th anniversary of the 1981 hunger strikes is rightly on the prisoners, but across the articles in this edition of An Phoblacht you can't help but be struck by the role and potency of empowered communities. We need to celebrate the Risen People.