23 August 2021
British state policy: denounced in the court of international opinion - Declan Kearney
"Our's is a vision of a new, progressive, inclusive, democratic Ireland. The future is bright. Irish unity is on the horizon. We will forge a new future, and we will have the truth" - Declan Kearney
Recently I attended the opening of Halla Éanna, the new club premises, at Club Naomh Éanna (CNÉ) in Hightown, County Antrim, and the inauguration of a new playing pitch dedicated to the memory of former club stalwart, Gerry Devlin. Formal proceedings were officiated by Larry McCarthy, Uachtarán, Cumann Lúthchleas Gael, or the Gaelic Athletic Association (GAA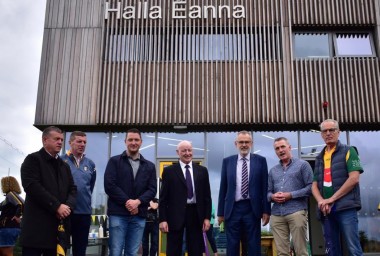 The date chosen was 7 August, to mark Gerry's posthumous 60th birthday. He was a huge figure in the club's development: Renowned for how he mentored his players, and motivated them with the mantra 'Be Big!'
Gerry was assassinated by a unionist death squad in December 1997. He was one of six members from the club to lose their lives as a result of sectarian attacks by sectarian paramilitaries during the conflict in the north of Ireland.
Since partition created the northern state the GAA was a target for state forces and its agents.
As players and supporters we were harassed and detained at checkpoints travelling to and from football, hurling and camogie matches, or team training.
Players and officials, such as Aidan McAnespie from County Tyrone in 1988, and Seán Brown from County Derry in 1997, were shot dead by British soldiers, and death squads.
GAA pitches were seized to build British military installations. 
Such was the lived experience of the northern Gael.
A significant section of northern society, left behind by successive Irish governments, but which continued to express our Irish identity by playing Gaelic games,  Irish dance and music, and speaking the Irish language, was viewed as enemies of the state and its sectarian, mono-cultural ethos.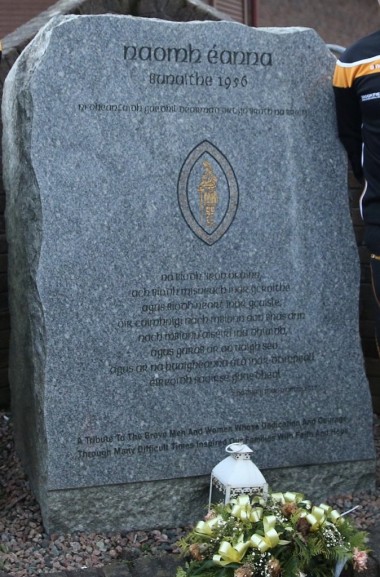 Naomh Éanna has suffered more than most GAA clubs with the number of fatal and other attacks on its members, the bombing of its premises, and destruction of its property.
Yet CNÉ has never allowed itself to be defined by that experience. Instead it has defined itself and its over 1,000 members and their families with a positive vision for the future. Today Naomh Éanna epitomises the spirit of the northern Gael; refusing to be put down or cowed: Irrepressible: Always motivated by the ambition of new horizons. 
No one has ever been arrested or charged with Gerry Devlin's murder. There's no surprise in that. 
A community inquiry held after the assassination by a death squad of Gerard Lawlor, another club member, in 2002, found collusion by state agencies in Gerard's killing. 
Just two weeks before the celebrations at CNÉ, a new Police Ombudsman's report found 'collusive practices' between state forces and a unionist death squad which killed 17-year-old Damien Walsh from Belfast in March 1993.
That same killer gang was responsible for numerous killings. The day before Damien's murder, members of the same death squad assassinated a friend of mine, Peter Gallagher. 
During the early 1990s there was an intensified phase of attacks by the death squads; at a time when major efforts were under way to construct the foundations of what emerged as the Irish peace process. 
The British state through its intelligence agencies organised, directed and armed these death squads with imported high grade military weapons from apartheid South Africa. These sectarian killers were central to Britain's military campaign in Ireland.
Their objective was to undermine Sinn Féin's peace strategy; to cause terror and instability; and to break support for Irish unity. They failed.
Whilst this year 2021, marks the centenary of Ireland's partition, the northern state is a much different place from that in which our grandparents and parents were raised.
One positive consequence of the peace process has enabled a self-confident celebration of the Irish national identity.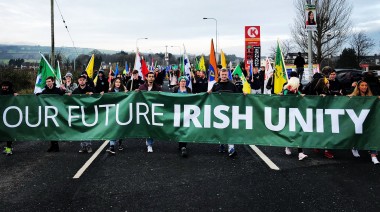 Demographics have been a major factor driving political and social change throughout the north. 
That's reflected in the growth of Naomh Éanna in an area historically associated with unionism. Hence the systematic campaign against the club for nearly four decades. 
Today CNÉ is central to a thriving community hub which promotes the Irish language, music, dance, and Gaelic sports in Hightown. Throughout my visit I spoke as much Irish as English for the duration, with both young and old in attendance. 
The political architecture of the Good Friday Agreement in 1998 (GFA) has created the political conditions for this to happen. It, and successor agreements, have created a new reality in the north, and entrenched the right to equality, parity of esteem, and mutual respect for all citizens. Rights previously denied.
However, since coming to power in 2010 Tory governments have negatively mismanaged both the peace and political processes.
Tory administrations have refused to meet their obligation to show 'rigorous impartiality' in fulfilling British government obligations under the GFA: Choosing instead to increasingly assert a pro-unionist bias, and a disregard for the power sharing institutions: And now in recent times, by destabilising politics with a reckless pursuit of Brexit, and an inflammatory refusal to implement the Protocol requirements of its Withdrawal Agreement with the EU. 
That is the immediate backdrop to the announcement by this British government's intention to break with another international agreement, also central to the Irish peace process – the Stormont House Agreement (SHA) – which established a framework in 2014 to finally deal with the legacy of the past. 
On 14 July the Tory government, after years of blocking and prevarication finally declared an intention to abandon the SHA in favour of its own amnesty proposals, which give legal protection to British state forces, agents and political overseers for their actions during the conflict in Ireland.
It was the culmination of many years of concerted push back from powerful sections of the British state system, which have never embraced the peace settlement in Ireland.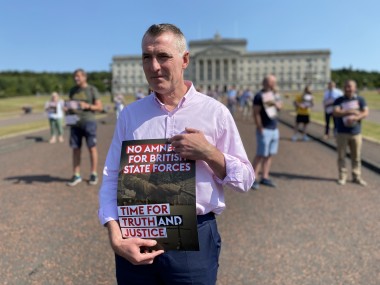 They have never wanted any process to address the legacy of the conflict. They fear what might be exposed.
I called that reality out during a special sitting of the Assembly on 20 July. 
I said the strategic purpose of the Tories' amnesty proposals is to protect the policy and decision makers at the heart of the British political, military and intelligence establishment. The shadowy figures, and not so shadowy figures: Those who variously wore uniforms, ski masks, or suits, but yet carry equal responsibility for acts of state violence during Britain's war in Ireland.
No one in British military intelligence, and other state agencies, or from within Thatcher's war cabinet – who supplied the unionist paramilitaries with arms shipments; and inserted key agents into controlling positions within the death squads – wants any public scrutiny of their role in the conflict. 
The Tory amnesty proposals are a full frontal assault on the GFA, and amount to a subversion of the administration of justice and due process on an industrial scale. 
I told the Assembly that the British government has no credibility in Ireland and would be denounced in the court of international opinion for this decision. 
Just over a week ago in a highly significant development, Fabián Salvioli, the UN rapporteur on the promotion of truth, justice, reparation, and guarantees of non recurrence, and Morris Tidball-Binz, special rapporteur on extrajudicial, summary or arbitrary executions, expressed "grave concern" to the British about the "de facto amnesty and blanket impunity" being introduced, and urged that they "refrain from regressing on their international human rights obligations". 
The UN intervention was followed by a statement from Michael Posner, a US former Assistant Secretary of State in the Obama administration, who described the move as "ill conceived, premature and unwise". He warned the British of a negative reaction from Washington and elsewhere if they proceeded with the amnesty plans, and accused them of "upending" their obligations under the GFA. 
Make no mistake, this British government is an outlier in regard to adherence with, and respect for international law. 
It has turned the north into a political backwater and treated the peace and political processes with contempt. 
The Tories are not invested in the peace process or GFA. They do not care about anyone in the north of Ireland. 
But these realities were a distant thought at Gerry Devlin Park in Hightown on the 7 August.  
A new chapter of positive change was being written. 
The youngsters played hurling, camogie and football. Some of Gerry Devlin's former players even togged out!  
We spoke our language, watched our games being played, listened to our music, and all the while our children laughed.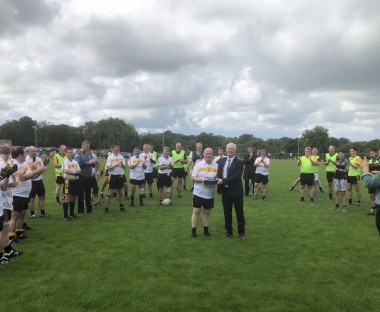 The spirit of the northern Gael is irrepressible. It will never be shackled by our experience of suffering or discrimination. Nor will we ever forget the likes of Gerry Devlin, Gerard Lawlor, or Aidan McAnespie and Seán Brown. 
We have already become a liberated people, who refuse to be imprisoned by the legacy of the past or partition. 
Our's is a vision of a new, progressive, inclusive, democratic Ireland. 
The future is bright. Irish unity is on the horizon.  
We will forge a new future, and we will have the truth. 
All of that is what Halla Éanna, Gerry Devlin Park, and Club Naomh Éanna symbolise. 
An all Ireland, rights-based society, which cherishes all of the children equally – and will surely be the most fitting epitaph to the spirit of the northern Gael.
An Phoblacht on Twitter

An initiative for dialogue 
for reconciliation 
— — — — — — —
Contributions from key figures in the churches, academia and wider civic society as well as senior republican figures