21 June 2021
'Our vision is that of an egalitarian republic with social justice and equality at its core' Wolfe Tone's Legacy remembered at Bodenstown 2021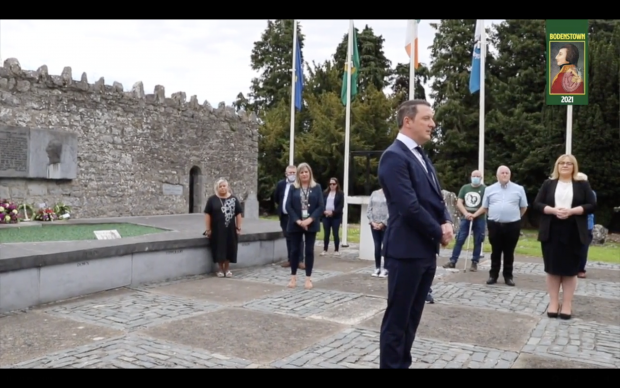 "Today, as we contemplate the legacy of Tone, it is timely to take stock of the progress being made in achieving his ideal of a United, independent Ireland. Developments at home and abroad are now leading inexorably to a referendum on the reunification of Ireland." – John Finucane MP
Over 10,000 people tuned into Sinn Féin's online Commemoration for Theobald Wolfe Tone, the father of modern republicanism last night. 
Due to the ongoing public health emergency with Covid-19, people were unable meet in Sallins and march to Bodenstown cemetery as usual, but a limited number of veteran republicans and public representatives were present at Tone's graveside to leave flowers and to lay wreaths as a sign of respect to the father of modern republicanism. 
The commemoration began with former Árd-Mhéara of Dublin Mícheál Mac Donncha laying out the historical context of Tone's work, and the different generations of republicans that have returned to Bodenstown year after year throughout each phase of the struggle for Irish Freedom to celebrate the life of Tone and continue the fight for national sovereignty.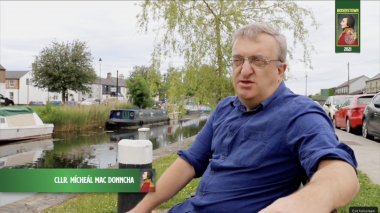 Sinn Féin Cllr Mícheál Mac Donncha
Mac Donncha continued his speech by highlighting the Bodenstown commemoration of June 1913, which saw P.H. Pearse deliver the keynote address, marking his rise to the leadership of the Republican struggle at the time. Pearse was joined by veteran Republican Tom Clarke, who chaired the event. The pair would be executed a short three years later in Kilmainham Jail for their roles in commanding the Easter Rising. 
Pearse said of Tone, while giving his graveside oration "Thinker and doer, dreamer of the immortal dream, and doer of the immortal deed. We owe more to this dead man more than we can ever repay him by making pilgrimage to his grave or rearing to him the Statliest monument in the streets of his City. To his teaching we owe it that there is such a thing as Irish Nationalism."
Among those at the graveside on behalf of the Republican family were Sinn Féin TDs Patricia Ryan, Réada Cronin, Johnny Guirke and Sorca Clarke. Joining them was Sinn Féin MP for North Belfast John Finucane, who gave the main oration of the commemoration.
Sinn Féin TDs Patricia Ryan (Left), Réada Cronin (front left), Johnny Guirke (front right), Sorca Clarke (Right)
Speaking to crowds joining in across Sinn Féin's different social media platforms, Finucane began his speech by remembering the Hunger Strikers of Long Kesh forty years on, and extended his sympathies to the comrades we have lost over the past year, and all those who have struggled for Irish Freedom. 
The North Belfast MP highlighted the recent scandal surrounding the DUP's relentless unwillingness to deliver on an Irish Language Act, and the role genuine equality will play in shaping a united and shared Ireland. 
"Sinn Féin made clear to the British government that this was the only viable option to deliver these rights, as the DUP was unwilling and incapable of delivering on their commitments. This is important for Irish language speakers and for wider society because power sharing is based on inclusion, respect and equality" he said.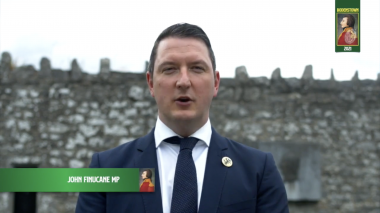 Sinn Féin MP for North Belfast John Finucane
Dublin Bay South
Finucane also discussed the upcoming by-election in Dublin Bay South, caused by the resignation of failed Housing Minister Eoghan Murphy. 
As a generation of Irish people face being locked out of home ownership and denied the opportunities available to their parents, Finucane highlighted how genuine equality also means tackling the deep social and economic divisions which now challenge the cohesion of Irish society.
Speaking on Sinn Féin's political vision, he said "our vision is that of an egalitarian republic with social justice and equality at its core, a country where the economy is at the service of our people, not the other way around."
"Those competing visions for Irish society will be presented to voters in the upcoming by-election in Dublin Bay South. There is an opportunity to send a message that people want a fundamental change in this government's disastrous housing policies by voting Lynn Boylan Number 1 on 8th July."
Tone's legacy and a United Ireland
Drawing towards the end of his speech, the North Belfast MP highlighted progress made in achieving constitutional change in Ireland, and the crisis facing Unionism.
He touched on the comments made during the week by Tánaiste Leo Varadkar on a United Ireland, and growing appetite constitutional change.
"For us, a United Ireland is about new political structures built on diversity – an equal society, not just between orange and green, but between urban and rural, old and young, men and women, LGBT and straight, old and new Irish, black and white.
"It presents us with an opportunity to tackle those aspects of our politics and society that are crying out for change. Like Tone, we seek to end the divisions and mistrust which have divided our people in the past", he concluded.
An Phoblacht on Twitter

An initiative for dialogue 
for reconciliation 
— — — — — — —
Contributions from key figures in the churches, academia and wider civic society as well as senior republican figures