18 February 2021 Edition
Irish history belongs to the people of Ireland
The issue of remembrance has, over recent months, become the subject of political controversy. As a result, some have gone so far as to call for an end to the marking of events in Ireland's struggle for independence in this, the decade of centenaries.
In my view, the recent 'history wars' have less to do with the actual events of 100 years ago than with party politics in 2021. The reality is that the old political establishment of Fine Gael and Fianna Fáil are finding it difficult to adapt to the new political realities resulting from the 2020 General Election.
As a consequence, both have sought to use polemical history in a vain attempt to delegitimise Sinn Féin, its mandate and, by extension, the votes of hundreds of thousands of Irish citizens.
Sinn Féin's prioritisation of the need for preparation for a United Ireland has challenged the establishment. This is a motivating factor in the establishment's approach to historical events. The leaderships of Fine Gael and Fianna Fáil know that with every advance of genuine, all-Ireland republican politics, the failure of their parties in this regard over 90 years is further exposed.
Recent months have witnessed Fine Gael and Fianna Fáil seeking to claim the legacy of the revolutionary period in a narrow, party political way in an effort to gain political advantage in 2020.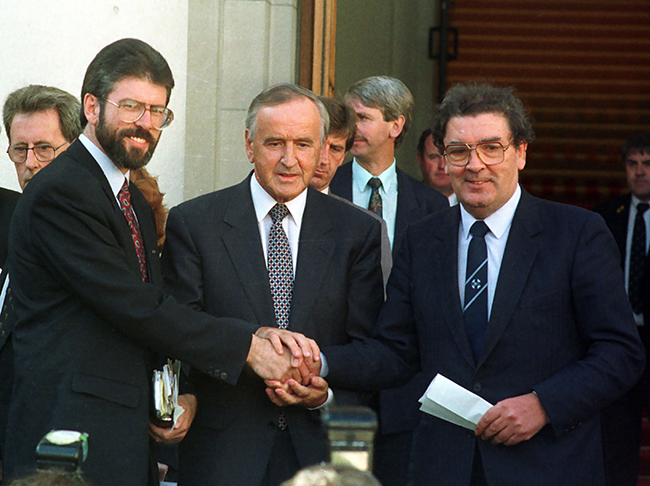 Gerry Adams, Albert Reynolds, John Hume and Martin McGuinness set out a new course where political aspirations could be attained by peaceful and democratic means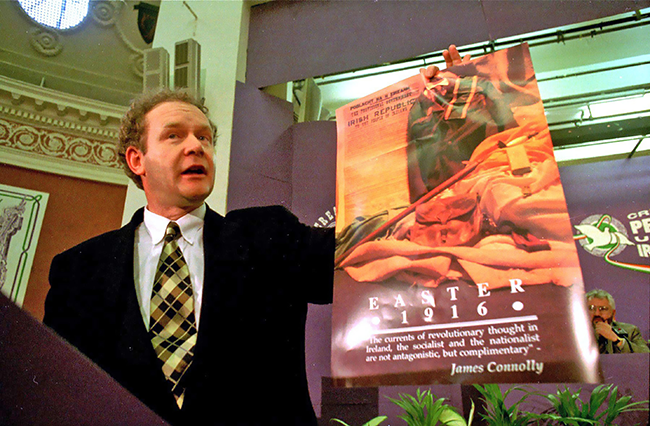 This is wrong. Irish history belongs to the people of Ireland, not to any one political party. I believe that most people see this for what it is and do not appreciate politicians seeking to hijack the Decade of Centenaries in this way.
Much of the recent attacks against Sinn Féin around issues of history also betray a deep-seated Partitionism which seeks to deny the lived reality of Irish citizens who were left behind in 1921.
Those who were abandoned to a sectarian, one-party state in the North by Partition are also part of our national story. It is a simple fact of history that, just as people 100 years ago rose up against the injustices of British rule in Ireland, so too did many people in the North rise up against the injustice of British rule 50 years later.
The reiteration of that fact has nothing to do with celebrating or glamourising armed conflict, either in 1920 or in 1970.
There is a deep flaw in the myth propagated by Mícheál Martin and Leo Varadkar of a 'good IRA' and a 'bad IRA'. Conflict in various generations had both real causes and consequences.
I do not believe that anyone should seek to glorify the consequences of the conflict in the North. Acts of war should not be romanticised no matter what generation they occurred in.
The political violence of our past - whether it was 50 or 100 years ago - caused deep human suffering on all sides and it was committed by all sides.
Loss of human life is a terrible thing and should never be celebrated. This does not mean however that we can or should forget the past.
People will form their own conclusions about the IRA's history and its historic and more recent campaigns, but the fact now is that the armed conflict is long over. The conflict in the North was ended through years of painstaking work in the Peace Process in which my party played a central and pivotal part.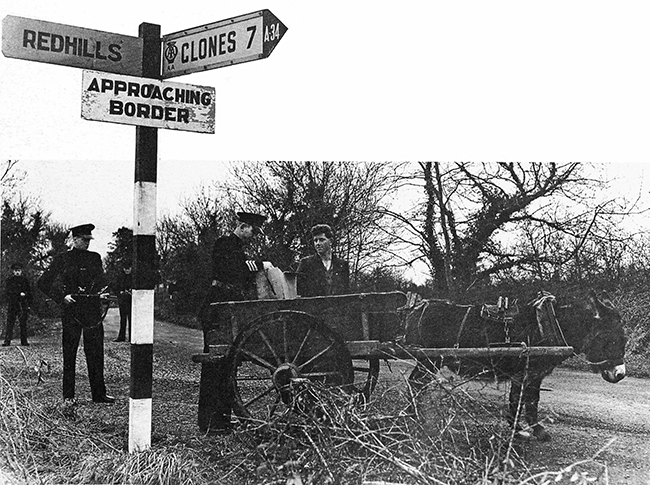 Irish citizens who were abandoned to a sectarian, one-party state in the North by Partition are part of our national story
The causes of conflict were addressed in the negotiations leading to the Good Friday Agreement, in which Sinn Féin played a key role.
I am too young to remember most of the conflict, although I have engaged extensively with many victims and their families over several years. My vivid memories of my Border youth are of British Army aggression at checkpoints and in communities. It frustrated me, it angered me. As far as I was concerned, this was a foreign military occupation force operating with impunity and hostility in my country.
I absolutely understand why many felt that the violence of British military forces could only be met with violent resistance. Thankfully, my journey into adulthood occurred at a time when political leaders, notably Gerry Adams, John Hume Martin McGuinness, and Albert Reynolds, were setting out a new course by which political aspirations could be attained by peaceful and democratic means.
What is clear from the events of recent weeks is that some, including members of the present government, have not grasped the lessons of the Peace Process. The new political dispensation which the Peace Process delivered was an acceptance of differing narratives of the past, including the Irish republican narrative. 
The Decade of Centenaries are important in recognising and learning from this country's independence struggle. Commemorative events should continue in a respectful and dignified way.
We should always remember and commemorate historical events with respect and sensitivity - mindful always of the feelings of others who may have a different view of the past.
Above all, politicians, and others with political agendas, should refrain from exploiting previous periods of conflict to win contemporary electoral points. Such pettiness does a disservice to the lessons of the past and our ambitions for the future. 
Matt Carthy is a Sinn Féin TD and party spokesperson on Agriculture