18 February 2021 Edition
There is no going back
Editorial - Eagarfhocal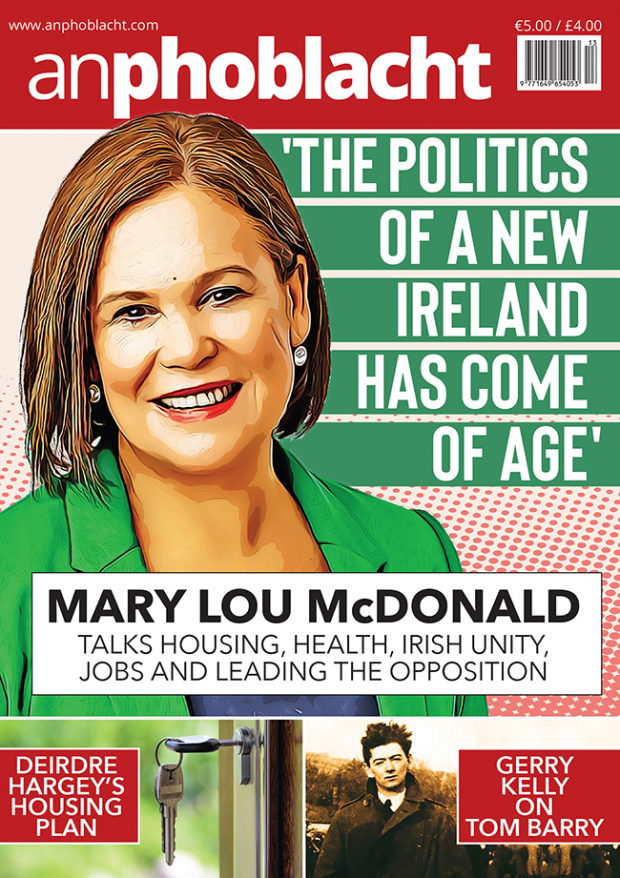 As we were putting together this edition of An Phoblacht, an overarching theme emerged. A common refrain was evident in a series of declarations from writers that in this critical and unprecedented time – 'there is no going back!'
In terms of the political lessons from Covid-19, the outcome of the 2020 Leinster House election, the debate on marking a centenary of Partition, climate change and green politics, there must be fundamental positive change. The political and economic basis of establishment politics must be confronted. And Sinn Féin will lead that challenge.
Senator Lynn Boylan's article on climate justice brings this into focus when she argues that tackling climate change must have justice and equality at its heart. She emphasises how Sinn Féin must "step up to the plate on climate action", otherwise "it will be the communities and families that we represent that will be left to shoulder the cost". Echoing this, Seán Fearon makes the case for clear thinking on Green issues and he emphasises how this sits naturally within the wider republican thinking. 
One year on from the 2020 election, Seán MacBrádaigh revisits the reasons for Sinn Féin's victory and how the party's "genuinely alternative form of politics to that of government by insiders for insiders - the corrupt old boys' network", marks a critical moment in political life in Ireland.
Matt Carthy addresses the issue of the so called 'history wars'. He argues that these are more to do with party politics in 2020, rather than issues of 100 years ago. There's that Sinn Féin challenge to establishment politics again, and the vain attempt by Fianna Fáil and Fine Gael to "delegitimise Sinn Féin, its mandate, and, by extension, the votes of hundreds of thousands of Irish citizens".
There is also a thread through the articles by Chris MacManus reporting on the work of Sinn Féin in the European parliament, and most critically in Deirdre Hargey's piece on the Housing Executive's plans for an unprecedented social housing programme. It is that Sinn Fein is active on the ground, delivering for voters.
We are in what Mary Lou McDonald describes in her interview as a decade of opportunity, a decade of centenaries. And in what she describes as a 'really hard year' in so many ways, and despairs of "the timidity of the men who currently run government", it reaffirms the need to make this turning point solid. 
There can be no going back.