7 June 2021
Last prison executions of the Tan war
Remembering the Past - 100 years ago
The first week of June 1921 saw the last of the 24 prison executions of IRA prisoners by the British regime during the Tan war, which had begun with Kevin Barry on 1 November.
As the number of trials by British military courts increased in the first half of 1921 so also did the number of death sentences. On 4 and 7 June the last three executions were carried out, just a month before the Truce, in the absence of which many more prisoners would have faced execution.
On 4 June the only prison execution in Limerick during the war took place when IRA Captain Thomas Keane was shot by firing squad in the city's British military detention barracks. He had been arrested by Black and Tans at Ballysimon on 1 May with his comrade Volunteer Henry Clancy. They were found in possession of small arms which they had just collected but without ammunition.
Keane and Clancy were beaten by the Tans. Clancy was singled out for particular ill-treatment and, though injured, he jumped from the moving vehicle, was fired on by the Tans and was killed in a hail of bullets.
Mourners were viciously attacked by the Tans at Volunteer Clancy's funeral and another Volunteer, Michael Downey, was shot dead.
Thomas Keane was tried by the British military court and sentenced to death. All appeals on his behalf were rejected and he faced the firing squad at 8am on 4 June. Once again the Tans went on the rampage when they attacked and injured people who gathered outside the barracks to pray at the time of the execution. Volunteers Keane, Downey and Clancy were buried in the Republican Plot in Mount St Laurence Cemetery.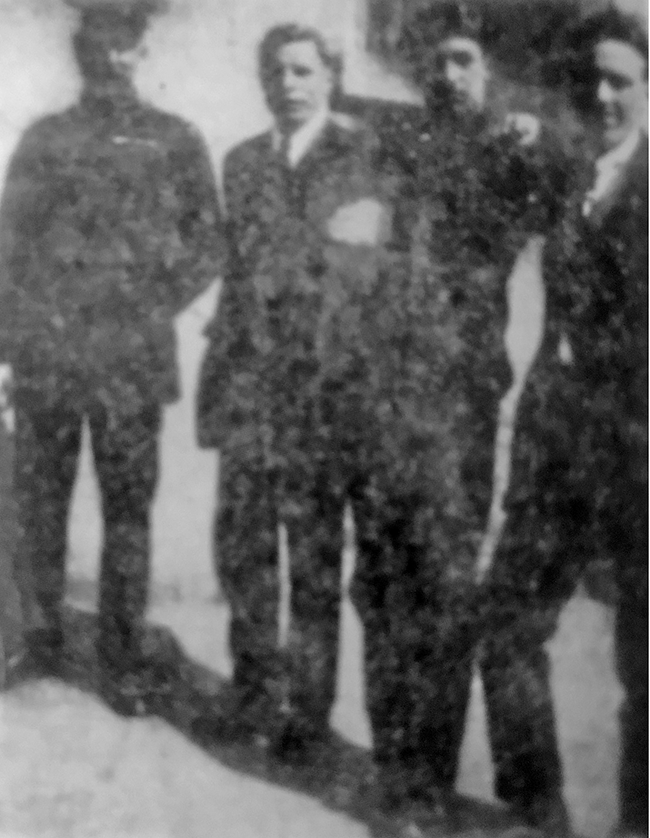 Patrick Maher and Edmond Foley in the yard of Mountjoy Prison
Three days later two more Republican prisoners faced execution in Mountjoy Prison in Dublin. Edmond Foley and Patrick Maher were both from County Limerick and were charged in connection with the deaths of crown forces at the famous rescue of Seán Hogan at Knocklong railway station in May 1919. Edmond Foley was an unarmed participant in the rescue while Patrick Maher had taken no part in it.
The British had failed to secure convictions of the two men in the ordinary courts in Limerick. Then under the latest repressive legislation, the Restoration of Order in Ireland Act, they could be tried again for the same offences before military courts. They were duly convicted at the 'trial' in Dublin's City Hall and were executed by hanging in Mountjoy on 7 June, 100 years ago.Thomas Keane