3 June 2021
Executed men remembered in London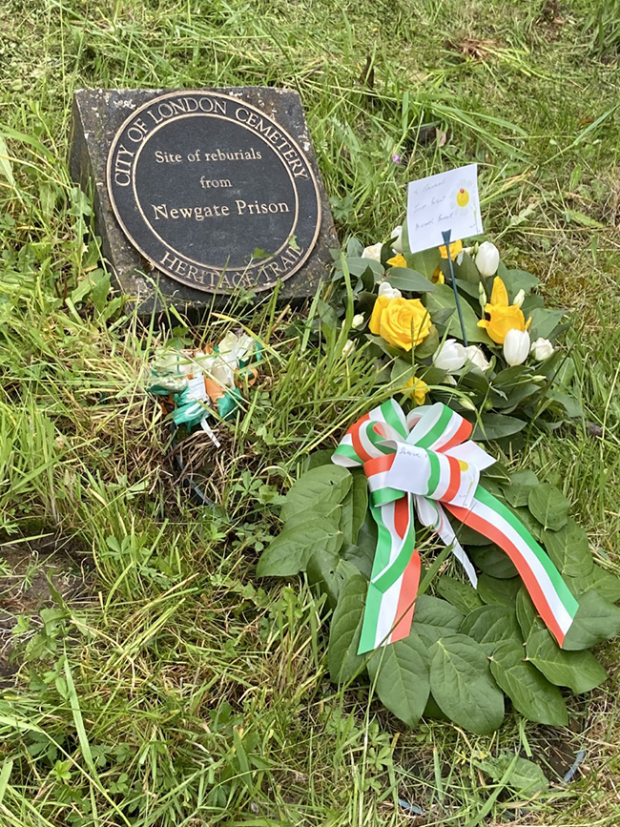 Republicans in London assembled in late May to lay wreaths and remember two executed patriots; the falsely accused Fenian Michael Barrett - executed in 1868 - and the 'Invincible avenger' Patrick O'Donnell - executed in 1883. Both patriots lie in a mass grave, in City of London Cemetery, containing the excavated mortal remains of those executed in the historic Newgate Prison.
"Lynch-lawed and on the spot"
Michael Barrett was born in the Ederney, Co. Fermanagh, in 1841. As a young man, in search of work, he moved to Glasgow where he joined the Irish Republican Brotherhood.
His life would be irreversibly changed by the botched Clerkenwell Prison explosion in December 1867. This was an attempt by a London-based IRB grouping to release the Fenian Brotherhood's Ricard O'Sullivan Burke who was on remand there.
After a failed bid the previous day, on 13 December, a barrel of gunpowder was placed up against the outside prison wall concealed in a costermonger's barrow. The resultant blast damaged nearby tenement housing and killing four people instantly, with a reported eight people later succumbing to injuries.
In the search for someone responsible, the British authorities swiftly rounded up any known Fenians they could. Michael Barrett was picked up in Glasgow and railroaded through a farcical trial. Despite his continued plea of innocence and three witnesses placing him in Glasgow on 13 December; he was found guilty and sentenced to death.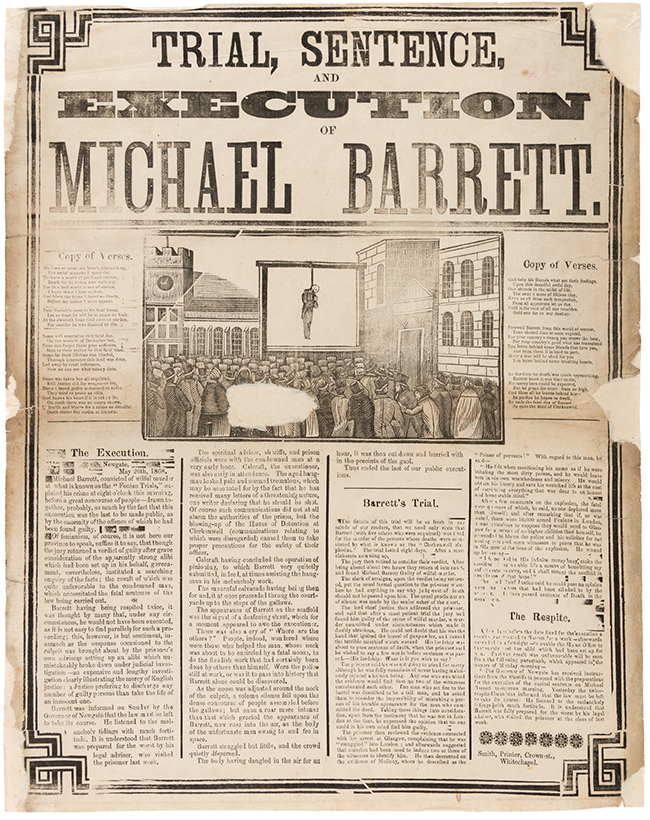 His fate was sealed by the testimony of a paid informer. Who later received free passage to Australia for his cooperation.
Before sentence was passed, Barrett rose to his feet and delivered an emotional speech from the dock. Forensically dismantling the 'evidence' against him and eloquently asserting his innocence. He even forgave those who had sworn false evidence against him.
And so, on 26 May 1868, Barrett entered Ireland's pantheon of patriots. He was hanged outside Newgate Prison before a hostile crowd who sang 'Rule Britannia' and 'Champagne Charlie' as his body dropped.
Barrett became the last person publicly hanged in England. Indeed, the law was changed just three days after his execution.
The British Queen Victoria recorded her personal annoyance that only one man had been found guilty of the outrage, writing to her Home Secretary: 'One begins to wish that these Fenians should be lynch-lawed and on the spot.'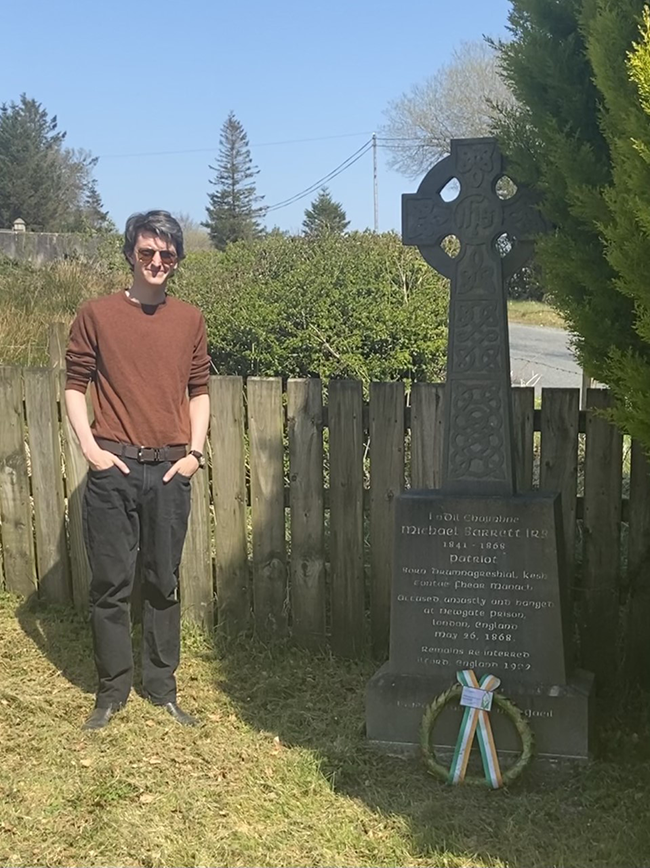 Michael Barrett monument in Montiagh near Ederney
"They stand up for their principles"
The other man remembered on Sunday was Patrick O'Donnell. A man who similarly found himself inadvertently entangled in events beyond his control.
On 6 May 1882, the British Permanent Undersecretary to Ireland, Thomas Henry Burke, and the newly-arrived Chief Secretary for Ireland, Frederick Cavendish, were assassinated as they walked through the Phoenix Park by a body of men brandishing 11-inch Weiss surgical knives.
The men responsible were the 'National Irish Invincibles', a radical offshoot from the Irish Republican Brotherhood.
In the subsequent round-up and arrests, nine Invincibles turned Queen's evidence and informed on their former comrades. As a result five Invincibles were found guilty of the Phoenix Park assassinations and hanged in Kilmainham gaol. 
A campaign continues to this day to have the five men - Joe Brady, Dan Curley, Thomas Caffrey, Michael Fagan, and Tim Kelly - reburied in Glasnevin Cemetery.
The most notorious informer was James Carey. Carey had been the Invincibles top 'recruiter' before betraying the very same men that he had enlisted into the conspiracy. Dan Curley had even stood as godfather for Carey's two-month-old child. In the wake of the trials and executions, Carey almost instantly became a hate-figure throughout Ireland. In return for his testimony, he was afforded passage to South Africa.
It was while sailing to Cape Town, that James Carey (under the alias 'Power') met Patrick O'Donnell.
O'Donnell had been born in Gweedore, Co. Donegal, in 1838. At the age of sixteen, he emigrated to the United States where he worked in the gold and silver mines of the western states. Following reports of newly unearthed diamond mines in South Africa, O'Donnell set off to pastures new in 1883.
On the voyage to South Africa, O'Donnell became acquainted with 'James Power', with no suspicion of his real identity.
On reaching Cape Town, a fellow passenger, Robert Cubitt, informed O'Donnell of a rumour circulating that 'James Power' was in fact the detested James Carey. Cubitt showed O'Donnell a portrait of Carey taken from the Weekly Freeman. O'Donnell asked to keep the clipping and confided to Cubitt: 'I'll shoot him'.
As the rumour rapidly spread, Carey hastily boarded a coastal steamer, the Melrose, to Natal. Hot on his talk was the determined Patrick O'Donnell who also boarded.
And so it was, on 29 July 1883, O'Donnell confronted 'Power'. After an evening in each other's company, O'Donnell drew his revolver and shot Carey three times.
Despite subsequent republican propaganda purporting that an elaborate Fenian network had assisted O'Donnell in tracking down the traitorous Carey, the incident was nearly entirely the consequence of chance and opportunity, rather than a premediated plan of revenge.
The incident would be immortalised in the 1958 folk-song 'Take Her Up To Monto', later made famous by The Dubliners:
When Carey told on Skin-the-goat,
O'Donnell caught him on the boat
He wished he'd never been afloat, the dirty skite.
It wasn't very sensible
To tell on the Invincibles
They stand up for their principles, day and night…
However, despite the pleas of over twenty US congressmen and an intervention by the famed-author Victor Hugo; Patrick O'Donnell was brought to England, where he was tried for murder, and found guilty. He was executed inside Newgate Prison on 17 December 1883.
"Neither terrified nor corrupted"
While neither crossed each other's paths in life, Barrett and O'Donnell have become united in death. Two men of principle, who faced the scaffold rather than turn informer.
Two men forced to emigrate from their native land and yet still drawn back to the cause of freedom back home. Is it any wonder that London-Irish republicans have adopted both?
Neither man necessarily set out in life to be a martyr for Ireland. But both proved themselves worthy of the mantle.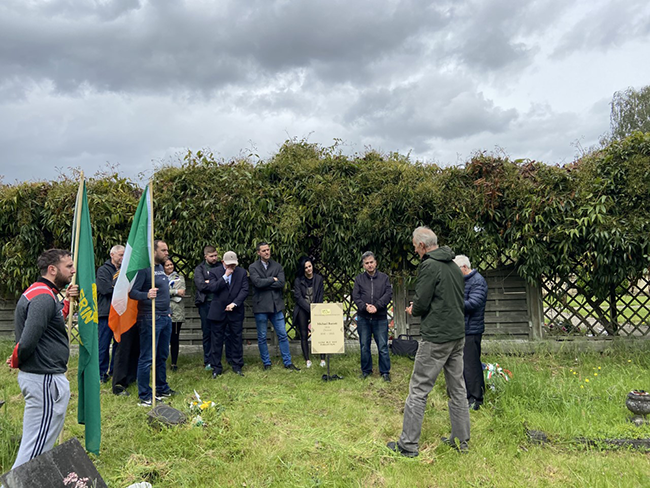 The plot they now lie in is far too densely populated for any real chance of exhumation or reinternment. However, the campaign for a permanent marker to both men on the site to recognise their final resting place has begun and will continue.
In his tribute to O'Donovan Rossa, James Connolly said of the Fenian era: Their greatest enemies were those of their own race. They failed, but it was a failure more glorious than many a victory. But its glory consisted in the fact that against all odds, and in spite of the calculations of the trimmers and wiseacres there were proven to be in Ireland thousands of men and women who were prepared to affirm with their lives that Ireland was a nation with an independent destiny of its own. Neither terrified nor corrupted, the Fenians redeemed the honour of their nation, and we of the working class are proud to remember that those heroes were of our own class.
We hold this to still be true today. It is why republicans assembled over an unmarked grave on a drizzly Sunday afternoon to remember to little-known fenians.
As Connolly put it: 'We are here because this is our place!'
The author would like to thank Frank Glynn and Felix Maguire for organising the commemoration and for the invitation to say a few words on behalf of Sinn Féin. Also Jim Sheridan and Mick Gilgunn for laying the wreaths. And our friends in 'Thomas McCurtain's GAA Club' for helping to spread the word.
An Phoblacht on Twitter

An initiative for dialogue 
for reconciliation 
— — — — — — —
Contributions from key figures in the churches, academia and wider civic society as well as senior republican figures