11 May 2021
Seán McCaughey 75th anniversary
Remembering the Past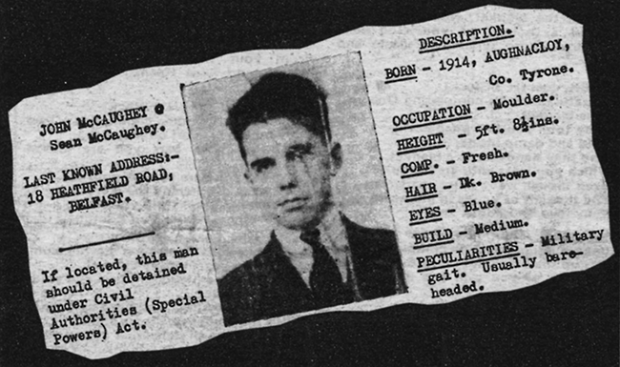 11 May marks the 75th anniversary of the death on hunger and thirst strike of IRA leader Seán McCaughey in Portlaoise Prison. 
Seán was born in Aughnacloy, Co. Tyrone in 1915 and in 1921 his family moved to Ardoyne in Belfast. He joined Conradh na Gaeilge and later the IRA, rising to senior command. At the time of his arrest in Dublin in 1941 he was acting Chief of Staff. 
Sentenced to life imprisonment, he was sent to Portlaoise Prison. The regime was extremely harsh and IRA prisoners who refused to wear the prison uniform were held in isolation, 24 hours a day, clad only in blankets. IRA internees were released from the Curragh Camp as the world war ended in 1945 but sentenced prisoners remained in Portlaoise.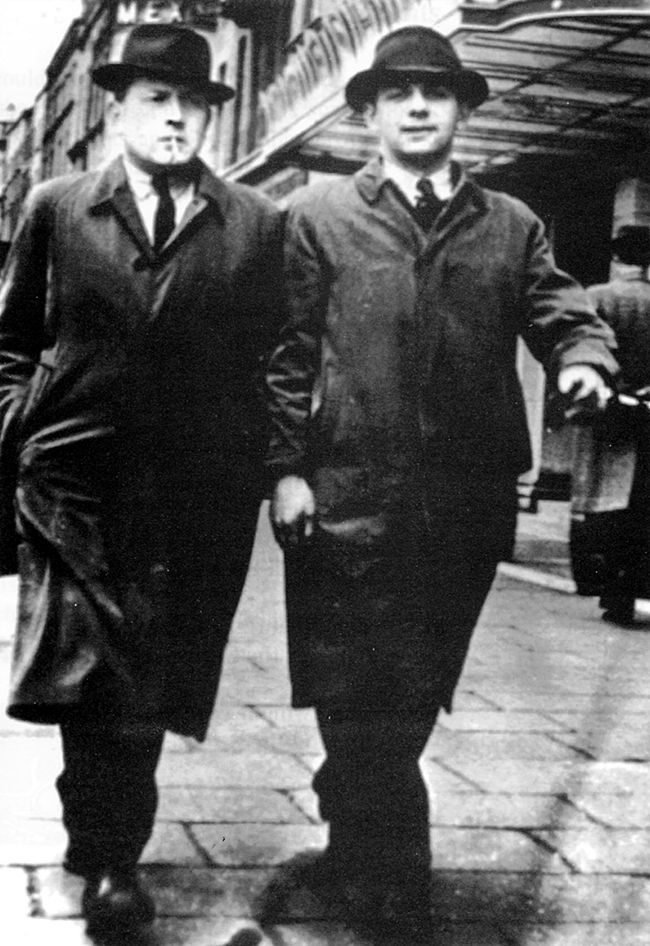 Seán McCaughey and Charlie McGlade, O'Connell Street, Dublin, 1941
After years of this treatment Seán McCaughey began a hunger strike on 19 April 1946 and a thirst strike on 24 April. The Fianna Fáil government refused all appeals on his behalf and he died in the early hours of 11 May 1946. A rushed inquest was held in the prison at which the prison doctor admitted that he would not treat his dog the way Seán McCaughey had been treated in Portlaoise. 
Seán McCaughey's body was taken to Belfast for burial in Milltown Cemetery. His republican funeral through Dublin and on to Belfast was attended by thousands of people.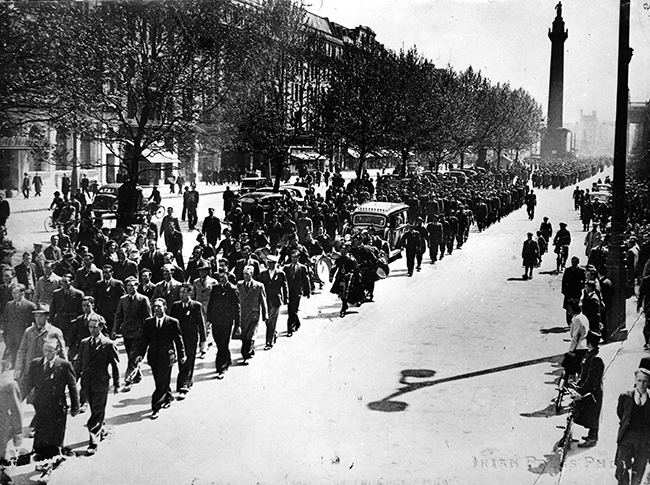 Brendan Behan, himself a former IRA prisoner, wrote this tribute. 
Filleadh Mhic Eachaidh 
A Phádraig, a chara, an gcluin tú na gártha? 
Ar chualais an mhaorgacht, an siomsa is an gleo? 
Ar chualais mar a tháinig go hUlaidh an garda
Go láidir ina dtáinte, go tréan ar an ród?
Bhí píopa is gunnaí á láimhseáil go scléipeach 
Na spéartha go soilseach, na héin faoi láncheol,
Ag fáiltiú Mhich Eachaidh ar ais chuig an Tuaisceart
– Mar sa deireadh is treise an bród ná an brón. 
Cheapas ar dtús gur shochraid a bhí ar siúl acu
Gur phíopa ag caoineadh a bhí ag osnaíl go géar
Is na gunnaí – do cheapas gur bhuartha a nguth leis:
Ach is cosúil le buíon mhór chaithréimeach Uí Néill
Ar a fhilleadh ón bPáil is an Gall faoi chrá fághta – 
An Gael go gealmheidhreach is an chreach faoi lán seoil – 
Fáiltiú Mhich Eachaidh ar ais chuig an Tuaiseceart 
– Mar sa deireadh is treise an bród ná an brón. 
Inniu beidh an turas go Baile an Mhuilinn
A mhuintir ina thimpleal, na mílte in ómós.
Is geall le turas Taoisigh sheanaimsir ár saoirse
A shlí go réidh ríoga mall maorga tríd an slógh:
Na Fianna, ógthacaí díl Phoblacht na hÉireann,
Saighdiúirí na tíre idir fhir agus mhná, 
Cailiní beaga na gculaithe geala Gaelacha – 
Buíon cheoil ag seinm agus móriompar brat – 
Beidh na mílte go humhal ag leanúint a chónra,
Gealtaisce na hÉireann, croí dílis an leoin
Ag fáiltiú Mhic Eachaidh ar ais chuig an Tuaisceart
– Mar sa deireadh is treise bhás ná a gcomhacht. 
Seán McCaughey (left), pictured in 1938 with his brother Patrick