16 March 2021
Sectarian politics must not be allowed to prevent positive change - Declan Kearney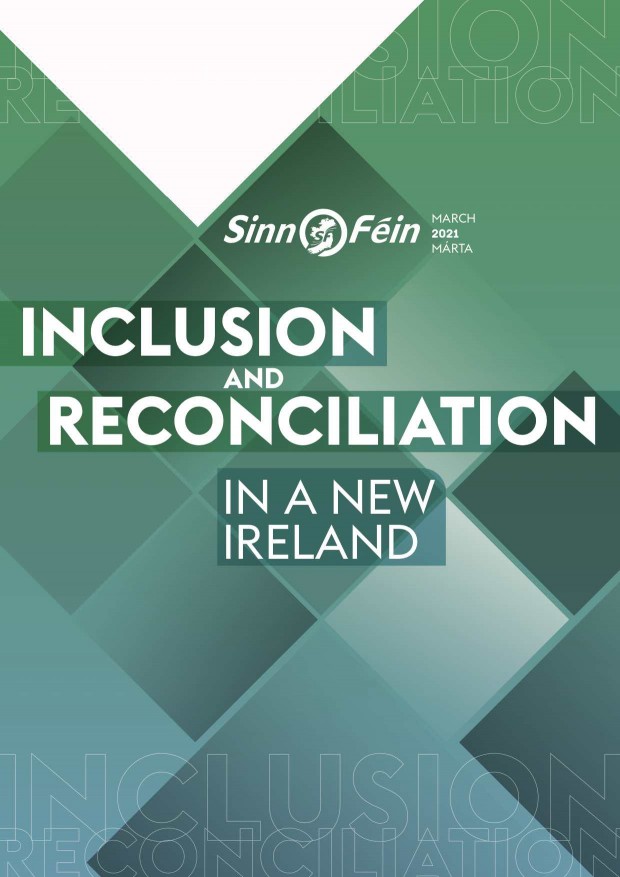 "Sectarian mindsets, behaviour, and sectarian segregation must be challenged. There can be no going back to the divisive politics of the past. Those who seek electoral advantage from sectarian politics and division must be rejected. Inclusion and reconciliation are the only way forward to a better future" - Declan Kearney
Last week a hugely significant initiative was taken by the most prominent Irish American cultural, human rights and political organisations to support Irish unity in the US mainstream and Irish diaspora print media.
Leo Varadkar, the leader of Fine Gael and Tánaiste in the coalition government reacted with another of his ill-considered, spiteful attacks against Sinn Féin. 
This time his 'dead cat' intervention was to claim the Party is sectarian and an obstacle to Irish unity. He made other false and ridiculous claims about the religious beliefs of Party representatives. 
Anti-Sinn Féin diatribes have become a defining characteristic of establishment politicians in the south of Ireland, especially the leaders of Fine Gael and Fianna Fáil. Unsurprisingly their divisive political vitriol is neither representative of many members within their own parties or wider popular opinion.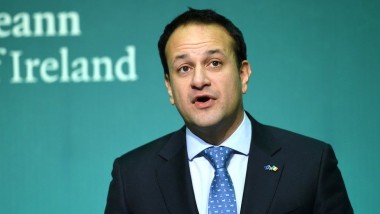 Leo Varadkar is not serious about Irish unity or anti sectarianism. He has done nothing to advance either agenda. 
Sinn Féin welcomes the increasingly mainstreamed discussion on Irish unity both here in Ireland and internationally. We will continue to positively contribute to it and also emphasise the need for the reunification of Ireland to be built upon the foundations of anti-sectarianism, equality and national reconciliation.
Unlike other political parties in Ireland, north or south, Sinn Féin has adopted and published detailed policy on how all this should be achieved. Our Party thinking has been informed by directly engaging with many from unionist backgrounds over many years.
The latest work in Party policy on these issues is contained in our substantive policy document 'Inclusion and Reconciliation in a New Ireland'. 
This document draws together recent and current policy, ideas, and proposed actions that are intended as a contribution to the work of overcoming sectarianism and political divisions. Moreover, as a Party we will roll this policy out across our membership as a resource to further encourage, and deepen engagement between republicans and our unionist neighbours.
At a time when the debate on a unity referendum is growing and the desire for a United Ireland is increasing in popularity this new policy document recognises that "reconciliation must be at the heart of the transition to Irish unity".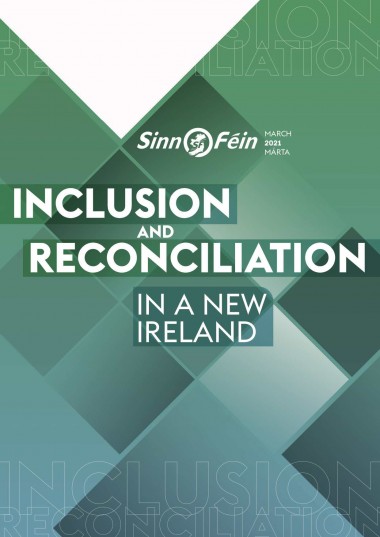 I have contributed for many years to Sinn Fein's efforts at building bridges across the sectarian and political divide. My approach to confronting these issues has its roots growing up in South West Antrim. As a youngster I was taught about the United Irish men and women, their history and philosophy, their internationalism and non-sectarianism and their efforts locally to raise the standard of liberty and equality.
From an early age I was familiar with the stories of Roddy Mc Corley, Henry Joy Mc Cracken and Jemmy Hope. Even 170 years later these and others were still household names. 
Later Bobby Sands composed an amazing poem, 'Rodaí Mac Corlaí', from his H Block cell while on the blanket and no wash protests, which was a remarkable tribute to Roddy Mc Corley's life and betrayal, including notable references to local places like Rougery Hill, Moneyglass and Donegore. 
Donegore Hill will always be synonymous with William Orr, executed in 1797 before the rising. 'Remember Orr' became a rallying call for the United Irish thereafter.
I've always been very proud of the United Irish tradition of my home area, and even prouder still of the unity of that era between local Catholics, Protestants and Dissenters.
That history had a formative influence on my republicanism.
Whilst the neighbouring towns of Randalstown and Ballymena were liberated and brought under the control of the United Irish forces in June 1798, their defeat at the Battle of Antrim was a strategic set-back for the rising in County Antrim. 
When running and walking the roads and fields around Antrim, Randalstown and Creggan I often imagined the revolutionaries preparing their approach to Antrim Town from that direction. 
Wolfe Tone asserted the United Irish objectives as to break the connection with England, and achieve the independence of Ireland. He also importantly said: 
"To unite the whole people of Ireland, to abolish the memory of all past dissensions, and to substitute the common name of Irishman in place of the denominations of Protestant, catholic and dissenter - these were my means."
Tone was explicit in his desire for "a cordial union among all the people of Ireland".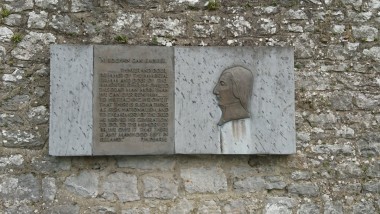 Anti sectarianism, equality and national independence were the foundational ideals of Irish republicanism, and remain so until the present day.
'Inclusion and Reconciliation in a New Ireland' is rooted in these timeless republican core principles. 
It is a substantive contribution to eradicating sectarianism, and helping to build reconciliation and healing in our society at a time when an unprecedented discussion is taking place on Irish unity and future constitutional change in Ireland. 
Sinn Féin believes that healing the divisions in Irish society is inseparable from the momentum for a new, agreed constitutional democracy in Ireland.  
Reconciliation must be at the heart of the transition to Irish unity, and both reconciliation and healing should be central to the political and civic institutions of any new, national, constitutional framework.
'Inclusion and Reconciliation' examines fresh ideas for the development of a new phase of the Irish peace process based on reconciliation and healing.  
Several of these policy proposals were included in the 'New Decade, New Approach' document, which was the basis for the restoration of power sharing in the north in January 2020.
Today the need for united civic, community and political action against sectarianism and sectarian segregation is more important than ever. 
Deep communal decision and prejudice remain entrenched in the north of Ireland.
The legacy of our past political conflicts continue to cast a very long shadow over political and community life.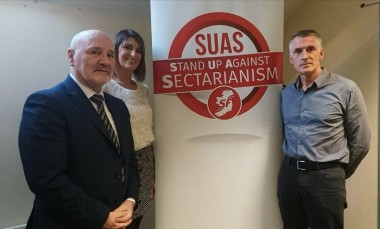 All that is brought sharply into focus with the centenary of partition which occurs this year.  
The violent imposition of partition in Ireland by an English government led to the creation of an exclusionary, orange state built upon institutionalised sectarianism in the north, and a conservative, theocratic state in the south, dominated by a newly emergent neo colonial ruling class. 
Despite many inter generational divisions caused by the Irish civil war of 1922/23 and the counter revolutionary period, no effective reconciliation process was ever introduced to address the violence and suffering caused during that era.
Neither has the transformative importance of a reconciliation and healing process been seriously embraced, far less internalised within the political process and civic society in the north, despite continuous conflict and injustice since partition.
Decisive moves towards tackling sectarianism and building an authentic reconciliation process throughout Ireland should be key priorities north and south this year.
How that is addressed will depend upon the determination of positive political and civic leadership to ensure our reflections on the last 100 years do not descend into greater discord over the legacy of past injustices, and so undermine an inclusive discussion about a shared future.
This will not be easy. 
Previous ground breaking reconciliation initiatives were both ignored and squandered. 
Political unionism and the English Tory government failed to reciprocate or maximise important opportunities created by courageous gestures from republican leaders.
The outworking of the hard Brexit brought about by the Tories and some sections of political unionism, notably the DUP, has now given way to a new phase of political instability and division. 
Political unionism has been thrown into disarray. 
In an attempt to manage internal party difficulties and intra unionist rivalry, DUP leaders have disingenuously conflated their opposition to the Irish Protocol component of the internationally binding EU Withdrawal Agreement, with a narrative that the unionist tradition and British identity in the north is being undermined.  
This incendiary political situation is also being fuelled by a recent poll indicating a drop in support for the DUP, with support haemorrhaging towards the TUV.  
As a result unionist politicians have been whipping up community tensions and hinting at threats of violence. DUP politicians have once more begun to consort with armed unionist criminal gangs.  
The next northern Assembly election is scheduled in 2022. It is apparent that political unionism has already commenced its election campaign.  
The 'Orange Card' of the past is being dragged out again as extremists within unionism and the DUP calculate that the more polarised and toxic the political atmosphere the better an electoral performance they will enjoy. They will seek another 'electoral contract' with the unionist working class, which will be abandoned again when the prestige and status of political office has been once more been procured by these politicians.
The DUP is taking unionism backwards without a strategy or coherent leadership, offering only the worst kind of zero sum and dead end politics. 
A toxic mix is being created from which the law of unintended consequences can quickly emerge and take primacy.
Left unchallenged this type of negativity will potentially strengthen the barriers to building a society which can be finally at peace and reconciled with itself.
Sectarian mindsets, behaviour, and sectarian segregation must be challenged. There can be no going back to the divisive politics of the past. Those who seek electoral advantage from sectarian politics and division must be rejected. Inclusion and reconciliation are the only way forward to a better future. 
This new Sinn Féin policy document offers a forward road map. I commend it for widespread consideration, and also invite other political, civic and community stakeholders to have direct discussions about its content with our Party.