11 March 2021
Acknowledgement, Remembering & the Centenary of Partition - Declan Kearney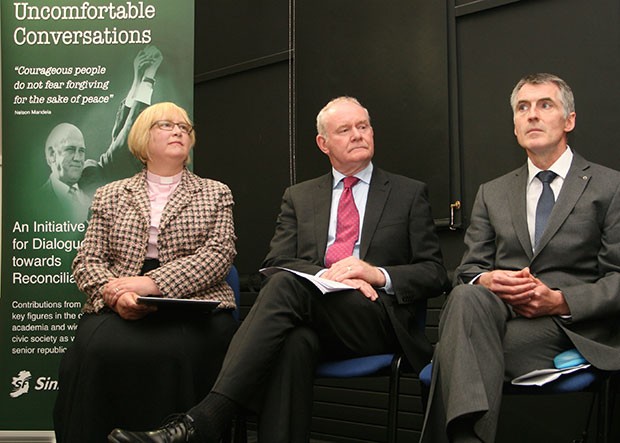 "This is a time to be visionary and ambitious for future generations, by opening a new phase of the peace process in Ireland. We should take our inspiration from being able to say to each other that we love our children more than we hate old enemies" Declan Kearney
Uachtarán na hÉireann Michael D Higgins combines an outstanding intellectual contribution to modern Ireland with an innate appreciation for the significance of Irish socialist and republican values in the development of Irish society.
The President's 'Machnamh 100' programme has begun to initiate important thinking about how we might engage thoughtfully and objectively with our history, while not shying away from the historic effects of imperialism in Ireland.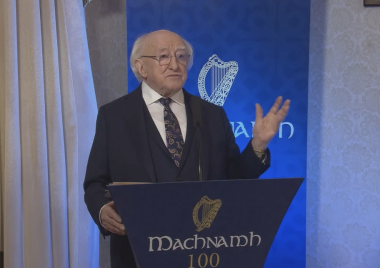 His thinking on ethical remembering should be considered carefully by republicans, unionists, the Irish and English governments - in relation to all periods of conflict from the Tan War, Civil War, northern pogroms, and our most recent phase of war.
My attention was recently drawn to a centenary commemoration to mark the Clonfin ambush by the IRA in County Longford in February 1921, against a 19-strong British Auxiliary unit during the Tan War. The manner of its execution led to this action being widely regarded as one the IRA's most  strategic operations.
When the recent commemoration honoured the role of the Volunteers that day, and the IRA roll of honour was recited, in an important gesture of acknowledgement, the names of the four Auxies killed in the ambush were then read aloud.
Acknowledgement and ethical remembering can help us all open up a pathway towards a phase of reconciliation and healing. 
The public and political discourse during this year's centenary of partition should be framed by an ability to bow towards, but not be shackled by, the past. It needs to avoid efforts to sanitise or sugar coat what has gone before. Misplaced notions of 'celebration' have absolutely no contribution to make in any discussion about a new and better future. 
Genuine mutual respect, generosity of spirit, grace, and a real desire to appreciate the lived experience of each other should be required from everyone, including state and non-state actors.
There can be no hierarchy of victimhood when it comes to acknowledging the loss experienced by so many families. All victims deserve acknowledgement of their pain and loss as a first step towards reconciliation and healing.
Nine years ago in March 2012 I wrote in An Phoblacht:
"Regardless to the stance of others, we should recognise the healing influence of being able to say sorry for the human effects of all actions caused during the armed struggle. All sensible people would wish it had been otherwise, that these events had never happened, that other conditions had prevailed. The political reality is those actions cannot be undone or disowned. It would be better they had never happened."
Both previous to, and since that article, republicans have expressed both remorse and regret publicly and privately. 
Yet instead of trying to constructively build on these occasions, too many in political unionism, and particularly within the leaderships of the unionist political parties, sought to exploit this outreach, to play cynical political games, and to be opportunistic. 
All they succeeded in doing was to dig themselves deeper into their trenches of fear and intransigence.
Our collective aim should be move forward in 2021.  
If that is to happen then we need a real willingness to acknowledge the pain and suffering inflicted by us all upon each other. 
The centenary year of partition should be harnessed as an opportunity to think beyond the past. 
We all have much to forgive, and have forgiven.
There is no purpose in using the past to abdicate responsibility for giving leadership in the present.  
The wars in Ireland are over. Nothing is served by refighting old battles or demanding repentance, or in arguing over victories and defeats. The blame game is a cul de sac. 
Instead, this year which marks 100 years of partition, should have as its centrepiece an initiative of common acknowledgement: That is, a transformative initiative of common acknowledgement by all sides - British, Irish, republican, unionist, both state and non state - of the hurt and injustices caused by, and to each other.  
As Nelson Mandela advised, 'courageous people do not fear forgiving for the sake of peace'. 
This symbolic centenary year should also inaugurate a National Reconciliation Day, which in a spirit of ethical remembering, acknowledges the suffering everyone has experienced during the previous 100 years.  
Sinn Féin has brought forward detailed thinking on other initiatives to assist this process, including the development of an all-island reconciliation strategy under the auspices of the North South Ministerial Council: A citizen's anti-sectarian charter: And, the introduction of a clear legal definition of sectarianism as a hate crime entrenched within anti-sectarianism legislation.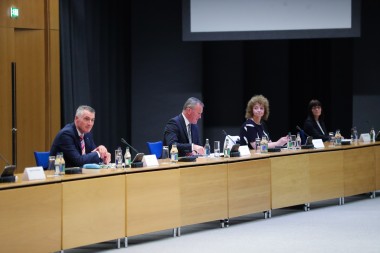 The original proposals to establish the civic forums which were integral to the Good Friday Agreement, and potential of which were never properly maximised, should be introduced as a platform to encourage cross-community and anti-sectarian solidarity within society. 
This is a time to be visionary and ambitious for future generations, by opening a new phase of the peace process in Ireland. We should take our inspiration from being able to say to each other that we love our children more than we hate old enemies. 
We have arrived at a tipping point in our history. The old certainties are gone. The Good Friday Agreement sets out the principles for managing change. 
The centenary of partition should be recast to create a new context, which will allow each of us to look towards the future with confidence.