1 March 2021
Bobby Sands leads new hunger strike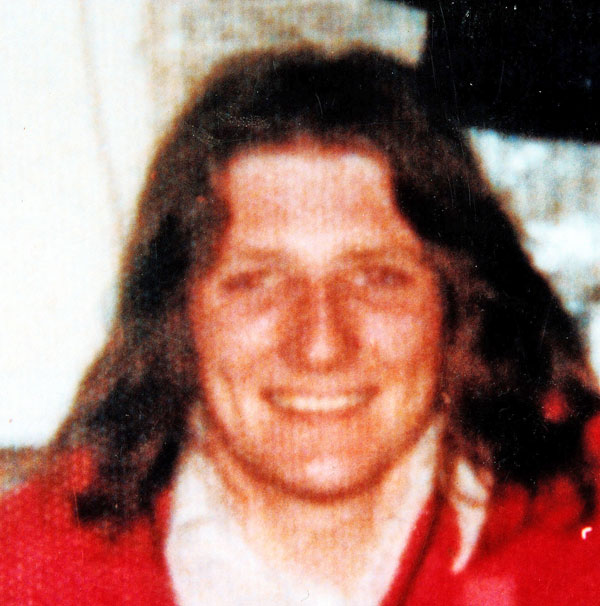 Bobby Sands was born in 1954 in the predominantly loyalist district of Rathcoole in North Belfast. The eldest of four children, he left school in 1969 and went to work, apprenticing as a coach-maker. In 1972 his family moved to a nationalist housing development called Twinbrook, in West Belfast, having endured years of sectarian intimidation and harassment.
Bobby joined Óglaigh ha hÉireann in his young teens and at the age of 18 he was arrested, subsequently spending three years in jail. Six months after his release, he was re-arrested on active service following a bomb attack. He was taken to Castlereagh and interrogated for seven days.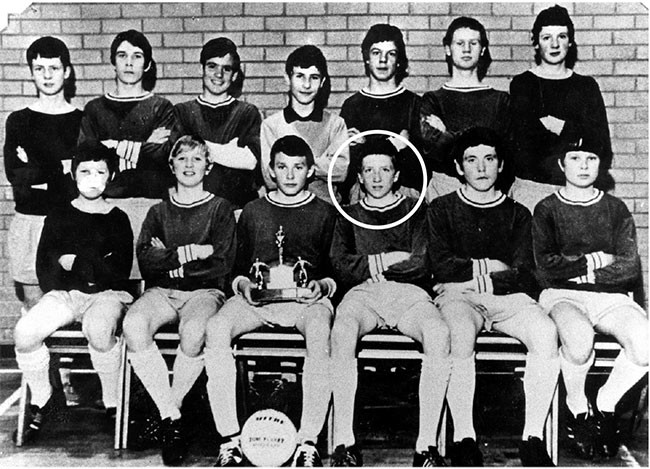 Bobby (circled) as a young boy on a local soccer team
Refusing to talk or recognise the court, Bobby Sands was sentenced to five years in the cages of Long Kesh, assigned to Cage 11.
Sands was released in April of 1976 and re-arrested in October of the same year. Now married, with a three-year-old son, he was sentenced to 14 years in Long Kesh.
Earlier in 1976 the British Government had introduced legislation to phase out the special category status under which political prisoners in the North were detained and which had been achieved by a hunger strike by republican prisoners in 1972. The new legislation was the central policy plank of renewed British efforts to depict the IRA campaign as a 'criminal conspiracy'. All political prisoners arrested after 1 March 1976 were now to be treated as 'criminals'.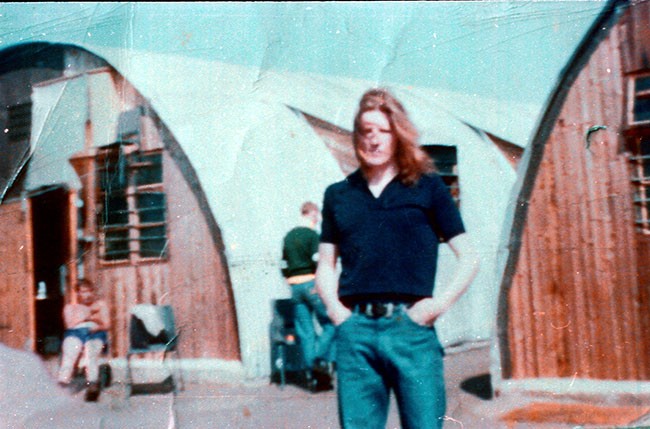 Bobby outside one of the Nissen Huts in Long Kesh
Bobby Sands gained a reputation for being particularly steadfast in his opposition to increasingly brutal treatment from the guards. A number of guards during this time had a habit of drenching political prisoners with hoses, particularly in winter. The prisoners learned to stay clear of windows when they spotted these guards cleaning nearby. One day as the call went down from cell to cell, relaying a warning to stay clear of the windows because the screws were coming with the hose, Bobby, hearing the warning, stepped up to the window, deliberately making himself a target. While the guard turned the full force of the hose on him, he stood unmoving, refusing to back down as the water poured over him. Only when the guard had given up and moved on did he turn from the window. A cell check later found him lying hypothermic and semi-conscious in a flood of icy water on the floor of his cell.
On 27 October 1980, following the breakdown of talks between British Direct Ruler Humphrey Atkins and Cardinal Ó Fiaich, the Catholic primate of all Ireland, seven prisoners in the H-Blocks began a hunger strike. Bobby Sands volunteered for the strike but when the then-O/C of the prison, Brendan Hughes, went on hunger strike he appointed Sands as his replacement.
During the 1980 hunger strike Bobby was given political recognition by the prison authorities. The day after a senior British official visited the hunger strikers Bobby was brought half a mile in a prison van from H-3 to the prison hospital to visit them. Subsequently he was allowed several meetings with Brendan Hughes. He was not involved in the decision to end the hunger strike, which was taken by the seven men alone. But later that night he was taken to meet them and was allowed to visit republican prison leaders in H-Blocks 4, 5 and 6.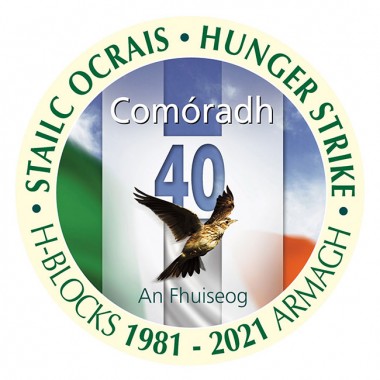 On 19 December 1980, Bobby Sands issued a statement that the prisoners would not wear prison-issue clothing nor do prison work. He then began negotiations with the prison governor, Stanley Hilditch, for a step-by-step deescalation of the protest.
But the prisoners' efforts were rebuffed by the authorities: "We discovered that our good will and flexibility were in vain," wrote Bobby. "It was made abundantly clear during one of my 'cooperation' meetings with prisoner officials that strict conformity was required, which in essence meant acceptance of criminal status."
In the H-Blocks the British saw what they thought was an opportunity to defeat the IRA by attempting to criminalise imprisoned republicans, but the blanket-men, perhaps more so than those on the outside, appreciated before anyone else the grave repercussions and so they fought back.
Bobby Sands volunteered to lead a new hunger strike.
The second hunger strike began on 1 March 1981 and was led by Bobby Sands.
Unlike the previous hunger strike, volunteers would join at different stages, thus slowly maximizing pressure on the British Government. This staggered approach would also avoid a situation where a number of volunteers might die at the same time. The prisoners' thinking was that two or three hunger strikers dying at once would have no more effect on the British than a single death.
Mick O'Donnell, Bobby Sands, Gerard Rooney and Tomboy Loudon in the Cages of Long Kesh
Another tactical move came the day after the beginning of the fast when the 425 nonconforming prisoners in the H-Blocks called off their dirty protest, thus centralising public and media attention on the plight of the men on hunger strike.
Bobby Sands believed that his death could secure the five demands and save the lives of his fellow hunger strikers. For the first 17 days of the hunger strike he kept a secret diary in which he wrote his thoughts and views, mostly in English but occasionally breaking into Irish. On the first day of his hunger strike he wrote:
Sunday 1st
I am standing on the threshold of another trembling world. May God have mercy on my soul.
My heart is very sore because I know that I have broken my poor mother's heart, and my home is struck with unbearable anxiety. But I have considered all the arguments and tried every means to avoid what has become the unavoidable: it has been forced upon me and my comrades by four-and-a-half years of stark inhumanity.
I am a political prisoner. I am a political prisoner because I am a casualty of a perennial war that is being fought between the oppressed Irish people and an alien, oppressive, unwanted regime that refuses to withdraw from our land.
I believe and stand by the God-given right of the Irish nation to sovereign independence, and the right of any Irishman or woman to assert this right in armed revolution. That is why I am incarcerated, naked and tortured.
Bobby Sands was to last 61 days on hunger strike. His sacrifice was to inspire a new generation of republicans and the whole world was to see how Britain behaved towards those who would not bow down to her will.
On 1 March 1981, 40 years ago, Bobby Sands began the first day of his hunger strike.