2 February 2021
Hughie Byrne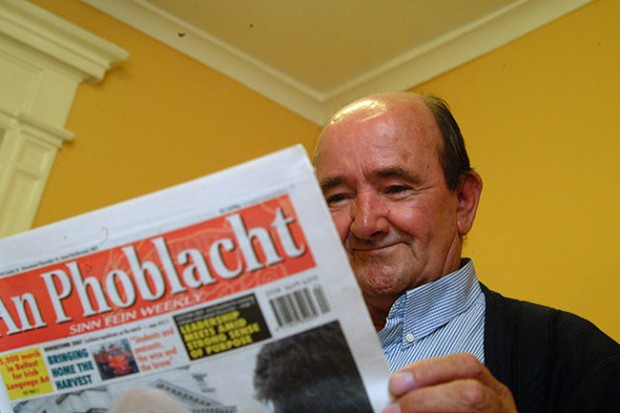 Saying our last goodbyes is always a sad occasion, especially for someone who was a comrade, work colleague, friend and a great character. But, in today's Covid world it is strange.
It is strange having to think twice about visiting the home of your bereaved friends, to share in person with his or her loved ones your memories, their grief and your sadness. It strange having to stand across the road from the church distanced from everyone to salute a comrade as they head on their final journey. It's a lonely feeling walking away afterwards without the exchanges afterwards with family, friends and colleagues all celebrating a life, remembering the good and the bad times.
How much stranger it must be for a family.
My heart goes out to all those families who we can't hug and comfort in the same way as we did a few short months ago – we will again, and we will remember.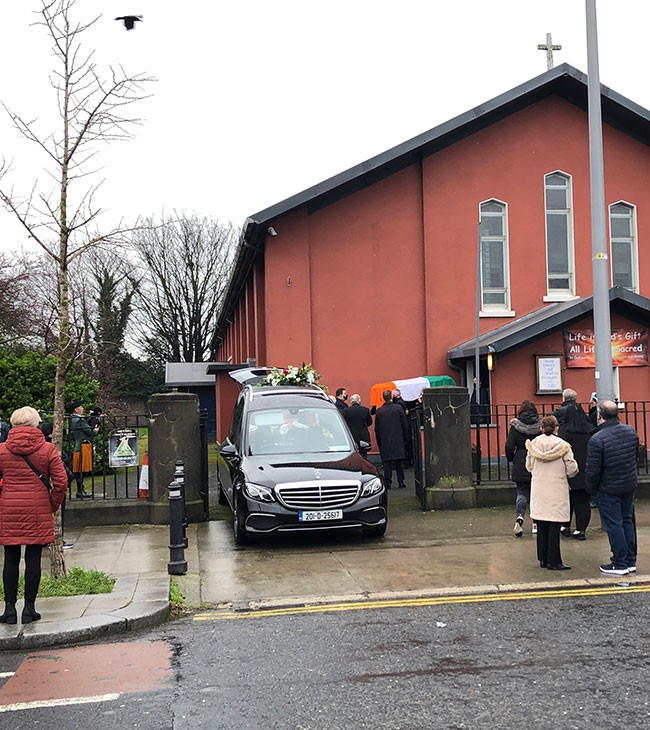 Hughie's coffin leaving church
That is how I was feeling as I headed out to salute my friend Hughie Byrne who passed away recently. I remember a special night we, in Dublin South-Central when the local republican family honoured Hughie for the many years working for An Phoblacht and more. His wife May and many of his family were there in the Transport Club to celebrate his dedication to republicanism. That night and the many other moments over 30 years or more I knew Hughie will be cherished by me.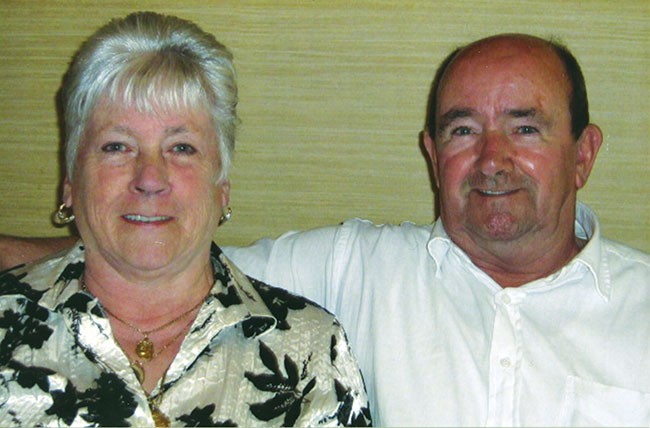 May and Hughie
True Dubs, Hughie and May started married life in Fatima Mansion in the South Inner City, before they moved to Crumlin where they reared their sons and daughters. Life was hard and Hughie in his interview with Ella O'Dwyer for An Phoblacht when he was retiring in 2007, he said:
"I remember my first day at school. The teacher gave me a slap on the face. We used to get a sandwich and a cocoa free from the school.  I went back up for another sandwich. The teacher said I was up before and she whacked me! But after a couple of days the same teacher gave me a pile of sandwiches to take home. She probably felt sorry for what she had done."
Like many, Hughie and May were instinctively republican, and the Civil Rights marches, Bloody Sunday in Derry and the Blanket protest spurred Hughie on to join the local Frank Stagg Cumann in 1979.
Hughie always had a smile, and often joked about the Garda harassment, the raids on the family home, the van with the 'paper' or being stopped as he walked along the street. Such was life for a republican at the time. Hughie, May and the family played their role in the local community, and especially during the drugs scourge hitting working class areas hard in the 1980s and 1990s, as they tried without state support to defend their communities.
He began driving the van, delivering An Phoblacht up and down the country in dangerous times around that time and recalled.
"My friend Rose Dugdale said they needed a driver. It was a commitment I took on and I fulfilled it to the best of my ability. I used to get up at 4am to be in '58'  for six on a Thursday morning. The paper used to be printed in Ashbourne then and I'd drive there and wait until it was ready, then make a drop at the office here. After that I'd start the delivery from Dublin, through to Wicklow and Wexford and in later years that route extended on into Cork and Kerry.."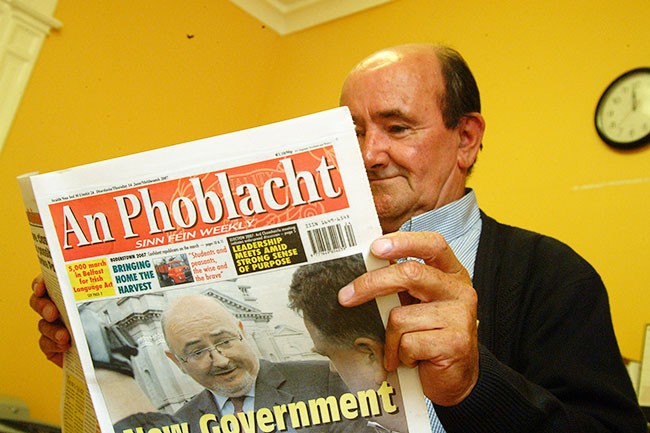 Asked by Ella in the AP/RN interview if he'd do it all over again he said: "Yes. I feel I achieved something and I made great friends who I still meet at Bodenstown. What kept me going was the prisoners. I remember thinking 'I'm sure the prisoners would love to be able to be out here delivering the papers'."
Bodenstown Sunday in the sunshine was where I remember Hughie being happiest, enjoying a picnic and the craic with the thousands who were there. Those who he dropped the paper to as he raced across country in the van, those who he visited with an AP/RN journalist or photographer  to capture a story, or his many, many other friends who he and May met at Sinn Féin events over the years. Bodenstown was as much a social event as it was a commemoration.
I salute you a comrádaí, I thank you for your wisdom and help over the years. We will all miss you, suaimhneas síoraí a chara. Comhbhrón ó chroí uaim agus gach duine i Sinn Féin Átha Cliath Lár-Theas do May agus an clann uilig
I measc Laochra na nGael go raibh Hughie ár gcara dílis.