7 January 2021
2021 should begin an inclusive conversation about reconciliation and Irish unity - Declan Kearney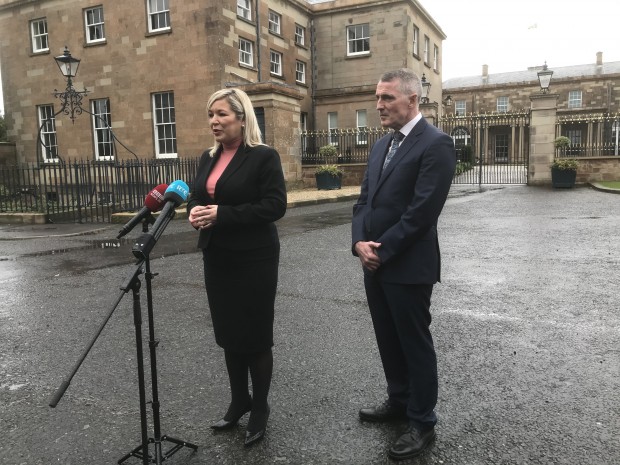 "Instead of celebrating the partition of Ireland, this year should herald an inclusive conversation about the continued transformation of this society towards the development of reconciliation and Irish unity" – Declan Kearney
The criticism attributed to Archbishop Eamon Martin, the Catholic Church Primate, in 'The Irish News' last Saturday concerning the stance of 'nationalist and republican political leaders' on the centenary of partition was an entirely misplaced, and misdirected political intervention.
It is possible that he has genuinely missed the public comments from the Sinn Féin leadership on this issue, as articulated by myself and others since the summer of 2020.
The fact is the English Tory government was quick to declare, supported by political unionism, that the centenary of partition should be an occasion for "celebration".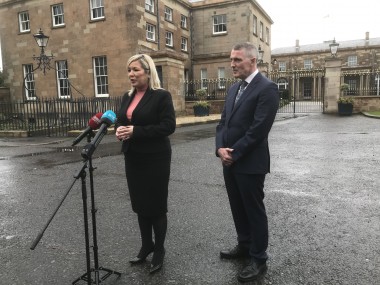 This was hardly surprising.
Since coming to power in 2010 the Tories have been high handed, belligerent, and unapologetically pro unionist, in their failure to fully implement the Good Friday Agreement (GFA); through their bad faith on dealing with the past; and, with their reckless handling of the Brexit calamity.
There is nothing to celebrate about the violent partition of Ireland by an English government.
Institutionalised sectarianism, discrimination and state repression became the lived experience for successive generations of republicans, nationalists, Catholics, and other political dissenters, in the north of Ireland.
That is an accurate and legitimate political critique.  
Unionists have a separate narrative; their's was a different lived experience. That is why they choose to celebrate the foundation of the northern state. 
It is their political choice to celebrate. But that doesn't make it right. 
Most reasonable people, perhaps including Archbishop Martin, will acknowledge that partition had no upside.
It created an exclusionary 'Orange state' which was hostile to even modest reform, resulting in permanent instability and political conflict.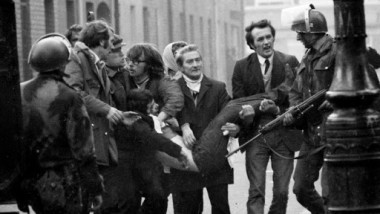 Notably in 1963 the Special Powers Act in the north even attracted the expressed envy of the apartheid government in South Africa.
Eventually the GFA transformed this context.
That's why it, and all other succeeding Agreements, must be fully implemented, and why both the British and Irish governments, need to fulfil their internationally binding obligations.
It would be wrongheaded not to acknowledge that much has happened in the last 100 years about which there are things on all sides to be deeply regretted; including the failure of institutional church leaders to vigorously oppose the violent repression and other injustices of the state.
With the benefit of historical hindsight we can all see things which we wish had been done differently or not all. 
The fact is we are all victims of partition, including those who have politically profited from the sectarianism and sectarian segregation which it institutionalised. 
Yes, 2021 has the potential to be a year of discord, however those of us committed to a new future must ensure it does not become one of rancour or deepen existing divisions in our society.
So we have a choice: We can argue over the past; or, begin a new national conversation about how our divided traditions can share a progressive future together on our island. 
There is an onus on all of us, particularly in political leadership, to demonstrate how this can be done, by how we critically engage in discussion, debate and reflection, and articulate a considered analysis and narrative of the past 100 years. 
Sinn Féin is prepared to be challenged in such a process.  And we will listen to others, and present our inclusive, positive vision for the future: A new era in which everyone will share this island on the basis of guaranteed civil and religious liberties, parity of esteem, human rights, and equality. 
Brexit, and its border down the Irish Sea, and more recently COVID-19, have now put the prospect of Irish unity centre stage in Ireland, and internationally.
In November 2019, Sinn Féin adopted a new policy 'Inclusion & Reconciliation in a New Ireland'.
It sets out our conviction that reunification and reconciliation are inseparable, and that a new constitutional settlement in Ireland should put reconciliation and healing at the heart of its civic and political institutions.
Instead of celebrating the partition of Ireland, this year should herald an inclusive conversation about the continued transformation of this society towards the development of reconciliation and Irish unity.
Sinn Féin is absolutely committed to constructive dialogue with all civic, community and political leaders from across the entire community about how we collectively shape a progressive, positive future for this and the next generation.  
This work will be a key priority for our party in 2021.