11 December 2020
McGurk's campaigners raise freedom of information request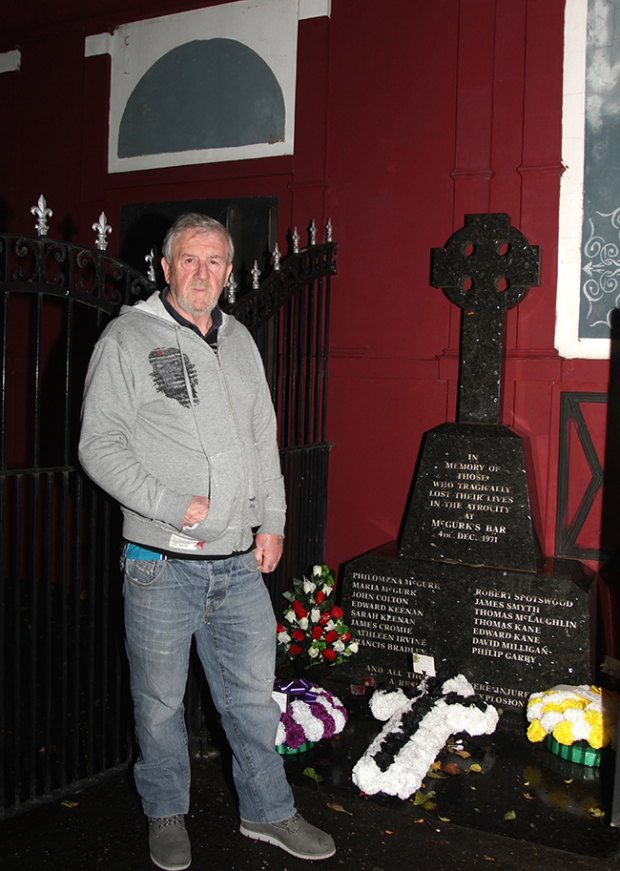 As family members of people killed in the McGurk's Bar bombing gathered on Friday December 4 to mark the 49th anniversary of the massacre campaigners again challenged the PSNI chief constable over the RUC's disinformation strategy in the aftermath of the explosion, particularly their claim that "two of those killed were known IRA members".
Relatives of the 15 people killed in the bombing in Belfast's New Lodge area in 1971 are demanding that PSNI chief constable Simon Byrne prove these claims and disclose the source of this false information.
Robert McClenaghan whose grandfather Philip Gerry was killed said, "it is time for the PSNI to put up or shut up".
Ciarán MacAirt, whose grandmother was killed and grandfather badly injured in the attack, has through the Paper Trail research charity discovered the unredacted minutes, previously denied to him under "National Security" guidelines, of the high powered Joint Security Committee meeting attended by Stormont Prime Minister, Brian Faulkner and Minister for Home Affairs, John Taylor, now Lord Kilcooney, which discussed the McGurk's attack.
Also present at the 16 December meeting were General Harry Tuzo, then head of the British Army in the North, RUC Chief Constable Graham Shillington and Assistant Chief Constable David Johnston, Head of Special Branch. According to MacAirt the Special Branch Assessment regarding the attack was that "circumstantial evidence indicates that this was a premature detonation and two of those killed were known IRA members at least one of whom had been associated with bombing activities. Intelligence indicates that the bomb was destined for use elsewhere in the city."
Sam McClenaghan whose stepfather Philip Garry also died
Added MacAirt the 'line' that the McGurk's Bar Massacre was a result of an IRA 'own-goal', had its origins in a secret agreement between Brigadier Frank Kitson and the RUC hours after the attack."
Kitson, maintains MacAirt, informed British Army 39 Brigade around four hours after the attack that the "RUC have a line that the bomb in the pub was a bomb designed to be used elsewhere, left in the pub to be picked up by the Provisional IRA. Bomb went off and was a mistake. RUC press office have a line on it – NI should deal with them."
McGurk's campaigners are accusing the RUC and British army of instigating a disinformation strategy based on lies and that unionist politicians willingly accepted this as it suited their political agenda.
Despite this information, which was withheld from previous Ombudsman's and historical investigations, McGurk's families are now demanding that the PSNI disclose the source of the RUC claims, where and who it came from.
In conclusion, MacAirt says he has now "raised a Freedom of Information request with the police for provenance of the Security Branch Assessment and challenged Chief Constable Simon Byrne to prove that two of the victims were members of the Irish Republican Army and the RUC had credible intelligence that it was an IRA bomb for another target".