2 December 2020
Root problems facing workers and families must be tackled - Archibald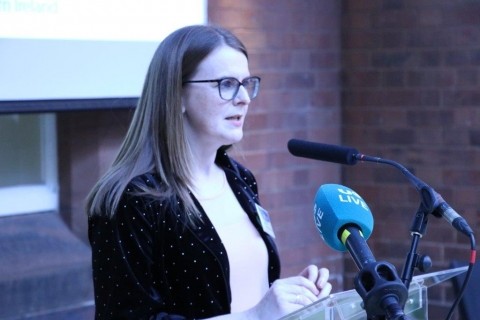 "Sinn Féin will continue to bring forward proposals that aim to address the root causes of the problems facing workers and their families; the most vulnerable and in need of assistance; and those areas traditionally left behind in terms of balanced regional development" - Caoimhe Archibald MLA
In recent times calls for a Universal Basic Income (UBI) has been a 'go to' answer –  or the silver bullet – for some political parties in the north to the longstanding issues of poverty and disadvantage in our society.
The basic premise of UBI is that each citizen would receive a set payment from the state regardless of their earnings or their circumstances. This would mean the wealthiest in our society receiving the same publicly funded payment as the poorest.
One size fits all approaches are easy to communicate, easy to understand, but that doesn't mean they work. What we really need is a real living wage economy and a fair social security system that targets resources to where they are most needed.
Poverty can only be tackled by making interventions on the basis of targeting objective need which has been endorsed by human rights groups and the Labour Movement, and has been enshrined in the Good Friday Agreement and subsequent agreements.
In the north of Ireland 20% of workers are paid below the minimum wage; the gender pay gap persists; and precarious work is rife. This has resulted in a perverse situation whereby 65% of adults in relative poverty come from households in which someone works.
These issues can only be solved by implementing a real living wage as the minimum standard of pay, by strengthening collective bargaining rights and by ending precarious work.
We need a social security system which is fit for purpose and properly funded. This means removing the stigma and the barriers which have been nurtured by British Tory governments for over a decade, and which prevent people accessing their entitlements which they desperately need.
Social security should meet the specific needs of individual and family circumstances and be able to respond to changing circumstances. The UBI, one size fits all, approach is not designed or intended to do this.
Finally we also need a strategy to tackle the systemic regional inequalities which have resulted in people's access to employment and opportunity being determined by their postcode. These regional inequalities can only be tackled through directing appropriate resources and support into areas which have been historically neglected.
However well intended, UBI is a distraction from addressing the fundamental problems that exist with regards to workers' rights, social security and regional imbalance, here in the north.
UBI will not tackle poverty or inequality. Instead it may divert public resources away from vital public services such as social security or health and social care.
Calls for a UBI, however, usefully demonstrates the willingness of some political parties to ignore the underlying and systemic issues that perpetuate poverty and inequality in favour of a short-term, simplistic "solution" that ultimately won't work for people most in need.
For our part Sinn Féin will continue to bring forward proposals that aim to address the root causes of the problems facing workers and their families; the most vulnerable and in need of assistance; and those areas traditionally left behind in terms of balanced regional development.