26 November 2020
'We know who pulled the trigger, we want to know who pulled the strings' - John Finucane tells Oireachtas committee
"We know who pulled the trigger. We want to know who pulled the strings" – John Finucane
There has been another powerful display of support both in Ireland and across the world  for a full public inquiry into the murder of human rights lawyer, Pat Finucane.
A bi-partisan letter to British Prime Minister Boris Johnson, signed by 24 members of the US Congress, including key figures such as Richie Neal and Eliot Engel, has challenged the British government over its delays in holding a public inquiry.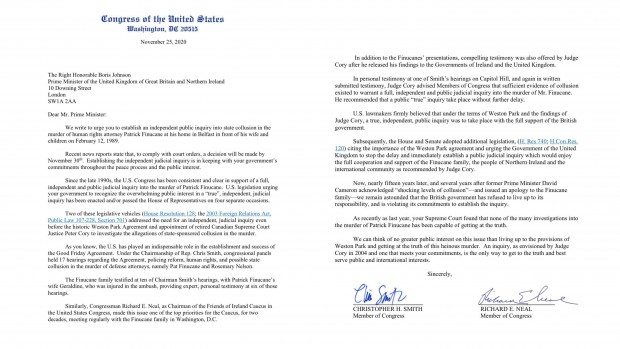 Letter from 24 members of the US Congress backing a public inquiry into the murder of Pat Finucane 
It said: "Several years after former British Prime Minister David Cameron acknowledged 'shocking levels of collusion' – and issued an apology to the Finucane family – we remain astounded that the British government has refused to live up to its responsibility, and is violating its commitments to establish the inquiry."
Earlier this week, Pat Finucane's widow Geraldine and other family members met with An Taoiseach Micheál Martin in Dublin to urge the Irish government to support the family's call. 
And today, Pat Finucane's son and North Belfast MP John Finucane gave a powerful address to an Oireachtas' Committee on Implementation of the Good Friday Agreement to reiterate calls for truth and justice for his father.  
"There is only one option left for the British Government to do and that is to have an inquiry, to have the inquiry that they promised, the promise they made to my family but also to the Irish Government, the inquiry which they have resisted, and put all of their time and their efforts and all of their considerable resources into resisting for over 30 years," he said. 
"The British Government needs to heed and read the room with where this issue is going. It's not going away.
"We know who pulled the trigger. We want to know who pulled the strings," he said.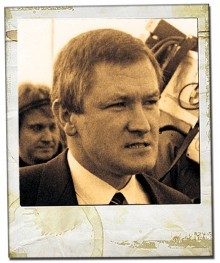 Pat Finucane was 39 years-old when he was shot dead in his North Belfast home in February 1989 by UDA gunmen acting in collusion with the British state. 
Thirty years later, the British government has failed to hold a public inquiry into his murder and the state's role in assisting the murder. 
The British Secretary of State has until the end of November to make a decision on holding a public inquiry.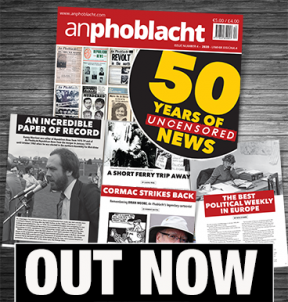 An Phoblacht on Twitter

An initiative for dialogue 
for reconciliation 
— — — — — — —
Contributions from key figures in the churches, academia and wider civic society as well as senior republican figures