25 November 2020
Pat Gilhooley – An Appreciation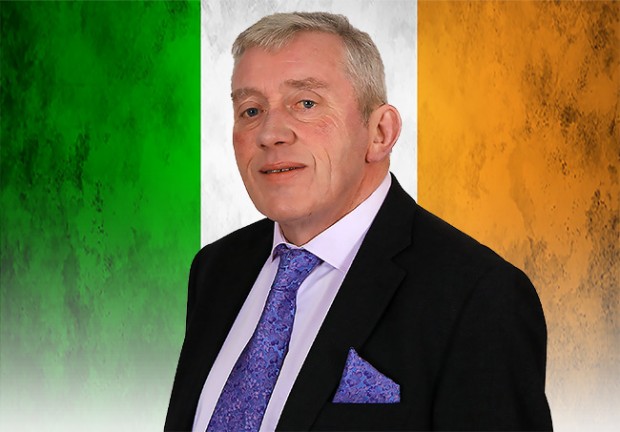 Tá Pat Gilhooley imithe ar Slí na Fírinne. Pat Gilhooley has gone to join his ancestors. On a wet November 11th we laid him to rest in the family grave with his parents and grandparents.  Is mór ár mbrón. He leaves behind his beloved wife Mary, his relatives and his many friends in Leitrim and throughout Ireland. 
Pat was a big man. I've known him for 40 years. I saw him first at the time of the first H-Block Hunger Strike and to us down in Fermanagh he was a giant of a man, so much so that some of us used to think he was carved out of Sliabh an Iarainn. You would think he was indestructible but serious illness swept him. Anois ta crann mór darach na faraoise leagtha.
Pat loved his native Aughnasheelin and no matter where he went he always liked to get back home. He was a proud man, proud of Aughnasheelin, proud of the mountain and the people. He was a great supporter of the GAA club. He helped organise and run the local water scheme, he was a director of MABS and deeply involved in farming politics holding many roles in the IFA locally and nationally. 
A suckler and sheep farmer and a part-time agricultural contractor Pat loved his machines and knew their ins and outs. He was a familiar sight on his big tractor or on the quad flying down by Poll an Easa to see the cattle or sometimes you'd see him 'snailing' along the road in the Passat throwing an eye on the cattle in the fields or whatever might be happening. More often than not you'd see him out at the gable of the house heading for the yard with the phone to his ear. This was his office. 
Some might have wondered why he spent so much time with IFA business but Pat knew you had to fight if you wanted to be a farmer in the West of Ireland and Pat loved farming and the culture of it all. 
He was conscious farmers needed a big voice and he certainly put Leitrim's case to the forefront. He often travelled to meetings in Dublin, indeed even to Brussels, to Holland, Germany and even to Canada in support of farmers and the IFA. Pat lobbied TDs, Ministers, MEPs and Commissioners and could hold his own with the best of them. Though he didn't have a third level education qualification Pat was intelligent and articulate and had that innate country cleverness that no university education can buy.
Pat put in a big effort with the IFA because he knew the truth of the seanfhocal  – 'Ní neart go cur le chéile'. Pat helped many people and put himself out that extra bit to get results. He supported farmers in their difficulties with banks and also fought government bureaucracy to secure farmers their payments and supported them in standing up to greedy forestry companies. Pat was fearless when he knew he was in the right and when those he was fighting for were acting reasonably and in good faith.
Pat was also a proud Republican like his father and mother before him. He worked for John Joe McGirl in many elections and was a strong supporter of the Republican objective of a free united Irish Republic. All over Ireland republicans are saddened at Pat's untimely passing because many of us availed of his friendship, hospitality and direct support. In the hard and difficult years of the Struggle Pat, Mick and Betty could be relied on and weren't afraid to assist those in need.
Many Republicans indeed some who were on the run received a warm welcome in Gilhooleys. The late Martin McGuiness regularly called to Pat's home for sustenance while journeying around the country organising the Struggle. I myself will be forever grateful to Pat and his family for the help he gave me since coming to Leitrim over 30 years ago.
Pat wholeheartedly embraced the Peace Process and was delighted with the development and progress of Sinn Féin as a leading all Ireland party. In the last local election Pat stood for Councillor but sadly missed out by 5 votes. Though disappointed he wasn't embittered and held no grudges internally or externally. He understood the cut and thrust of politics and was always prepared to move ahead because he had a progressive mentality. 
To some Pat appeared rough and tough but to me he was gentle of heart and a loyal friend. Pat was gregarious, loved people and could mix with anyone. He loved people calling to see him and Mary to discuss the latest and you wouldn't get away without a mug of tea and maybe two or three! He had a special rapport with the younger generation probably because he knew they were the future. 
Pat will be sorely missed. He was a big man in every way – he had a big presence and his memory will live on. Pat's legacy, I think is the survival of Leitrim for he always had in mind the question 'What about the lad or lassie on the hill?' Let us hope and pray that Pat's beloved Aughnasheelin and the other small farming communities of Leitrim and the West will survive and endure through the 21st Century and beyond and we could certainly say Pat Gilhooley in his short but fulfilled lifetime played a big role in this.
Though we're weighted with sorrow over Pat's death he is forever in our thoughts and prayers and also for Mary who faces a winter of great sorrow we pray may a fire be kindled in her heart, a fire that will never die out. The Light of Heaven shine on Pat forever. Solas na bhFlaithis go raibh air.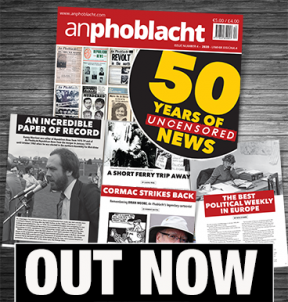 An Phoblacht on Twitter

An initiative for dialogue 
for reconciliation 
— — — — — — —
Contributions from key figures in the churches, academia and wider civic society as well as senior republican figures