17 November 2020
Gerry O'Hare (1940-2020), former editor of An Phoblacht
Obituary
I had heard the name Gerry O'Hare long before I met him in person. His name and that of his then wife Rita were prominent in republican circles, certainly in West Belfast, even before Rita, a mother of their three children, Terry, Rory and Frances, was shot and seriously injured by the British army while Gerry was interned in Crumlin Road Jail.
Although Gerry had once stood for Paddy Kennedy's Republican Labour in the Belfast council elections in early 1971, and he and Rita were prominent in left-wing circles and radical politics, including Peoples Democracy and the Northern Resistance Movement, it was to the mainstream Republican Movement that they devoted their lives and energies in those fraught, dark days.
In a statement to the Irish Times Gerry wrote from Crumlin Road Prison in October 1971: "I am locked away without the right of being tried by my peers to prove that being a republican socialist is not a menace to society. But Faulkner [Unionist Prime Minister at Stormont] beware, while I and every other man remains in this position, you sow the fruits of your own end. We are confident that we will never be forgotten by those who believe in justice and freedom. Your new measures of repression are doomed to failure. The solidarity of the civil disobedience campaign is something that the laws will never break."
After his release in early December, at a time when Rita had got bail having been held for two months in Musgrave Military Hospital and Armagh Prison, Gerry's flair as a communicator saw him emerge as a public spokesperson. He was among those, including John Hume and Bernadette Devlin, scheduled to speak at the rally following a march to Magilligan Internment Camp which was brutally broken up by British soldiers, including members of the Parachute Regiment, a week before Bloody Sunday. He was sentenced to six months but along with Bernadette Devlin, Michael Farrell and Frank McManus MP, refused to show up for his appeal and went on the run. After Bloody Sunday Gerry was one of the main speakers to address a crowd at the British ambassador's residence, Glencairn House, in south Dublin.
In May 1972 Gerry escaped a murder attempt by an undercover British army unit which opened fire, killing 44-year-old Patrick McVeigh, a married father of six, and wounding four other local men at a barricade on Finaghy Road North at a time of heightened loyalist assassinations. 
Most, though not all of his work for the Movement was publicity-oriented, organising press briefings on behalf of the Belfast leadership and preparing statements. As a republican representative he also travelled to the USA on a fund-raising trip where he met John Lennon who made a financial donation to the families of the political prisoners.
By September 1972 the 28-year-old Gerry was back in court and further charged with riotous behaviour outside the GAA grounds of Casement Park which the British Army had seized during Operation Motorman. In Crumlin Road Jail he set up Sinn Féin Cumainn on the republican wings. He was also re-interned in Long Kesh until March 1973.
Meantime, Rita had relocated to Dublin, successfully fighting several British attempts over many years for her extradition (and to this day remains barred from the North by vindictive British governments, despite the Belfast Agreement). 
Gerry was free only a few months when he was again arrested. In Dublin he had struck up a long and lasting close comradeship with the late Dáithi Ó Conail. Gerry had been involved in compiling a publication, Freedom Struggle, a book outlining and explaining nationalist grievances and the IRA campaign in the context of Ireland's long fight for independence. The book was launched at a press conference in July 1973 and distribution was in the early stages. Arrests quickly followed. An Garda raided the printers and seized all remaining copies. Eamonn Mac Thomais, editor of An Phoblacht, was arrested, charged with IRA membership and sentenced on the word of a garda to fifteen month's imprisonment. (Eamonn had succeeded the previous editor, Colman O Muimhneachain, who had also been jailed on a membership charge.) Gerry, the third member of the paper's staff to have been charged, was arrested in Dundalk on 24 August, and was sentenced to twelve months' imprisonment. In Mountjoy Prison he and his comrades embarked on a hunger strike over political status which lasted for sixteen days.
And it was while he was in Mountjoy that he faced further charges over the escape by helicopter of his friend and comrade veteran republican Seamus Twomey, Kevin Mallon and J.B. O'Hagan on 31 October, 1973. Gerry was charged with "forcibly rescuing" and "aiding and abetting" the escapees and was sentenced to another twelve months.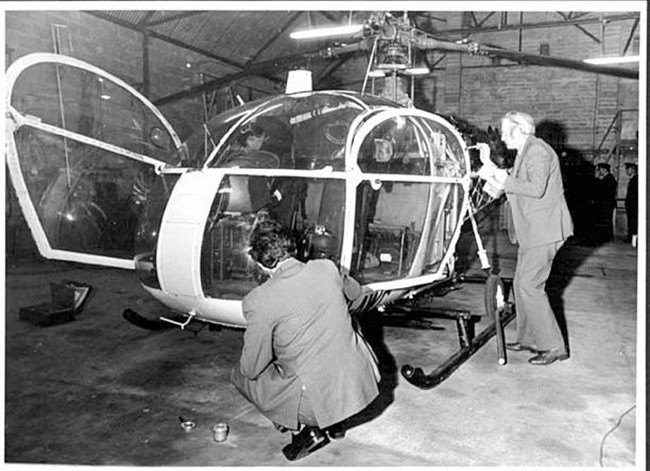 The helicopter used in the 1973 Mountjoy escape. Gerry O'Hare was convicted of "aiding and abetting" the escapees
After his release he became editor of An Phoblacht and it was in that role that I first met him in 1975 when he would come up to Belfast for meetings with Tom Hartley, manager of the Republican Press Centre, and myself, as editor of Republican News.
A few short years earlier the conflict had inevitably taken its toll on the marriage of Gerry and Rita (in 1975 she was sentenced to three years in Limerick Prison on a charge of possessing explosives), and they separated.
Around about 1977 Gerry began working for the Irish Press as a staff reporter, rising to become a Parliamentary Reporter and Deputy News Editor under the paper's legendary editor, Tim Pat Coogan. Gerry also specialised in travel writing and tourism (even though he was barred from many countries because of his activism!).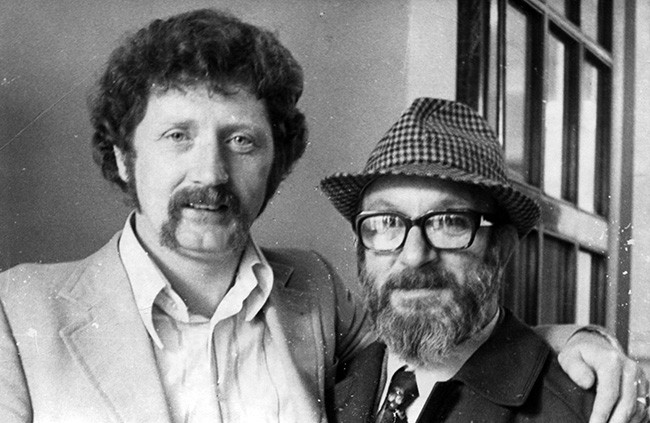 Gerry with Eamonn Mac Thomáis, both former editors of An Phoblacht
It was in 1986 that he met then then BBC's Dublin correspondent, Anne Cadwallader, whom he married in August 1990. Anne now works for the Pat Finucane Centre and is the author of two books, Holy Cross, and Lethal Allies (which was the basis for the documentary film Unquiet Graves, directed by Sean Murray).
When the Irish Press closed in 1995 Gerry used his statutory redundancy pay for a new venture, Travel Extra, which thrived on his sheer force of personality. The paper actually closed on the same day that I was released from prison. I had nowhere to live and so I lodged in Anne and Gerry's home in Norfolk Gardens, until I could get a place of my own, and refreshed anew my friendship with Gerry. As couples, Anne and Gerry, and my wife Leslie and I, socialised almost every weekend. He and his childhood friend from North Belfast, Stephen Rea, had a tradition of doing a pub crawl on Gerry's birthday every December and I would join them. 
Sharing a laugh – Gerry O'Hare, Rita O'Hare  and Danny Morrision at the relaunch of An Phoblacht/Republican News in Dublin, August 1995
In 2006 Gerry was diagnosed with Parkinson's disease which year after year eroded his health and vitality and eventually left him totally confined. To see this proud man fade away to a shadow of his former self was so sad. He always remained loyal to the Republican Movement and defended the republican cause wherever he was and whoever he was with.
In her eulogy at Requiem Mass in St Columba's Church in Tawny, Donegal, where he had asked to be buried, Anne paid tribute to the great staff of Fruithill Nursing Home where Gerry died on 30 September. Myself and veteran republican Paddy Doherty draped his coffin in the Tricolour which, accompanied by restricted numbers of mourners, made its way to the nearby cemetery with his children and brothers Seamus and Sean in attendance at the burial.
Anne said: "Anyone who ever met him, remembers him with a smile and fondness.  He was a man it was impossible to dislike and incredibly easy to love. I was so lucky to find him and live with him for thirty five years. I simply adored him. He was both the centre and perimeter of my life."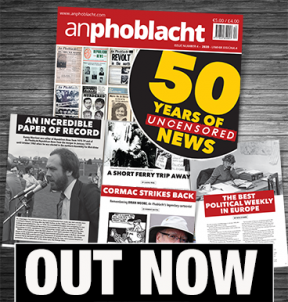 An Phoblacht on Twitter

An initiative for dialogue 
for reconciliation 
— — — — — — —
Contributions from key figures in the churches, academia and wider civic society as well as senior republican figures