12 November 2020
Banned Civil War novel re-published 87 years later
Liam O'Flaherty's banned novel The Martyr has just been republished by Nuascéalta, eighty-seven years since its first and only publication in 1933. With this sensational republication of The Martyr, Nuascéalta publishers have completed their epic task of returning to Ireland the last three major Liam O'Flaherty novels banned by the Irish state. 
This work has been carried out in conjunction with the Liam and Tom O'Flaherty Society (Cumann Liam agus Thomáis Uí Fhlaithearta) based in Galway and with the support of the O'Flaherty family. 
The other two novels previously re-published by Nuascéalta as part of this project were the first book on the index, the Galway novel The House of Gold, and O'Flaherty's insightful and scathing Hollywood satire Hollywood Cemetery. 
Banned writings were dangerous to come by for many decades, and the long-term effect of such an establishment ban on literary works radiates to this day, as once censored novels can still be rare on library and bookshop shelves. O'Flaherty's novels, mainly written in the 1920s and 30s, address significant events in Irish history and the newly emerging Free State.
Nuascéalta's return of The Martyr to the reading public comes at a time when we commemorate the centenaries of events during the War of Independence and the Civil War.
The Martyr gives O'Flaherty's take on the battle to control the country's destiny. The novel written just ten years after the civil war, and published in 1933, brings to life the nationwide Free State attack on Republican anti-treaty forces. 
One such offensive was the landing at Fenit in Co. Kerry. Liam O'Flaherty fictionalises this event at "Carra Point" and "Sallytown" (Tralee). Events around the Free State troop landing and its sequel are seen through the eyes of Sallytown's defenders and its townspeople, clerical and lay. In the author's imaginative reconstruction of this real Civil War encounter, professional Free State troops face Sallytown's ill-trained, badly-led and poorly equipped volunteer defenders.  
This republication of this novel will be welcomed by anyone with an interest in this period of Irish history as well as by those who recognise the literary prowess of Liam O'Flaherty, one of the finest Irish writers of the past century. This development makes available for the first time since the 1930s, the entirety of Liam O'Flaherty's novelistic work and moves towards the restoration of the panorama of Liam O'Flaherty's works for a global audience.
The Martyr is available to purchase online at the following link: http://nuascealta.com/item.php?item=179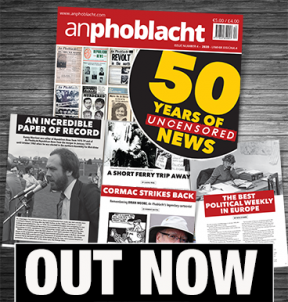 An Phoblacht on Twitter

An initiative for dialogue 
for reconciliation 
— — — — — — —
Contributions from key figures in the churches, academia and wider civic society as well as senior republican figures